Apple Pie Overnight Oats are sumptuous and creamy - with crisp sweet apples and hints of cinnamon and nutmeg, this easy oats recipe - with only 8 ingredients - tastes just like apple pie. Enjoy this high protein meal-prep for breakfast, dessert, or snack without any of the cooking. With 9 grams of protein per serving, this recipe is vegan, gluten-free, low calorie, and low fat.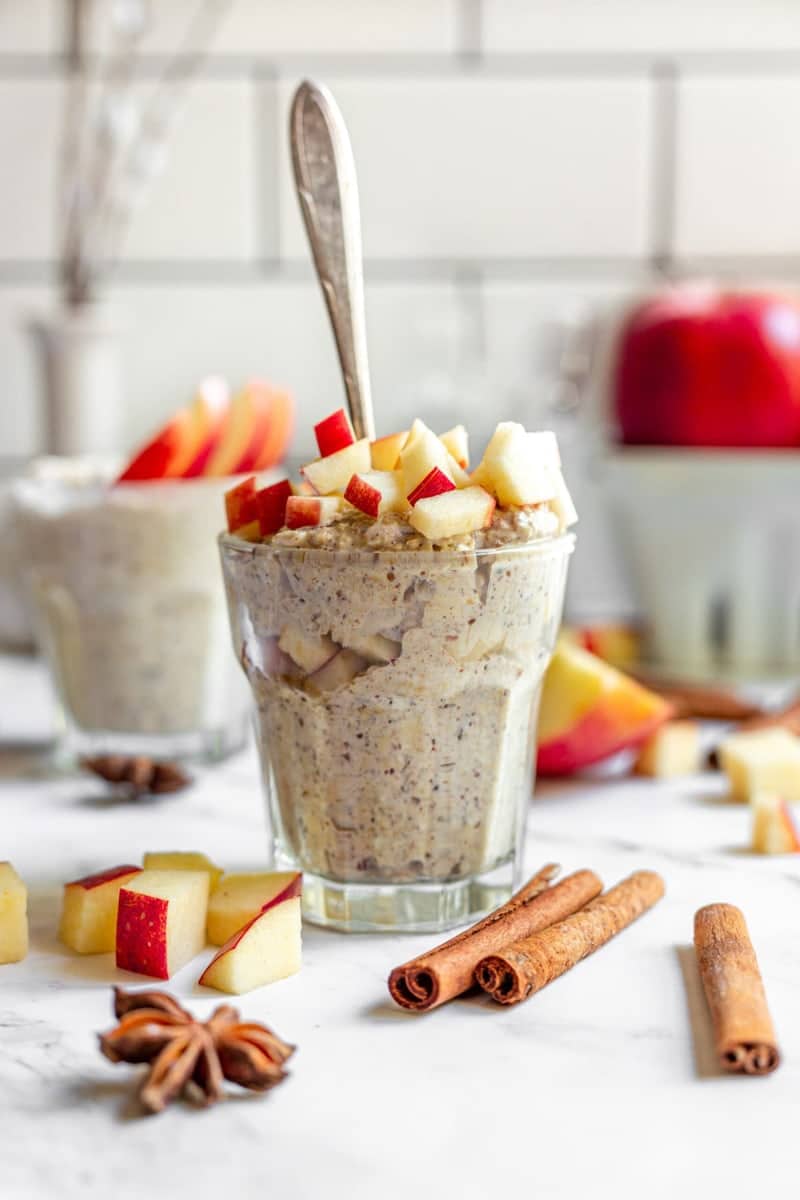 Apple Pie Overnight Oats; the perfect marriage between sweet and apple pie spice. With classic apple pie flavor, this recipe was inspired by my long-time love affair with easy overnight oats, the first overnight oats I ever made. For more overnight oat recipes, try my Pumpkin Pie Overnight Oats and Blood Orange Overnight Oats.
Jump to:
🍎 Recipe Ingredients (With Substitutions)
Rolled oats - I use Bob's Red Mill as they contain 7 grams of protein per serving, are vegan, gluten-free, and 100% whole grain. I have also made overnight oats with Quaker Oats.
Non-dairy yogurt - I use vanilla, non-dairy yogurt in this recipe which adds a nice protein boost to the oats, as well as gives them a creamier, thicker texture. You can substitute plain with any other flavor. If you love recipes with dairy-free yogurt, try my easy Blueberry Chia Pudding.
Apple - apples in this recipe are a matter of preference. If you like crispy and sweet, go for Honeycrisp. If you like juicy and a mild sweetness with hints of vanilla, choose Gala. Red Delicious are crunchy and best in uncooked recipes. Granny Smith are green, tart and juicy, perfect for applesauce.
Oatmilk - my favorite Oatmilk in the whole wide world is made by Planet Oat. For this recipe, I use the extra-creamy version. I love that it makes these Apple Pie Overnight Oats super creamy and delicious. However, any plant milk that you have on hand will do.
Ground flaxseed - adds a subtle, nutty flavor to any recipe. Vegan and loaded with essential fatty acids, ground flax seeds pack these oats with a powerful nutritional punch, providing 3 grams of protein and 3 grams of fiber per serving. You can purchase them whole and grind them yourself, or ground, and skip the extra step. You may also choose to omit, which won't impact the deliciousness of this recipe. Flaxseed can also be used to make flax eggs in vegan baking, like in these Vegan Cranberry Muffins.
Vanilla extract - adds a buttery smooth, extra sweet flavor. You may substitute with paste from ½ a vanilla bean, or another favorite extract such as orange or almond.
Coconut sugar - sweetens the pie, if you will! I use an organic brand by Better Body Foods, which you can find on Amazon by clicking on the above link. You can also omit added sugar completely and replace with maple syrup or agave nectar.
Spices - What's an apple pie without cinnamon and nutmeg? Feel free to add other favorites, such as cardamom or cloves.
🔪 How to Make Apple Pie Overnight Oats
1. To a medium bowl, add rolled oats, non-dairy yogurt, spices, flaxseed, vanilla, and coconut sugar.
2. Pour in oatmilk.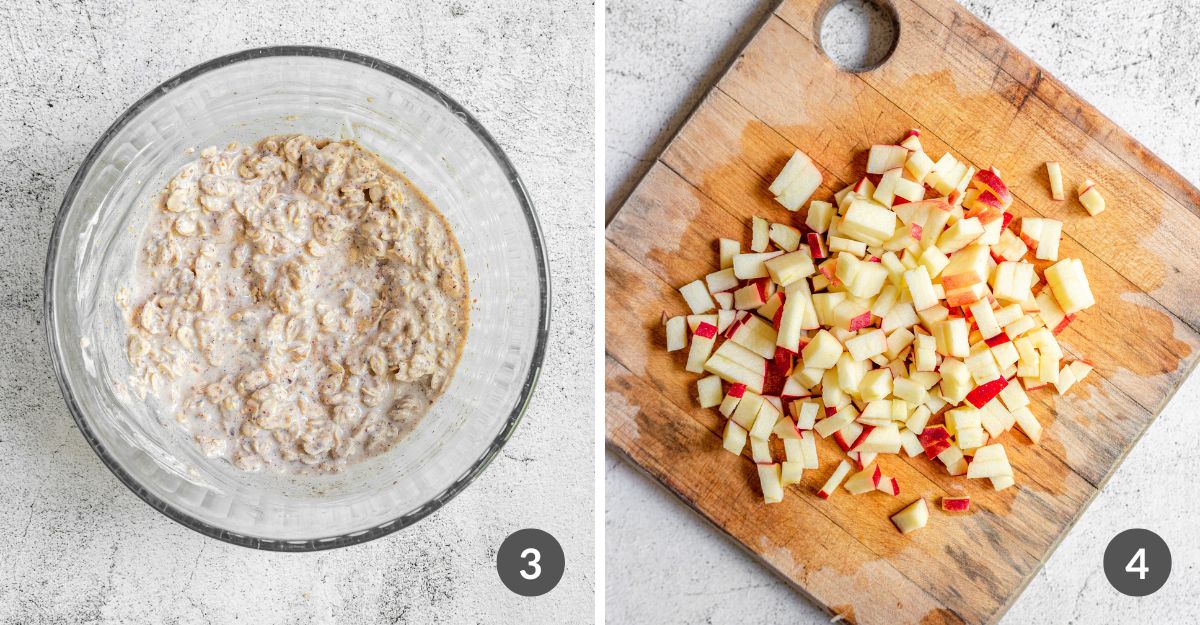 3. Give ingredients a good stir. Cover, and place in the refrigerator for at least 2 hours, or overnight (for best results).
4. Remove overnight oats from refrigerator just prior to serving.. Chop or slice apple on a cutting board. Grab a couple jars and begin layering the ingredients, (as pictured in the stop motion video below), starting with oats, then apples, then more oats, with a final topping of apples. Serve immediately and enjoy!
💭 FAQS
Are overnight oats healthy for you?
Yes. Overnight oats use rolled oats, which are more raw in nature, as opposed to instant oats, which are heavily processed. Because rolled oats are less processed, they have higher nutritional value than processed oats. Rolled oats are loaded with fiber and protein, vitamins and minerals, and are gut-friendly. A good rule of thumb is, the more processed a food item is, the less nutritious it will be.
Do I need to peel the apples?
That depends upon your preference. I prefer leaving the skin intact so I can get the extra nutrition and fiber. But if you prefer apples skinless, by all means, peel them.
How long should my oats soak in the fridge for?
Overnight oats should be soaked in the fridge for at least 3-4 hours. However, soaking them overnight will ensure they are as thick and creamy as possible.
What is the recommended ratio for oats to liquid in overnight oats?
The recommended ratio of oats to liquid is 1:1. You should soak one part oats with one part liquid overnight for the creamiest, thickest oats possible. For this recipe, I use 1 cup rolled oats to ½ cup plant milk and ½ cup dairy free yogurt which are both considered liquid in this case.
🍮 VARIATIONS
Make them gluten-free - to ensure these oats are gluten-free, use certified gluten-free oats.
Warm them up - these Apple Pie Overnight Oats are fantastic right out of the refrigerator, but for an extra special treat, warm them in a small saucepan or the microwave before layering then with applies in jars.
Make with cooked apples - if you prefer your oats with tender apples, add them to a saucepan with a bit of vegan butter and cinnamon and cook on low for 10 minutes.
Make them kid-friendly - kids tend to want to eat things that appeal to them visually, and let's face it, apples may not. Change that by adding some vegan chocolate chips , or white choco chips, and coconut whipped cream to the mix.
Get a little nutty - add nut butter (like palm oil-free almond butter or cashew butter) for added nutrition and flavor. If you like recipes that use almond butter, try these chewy Coconut Chocolate Chip Cookies.
Give them a nutritional boost - by adding ½ cup of chia seeds in with the oats prior to soaking. For more recipes with chia seeds, try my Overnight Chia Pudding.
👩🏻‍🍳 EXPERT TIPS
It's best to serve this Apple Pie Overnight Oats recipe immediately following preparation. Once apples are exposed to air, they begin to oxidize and turn brown. They will still be ok to eat, but may look less appealing. You can prevent this by squirting a squeeze of lemon juice over the apples prior to adding to the recipe.
Serve this recipe in regular glasses or mason jars for best results.
I'll let you in on a little secret: most overnight oat recipes don't really need to be refrigerated overnight. Once they absorb the liquid, which usually occurs within 2 to 4 hours, the oats will be soft enough to eat. However, placing them in the fridge overnight is a super-convenient way to prepare them.
Serve this overnight oats recipe for breakfast or dessert, either way you're getting a high protein, nutrition-packed meal. Speaking of desserts, have you tried this best ever Vegan Carrot Cake?
For an added treat, serve with these Banana Bread Oatmeal Breakfast Bars.
If you prefer oatmeal the old fashioned way, try my Sweet Potato Oatmeal with whipped coconut cream.
🌡️ STORAGE
Store apple pie overnight oats in an airtight container in the refrigerator for up to 4 days. You can store the entire recipe in a glass container or individual servings in tightly sealed jars.
FREEZING IS NOT RECOMMENDED.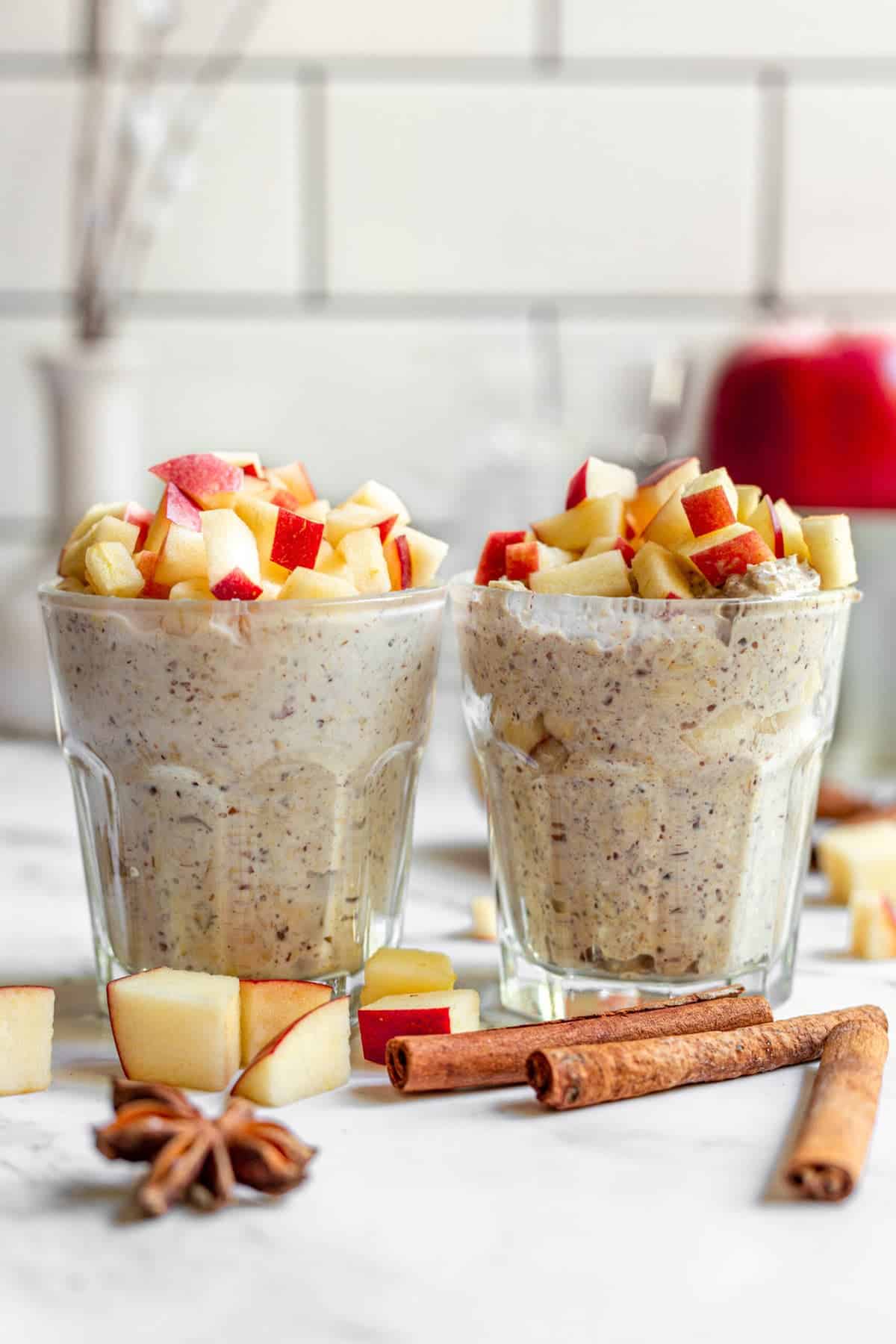 🥞 MORE BREAKFAST RECIPES
Have you tried this? Why not leave a star ⭐️⭐️⭐️⭐️⭐️ rating in the recipe card right below and/or a review in the comment section further down the page? I always appreciate your feedback. You can also follow me on Instagram, Facebook, Pinterest, and Twitter, and sign up for my newsletter!
📖 Recipe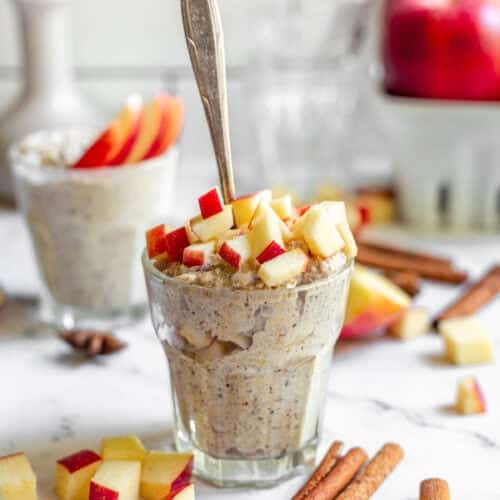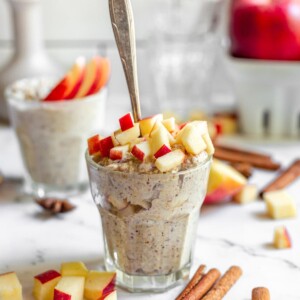 Apple Pie Overnight Oats Recipe
Apple Pie Overnight Oats are sumptuous and creamy - with crisp sweet applies and hints of cinnamon and nutmeg, this easy oats recipe - with only 8 ingredients - tastes just like apple pie. Enjoy this meal-prep breakfast without any of the cooking. Vegan, gluten-free.
Print
Pin
Rate
Ingredients
1

cup

rolled oats

½

cup

non0dairy yogurt

½

cup

Oatmilk

3

tablespoon

coconut sugar

2

tablespoon

ground flaxseed

1

teaspoon

cinnamon

½

teaspoon

nutmeg

1

medium apple

1

teaspoon

vanilla extract
Instructions
In a medium bowl, mix the oats, yogurt, ground flaxseed, coconut sugar, vanilla extract, cinnamon, nutmeg and oatmilk. Alternatively, divide the ingredients between two jars and mix into individual portions.

Cover and refrigerate for at least one hour, or overnight.

When ready to serve, slice the apple into small cubes and mix as desired (layers or mixed in) with the oats. Top with additional apple slices, if desired.
Video
Notes
These oats are thick  - if you'd like more of a porridge texture, decrease the yogurt to ¼ cup or add more milk until desired consistency is reached. 
Instead of brown sugar, you can substitute maple syrup. 
Nutrition
Serving:
1
serving
|
Calories:
380
kcal
|
Carbohydrates:
71
g
|
Protein:
9
g
|
Fat:
8
g
|
Saturated Fat:
1
g
|
Polyunsaturated Fat:
3
g
|
Monounsaturated Fat:
1
g
|
Sodium:
78
mg
|
Potassium:
339
mg
|
Fiber:
10
g
|
Sugar:
30
g
|
Vitamin A:
176
IU
|
Vitamin C:
12
mg
|
Calcium:
217
mg
|
Iron:
3
mg