Drop the kids at grandma's and get ready for the best in romantic vegan dinners. These Vegan Date Night Recipes require minimal effort, simple ingredients and are perfect for a special occasion or easy weeknight dinner. These delicious recipes are a great addition to a home date night with the one you love. All are plant-based meals with no animal products and (most) take less than 30 minutes to prepare (giving you plenty of time for extracurricular activities!)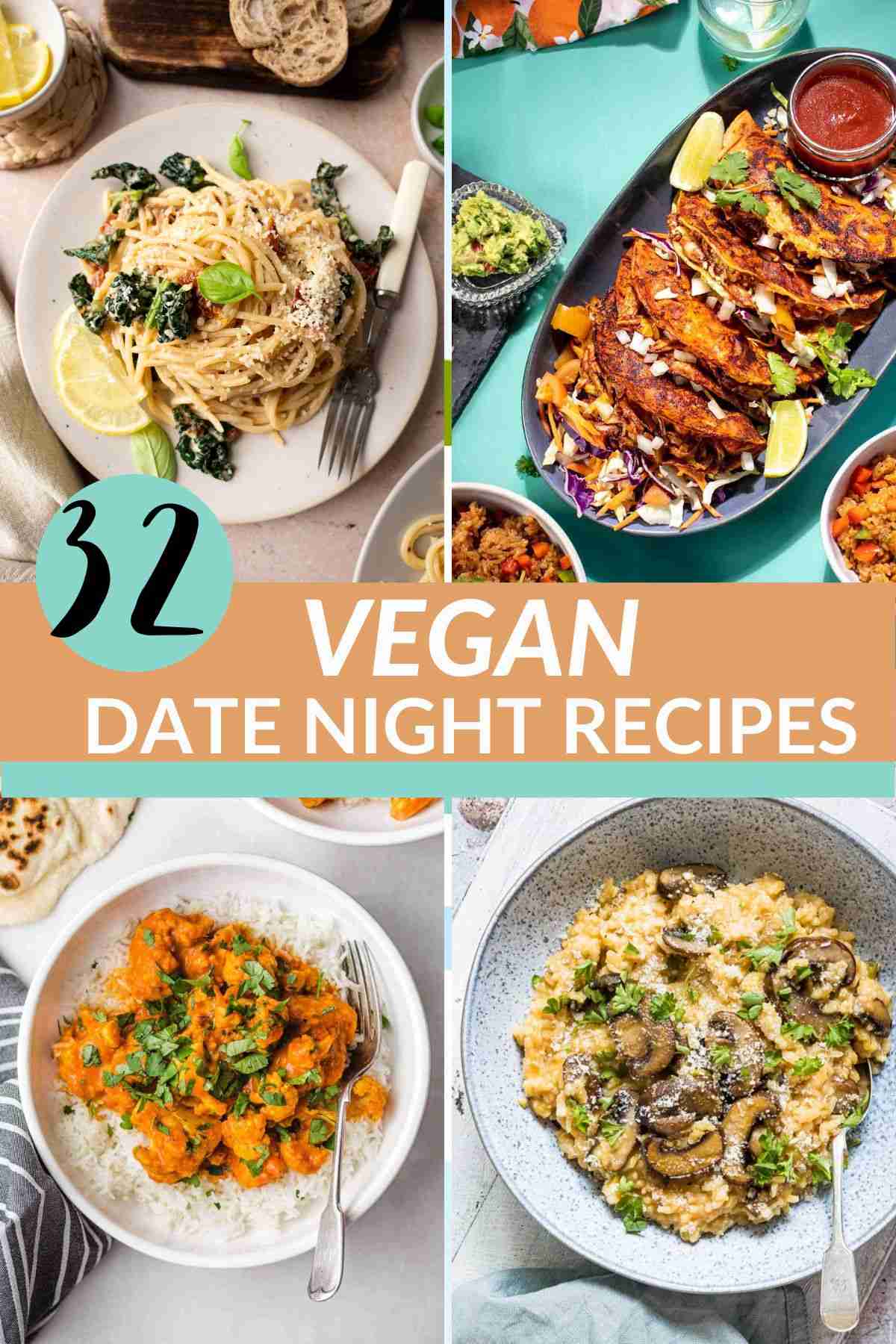 There's nothing more romantic than a quiet evening at home with the one you love. Whether it be a special Vegan Date Night, Valentine's Day or just a romantic night for two, this round-up of Vegan Date Night recipes has lots of options to choose from that fit perfectly with a plant-based diet and a vegan lifestyle. The following 32 vegan dinner recipes pair well with a chilled bottle of white wine and some romantic music. Check them out below.
Jump to:
🍜 Date Night Pasta Recipes
Topping the list of my all time favorite Vegan Date Night recipes is vegan pasta dishes. And what pairs perfectly with pasta? A simple Massaged Kale Salad and some swirled Vegan Garlic Bread, but of course. Don't forget an appetizer like these Air Fryer Smashed Potatoes and a nice alcoholic beverage like this Tinto de Verano.
🍚 Date Night Rice Dishes
Rice is a staple in many countries, including the good ol' USA. Versatile, satisfying with some great health benefits, rice comes in many forms. Pair the following vegan rice recipes with a Chopped Veggie Salad, Green Beans Almandine, Sautéed Garlic Mushrooms, and my swirled Vegan Garlic Bread.
🍔 Date Night Burger & Taco Recipes
For tacos and burgers, the sauce and toppings are just as important as the main course. If you're looking for a great sauce and/or topping to pair the following dishes with, try my creamy Chipotle Sauce Recipe, my Cilantro Lime Avocado Sauce and my Mango Corn Salsa that pairs well with just about anything. And don't forget my viral recipe on Pinterest to pair with your tacos: Cilantro Lime Rice in Rice Cooker
🍛 Date Night Asian Recipes
Ooh la la, these flavorful, simple Asian Date Night Recipes are just the ticket to an easy, quick meal that will keep you and your partner satisfied all night long. My favorite pairings include this Raw Pad Thai Salad and Thai Pineapple Fried Rice. Don't forget the Mango Sticky Rice for dessert.
🥟 Date Night Indian Recipes
Warm, comforting and exotic describe what the following Date Night Indian Recipes have in store for your taste buds. Pair with some amazing no-yeast garlic Vegan Naan, Aloo Palak and these authentic Bombay Potatoes.
🍝 Date Night Main Dishes
The following vegan main dish recipes take a little extra time, but the end-result deliciousness is well worth it, guaranteed. Suggested pairings include my Air Fryer Brussel Sprouts, Grilled Asparagus With Hollandaise, Cauliflower Mashed Potatoes, and easy Vegan Dinner Rolls (don't forget a cocktail, like this Spiced Orange Gin Spritz).
🥘 More Roundup Recipes You'll Love
🍾 Conclusion
Whether you follow a vegan diet, are vegan curious or just looking to incorporate more plants in your daily diet, the good news is, these 32 Vegan Date Night Recipes are simple romantic vegan recipes that will soon become one of your favorite things to include for Vegan Date Night Recipes or an easy weeknight meal.
Have you tried this? Why not leave a star ⭐️⭐️⭐️⭐️⭐️ rating in the recipe card right below and/or a review in the comment section further down the page? I always appreciate your feedback. You can also follow me on Instagram, Facebook, Pinterest, and Twitter, and sign up for my newsletter!
📖 Recipe