This One Pot Chickpea Coconut Curry is perfumed with a fragrant blend of Indian spices and then bathed in a rich coconut milk curry sauce for exotic, yet super easy meal that takes less than 30 minutes to prepare. Vegan and gluten-free.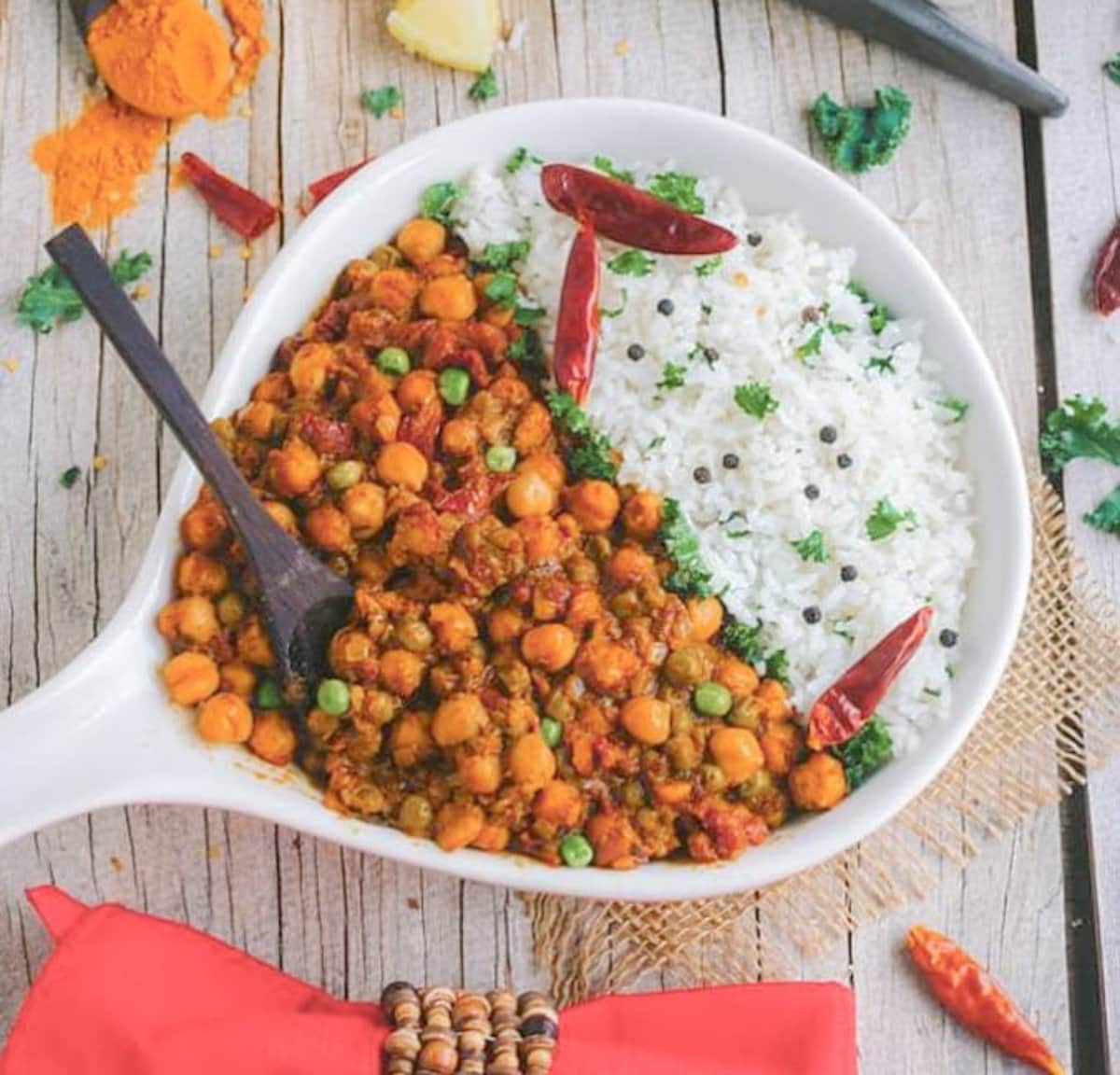 Wow, the weather in the high desert of California is crazy! Yesterday it was a beautiful, sunny Spring day and now today, it's pouring rain. I love it. Since it's very cold out today, I decided at the spur of the moment to make this delicious, One Pot Chickpea Coconut Curry. I'm telling you folks, I love Indian food and have devoured many a curry in my life but I have to say that this Chickpea Coconut Curry is the best I've ever had. And I'm not just saying this because I made it. Try it and I'm sure you'll agree with me. This recipe has been tested by 2 other members of my family and they said the very same thing.
This recipe is so easy to make, as well. I didn't even have to go shopping for ingredients because I already had everything needed for the recipe in my pantry. It took me probably about 20 to 30 minutes to prepare and have my first bowl. It's amazing that something this flavorful and delicious can be made in one pot in so little time.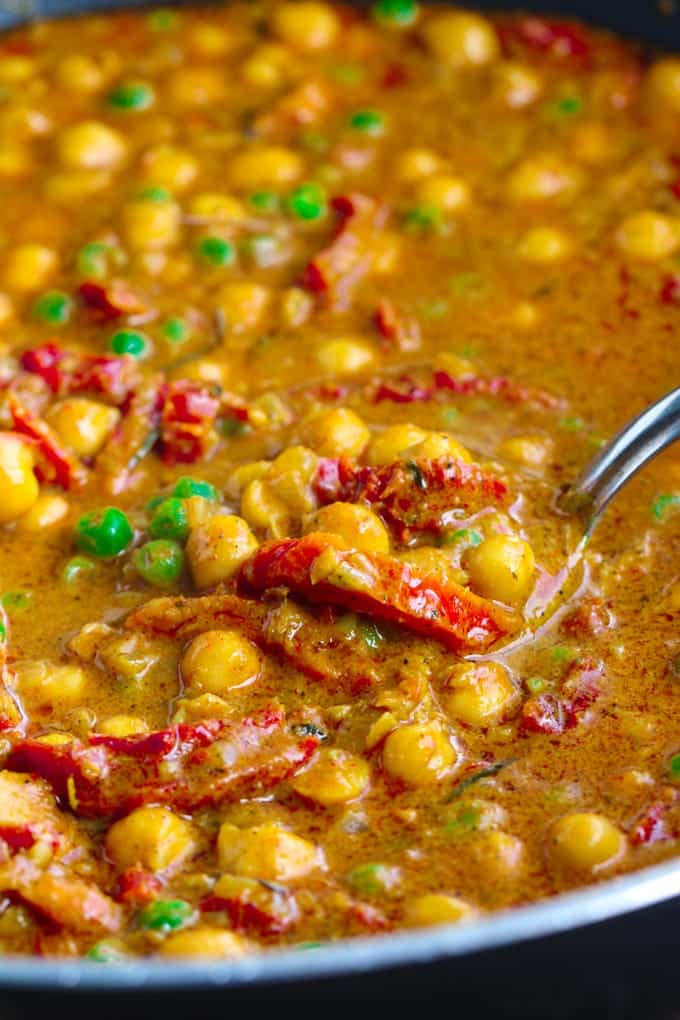 A Little History of Curry
According to experts, the history of curry dates back to 1700 BC Mesopotamia. While it's use originated in India, it was used in England as early as the 1300's and its mention can be found in the first book ever written about English cooking during the time of Richard II in the late 1300's.
To date, curry is used in practically every country around the world and can even be incorporated in a drink! While most of us associate curry with hot and spicy peppers, originally, Indian curry dishes were devoid of chili peppers or red peppers because they were not native to India. One source says it wasn't until Christopher Columbus brought chili seeds back from the new world and they were traded to India that they made their way to Indian cooking to become part of the spicy curries we know and love today.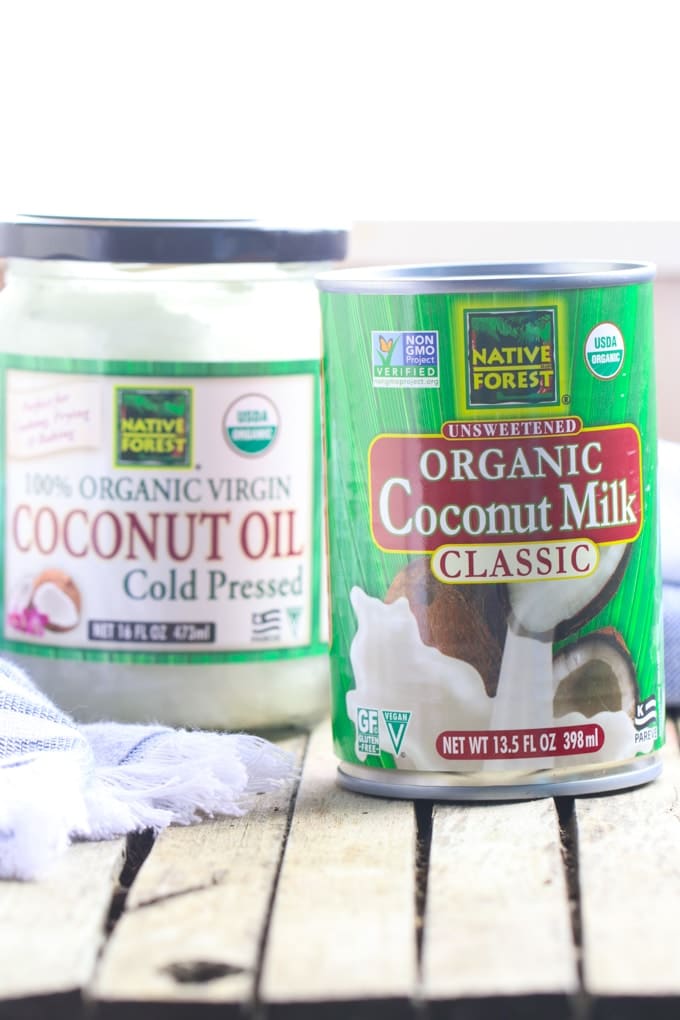 Many thanks to my friends at Edward and Sons for sending me some of their products to try out in my recipes. For this Chickpea Coconut Curry, I chose to use Native Forest's 100% Organic Virgin Coconut Oil and Organic Coconut Milk to add the rich, yet subtle, coconutty flavor that makes this dish. I don't think coconutty is a word but I think you catch my drift! Let's rock!
I love 100% Cold Pressed Virgin Coconut Oil because it's perfect for cooking, frying and baking. It also has a healthy lauric acid content and a wealth of medium-chain fatty acids (MCFA), which many experts recommend for its impact on metabolism and weight loss.
An easy, delicious substitute for dairy, Native Forest Coconut Milk is organically made and doesn't contain any sugar or other additives. Purporters of this healthy milk alternative agree that coconut milk has many health benefits. It's been shown to help people build muscle, lose fat, and lower blood pressure. It can even improve your digestion and prevent certain types of inflammation. Beyond that, coconut milk can also help manage blood sugar. You can't get anything better than that.
Quick note: Although I have received products from this company at no cost, I am not paid for posting about their products and I only endorse products that I trust and believe in. All opinions are my own.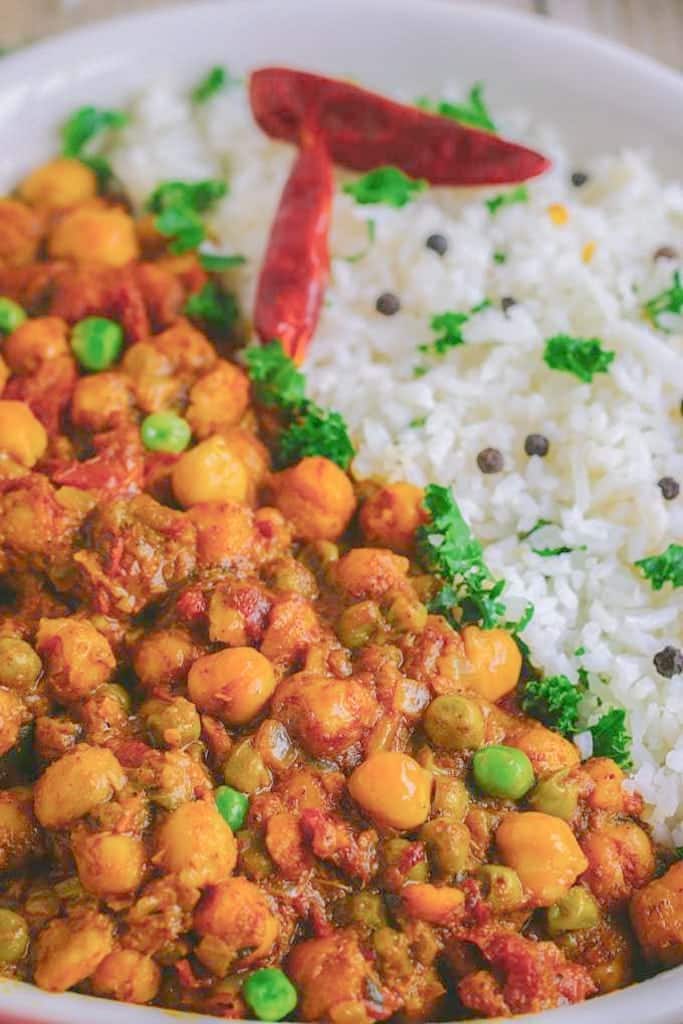 Why I Love this Chickpea Coconut Curry
Have I raved enough for you about this recipe? Let me rave some more because it's that good. Not only is this Chickpea Coconut Curry made in one pot, which makes cleanup a breeze, it literally takes only minutes from prep to plate. It also pairs perfectly with my Vegan Garlic Naan, made on the stove top with no yeast. And to top it off, this Coconut Curry recipe is:
Warm
Comforting
Filling
Spicy
Rich
Exotic
Easy to make
I think you're going to love it!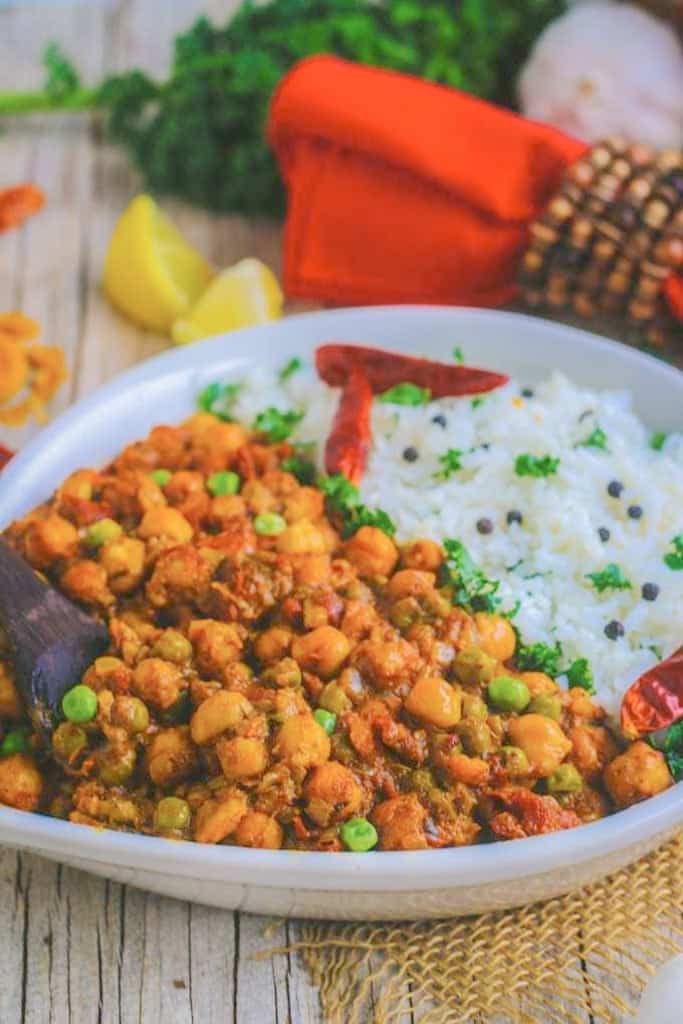 If you make this One Pot Chickpea Coconut Curry, be sure to take a photo and tag it #veganvigilanteblog on Instagram. I'd love to connect with you via social media so please follow me on Facebook, Pinterest and Twitter. I appreciate you for taking the time to read about me and my vegan recipes. I'd love to hear what you think so please leave your comments after the post. If you have questions or want to share a recipe of your own as a guest blogger, please email me at [email protected].
I have tons of new vegan recipes swimming around in my head that I'm preparing to share with you. If you'd like to support my work, please sign up for my newsletter so you don't miss a recipe. Need more easy dinner recipes, visit my Main Dish Section. If you want a quick meal with less mess, try my One-Pot Meal Section. In love with stews and chili, visit my Stew & Chili Section. In the mood for some quick easy soup ideas, visit my Soup Section. Thanks again for stopping by! Have a wonderful, plant-based day!
📖 Recipe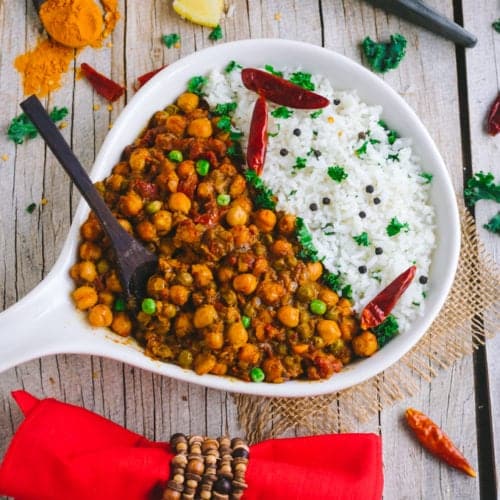 One Pot Chickpea Coconut Curry
This One Pot Chickpea Coconut Curry is perfumed with a fragrant blend of Indian spices and then bathed in a rich coconut milk curry sauce for exotic, yet super easy meal that takes less than 30 minutes to prepare.
Print
Pin
Rate
Ingredients
1

tablespoon

100% virgin cold pressed coconut oil

I use Native Forest

1

tablespoon

fresh rosemary

4

cloves

garlic

minced

1

white onion

finely diced

2

tablespoon

fresh ginger

about 2 inches

¼

cup

vegetable broth

2

tablespoon

curry

2

tablespoon

garam masala

1

teaspoon

turmeric

2

tablespoon

Kashmiri

Indian red chili powder

½

teaspoon

ground black pepper

½

teaspoon

sea salt

8

oz

sun-dried tomatoes in oil

julienned

15

oz

organic coconut milk

I use Native Forest

30

oz

organic chickpeas

2 cans

1

cup

frozen peas

2

tablespoon

fresh lemon juice

about ½ large lemon
Instructions
In a large pan or wok over medium heat, melt the coconut oil. Add rosemary and simmer until fragrant. Add garlic and continue to simmer for about 2 minutes. Add onion and cook until translucent. Add ginger and again, simmer until fragrant, about 2 more minutes.

Pour in vegetable broth and give it a good stir. Then add the curry, garam masala, turmeric, chili powder, sea salt and pepper to taste. Stir until melded together. Add more vegetable broth, if needed.

Add sun-dried tomatoes in oil. Stir well. Add coconut milk, chickpeas and frozen peas. Combine thoroughly. Add lemon juice, stir and simmer for about 15 minutes, just enough time to allow the spices to flavor the dish.

Serve immediately over rice with a few squeezes of lemon or lime juice. Top with your favorite toppings, including black pepper, cilantro and red chili peppers.
Notes
This recipe is extremely rich and the coconut milk and sun dried tomatoes make it also high in fat and calories.  As we all know, fats make many foods taste better and this dish is no exception. It's truly one of the reasons it's so damn good. However, you can certainly opt for a low calorie, low fat version of the recipe that will be just as good by using 1.5 cups of almond milk instead of coconut milk, using vegetable broth instead of coconut oil to simmer the spices and other ingredients and substituting the sun-dried tomatoes packed in oil with either fresh tomatoes or sun-dried tomatoes packed in water. 
The recipe card does not include nutrition information for the low calorie, low fat version. I plan on making the recipe again using the low calorie, low fat substitutions and will post the nutrition information in the notes. 
Store this recipe in an air-tight container in your refrigerator for up to 3 days or you can freeze it for up to 2 months. 
Nutrition
Serving:
1
serving
|
Calories:
796
kcal
|
Carbohydrates:
89
g
|
Protein:
28
g
|
Fat:
42
g
|
Saturated Fat:
26
g
|
Polyunsaturated Fat:
4
g
|
Monounsaturated Fat:
8
g
|
Sodium:
540
mg
|
Potassium:
2000
mg
|
Fiber:
25
g
|
Sugar:
15
g
|
Vitamin A:
3448
IU
|
Vitamin C:
83
mg
|
Calcium:
199
mg
|
Iron:
13
mg