These Vegan Alternatives to Turkey include 10 delicious turkey alternatives made from wholesome, plant-based ingredients that taste great and are good for you too. Let's work together to end a cruel and senseless tradition by promoting and sharing vegan recipes this holiday season. Save a turkey. Go Vegan!
Each year, an estimated 245 million U.S. turkeys are slaughtered so they can end up as holiday centerpieces on someone's table. These playful, intelligent birds are extremely social and have unique personalities just like cats and dogs. They love to have their feathers stroked and will puff themselves up in a huge way just to get you to notice them. They're extremely fast as well, with the ability to fly up to 55 miles an hour. Sadly, however, the turkeys that adorn holiday dinner tables are bred on factory farms for the sole purpose of being killed for human consumption. But before this happens, they are forced to live their short lives enduring tortuous, inhumane conditions.
Now, before you exit stage left off the page, please note, this isn't a rant. And I won't go into further detail, for my own benefit as well as yours. I honestly felt deep pain and cried when I researched the information for the short paragraph I wrote above. If you're visiting this page, it means you're either already vegan, you're considering going vegan, or you'd like to include, in your holiday celebration, a delicious plant-based meal. Whichever "type" you are, one thing is certain: you're here because you're seeking vegan alternatives to turkey. And that, hungry friends, makes me truly happy. It means you care. And that makes me care even more. That's why I'm so excited to share these vegan alternatives to turkey to help you celebrate the holidays.
And Now for the Recipes
Many of the recipes you'll find on this page I created myself, but several are from fellow food bloggers who've given me permission to share them with you. If you like what you see in this post, please forward it to your family and friends, vegan and non-vegan alike. Veganism is not going away. In fact, the movement is growing larger everyday as people learn that vegan alternatives to animal products do exist and they taste just as good - or in my opinion - better than animals.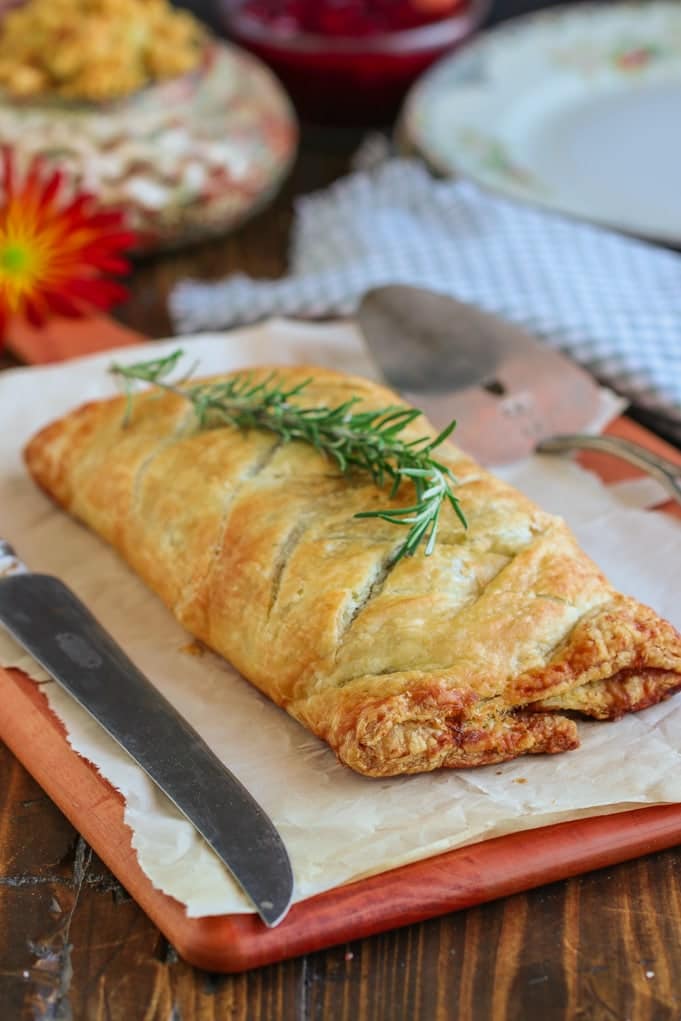 One of my most popular recipes, this Vegan Mushroom Wellington is stuffed to the max with savory mushrooms, sweet potato, caramelized onions and fresh sprigs of rosemary. With step-by-step instructions, hungry friends, this vegan recipe is what the holidays are all about.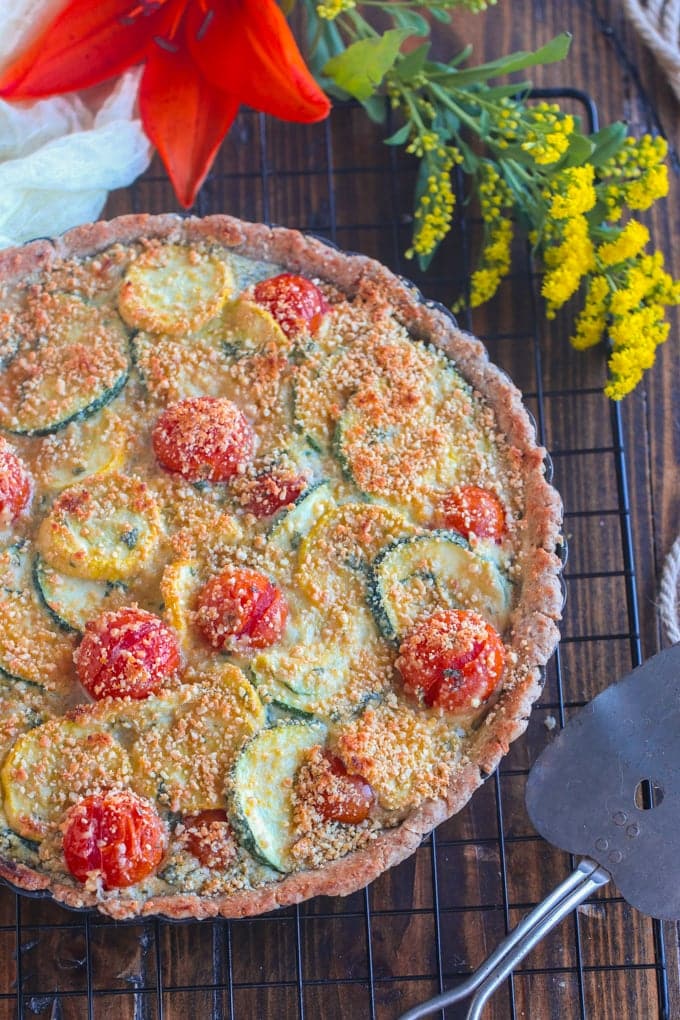 Celebrate in-season produce with this decadent Vegan Tomato Zucchini Tart with Creamy Cashew Cheese. Made with fresh basil, zucchini, yellow squash, cherry tomatoes and my Vegan Parmesan Cheese, it's light, flaky crust with subtle hints of hazelnut will have your holiday guests begging for another slice long before they've finished the first.
As easy to make as it is flavorful, this Southwest Roasted Pumpkin Stew is topped with a poblano-avocado-cucumber salsa for a fresh and spicy kick. This recipe is gluten-free and vegetarian, with a vegan option created easily by omitting the cheese. Brought to you by my friend Sara at The Frayed Apron.

When searching for vegan alternatives to turkey, you can't go wrong with a Vegan Pot Pie. Healthy vegetables bathed in a rich, creamy vegan gravy then slathered into a light flaky crust make this vegan pot pie recipe one of the best you'll ever have. If you're looking for a vegan alternative to turkey, this is a sure crowd-pleaser.
Want a light vegan Thanksgiving recipe to share at this year's holiday gathering? This Beluga Lentil Pomegranate Salad has a delicious, earthy flavor that's so hearty, you'll think it's a main dish. Adorned with jewels of pomegranate and toasted walnuts, this Thanksgiving salad is one that everyone will enjoy. Brought to you by Alana of Sprouts and Krauts.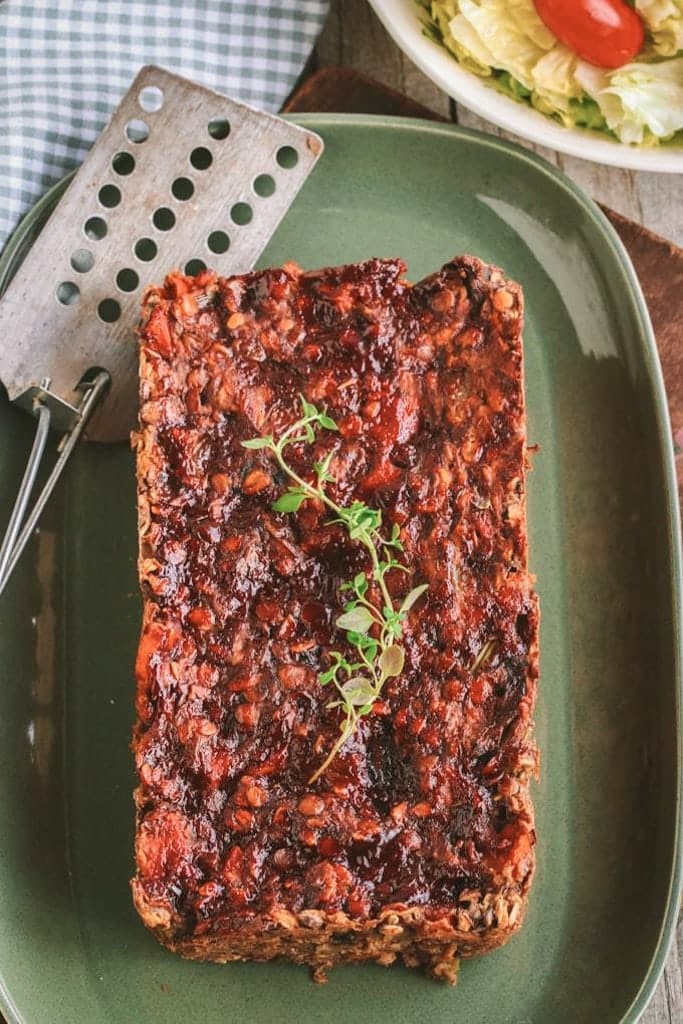 Oh la la, this is one of my all-time favorites. Forget the meatloaf, ladies and gentlemen! This Savory Vegan Lentil Loaf is the bomb! Made with sauteed vegetables, lentils and a medley of spices, this vegan lentil loaf recipe is also whole food plant based (WFPB) and gluten-free. Perfect for the upcoming holiday or any day you're looking for a simple, wholesome meal.
This Roasted Vegan Kohlrabi Steak recipe features green kohlrabi sliced into delicate rounds and topped with a creamy mushroom gravy. It almost resembles steak, but thankfully, it's a satisfying plant-based meal that will please many different palates, vegans and non-vegans alike. Brought to you by Lizzy from It's a Veg World After All (I love that name).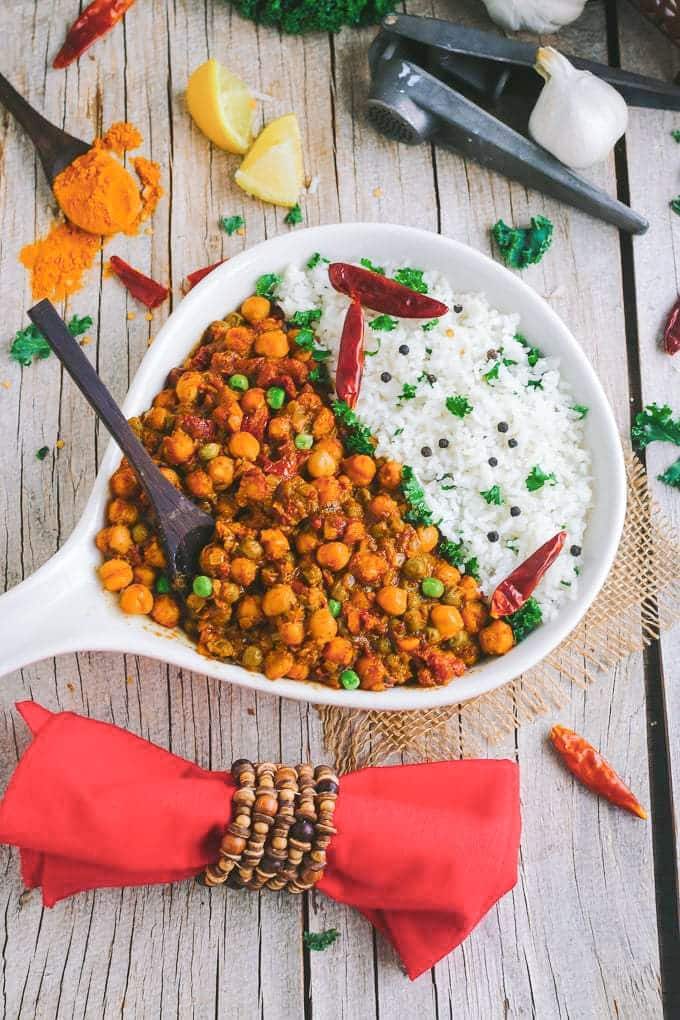 Is it a pea or is it a bean? Once you taste this Chickpea Coconut Curry, you won't give a damn! Perfumed with a fragrant blend of Indian spices, then bathed in a rich coconut milk curry sauce, this vegan curry is as exotic as it is super simple to make. It goes from prep to plate - using only one pot mind you - in less than 30 minutes.
9. Vegan Lentil Oat Loaf
Vegan alternatives to turkey are really not that hard to find, as you're starting to learn from reading this post. From Carrie over at Clean Eating Kitchen comes another awesome recipe for Vegan Lentil Loaf. This one, friends, is also gluten-free. The recipe makes two loaves, so you'll have plenty of turkey-less leftovers.
Last but not least, this Stuffed Holiday Acorn Squash recipe features forbidden rice, a melange of flavorful vegetables and ruby red beads of pomegranate stuffed into tender acorn squash. Topped with a sprinkle or two of slivered almonds and you have the perfect culinary treat to share with your family and friends.
Final Thoughts about 10 Alternatives to Turkey
I hope you were able to find Vegan Alternatives to Turkey that you can make for your turkey-less holiday. If you enjoyed the post, please be sure to share it on Facebook, Pinterest and Twitter. And, if you make one of the recipes, please take a pic and post it to Instagram @VeganVigilanteBlog.
Looking for more holiday recipes? Check out the following holiday roundups from previous years:
30 Easy Vegan Thanksgiving Recipes
18 Last-Minute Thanksgiving Dessert Recipes
47 Last-Minute Christmas Dinner Ideas
28 Vegan Soup Recipes
Don't forget to leave a comment! See you in the kitchen!