These 30 easy Vegan Thanksgiving Recipes are an awesome collection of vegan alternatives to dairy and meat on Thanksgiving Day. Brought to you by a collaboration of food bloggers from across the globe!
I absolutely love Thanksgiving, especially now that I'm Vegan. With so many scrumptious Vegan Thanksgiving recipes to choose from, who wouldn't. But with me being the only Vegan in my family, I cringe every time I walk into my mother's house on Thanksgiving Day and see a turkey on the table. Although my sister usually prepares a few Vegan options for me to chose from, I still can't get past that poor turkey. So this year, I've decided to host Thanksgiving Dinner at my house, Vegan style. Come one, come all or not at all, I can't wait to see how it turns out and to taste all the delicious Vegan Thanksgiving recipes that are swimming around in my head. But let's get back to why you're here today!
You're either Vegan, transitioning to Vegan, thinking about becoming Vegan or just wanting to try something different this year that's healthy and cruelty-free. You've come to the right place. I've collaborated with a few other awesome food bloggers from Food Blogger Pro to bring you some of the best Vegan Thanksgiving recipes on the planet. These recipes are as rich and decadent as the traditional Thanksgiving recipes you probably grew up with. But one thing is different. No animal had to give their life in the process of putting food on your plate.
Without any further ado and on behalf of my colleagues and myself, we hope you enjoy these festive Vegan Thanksgiving recipes.
Vegan Thanksgiving Appetizers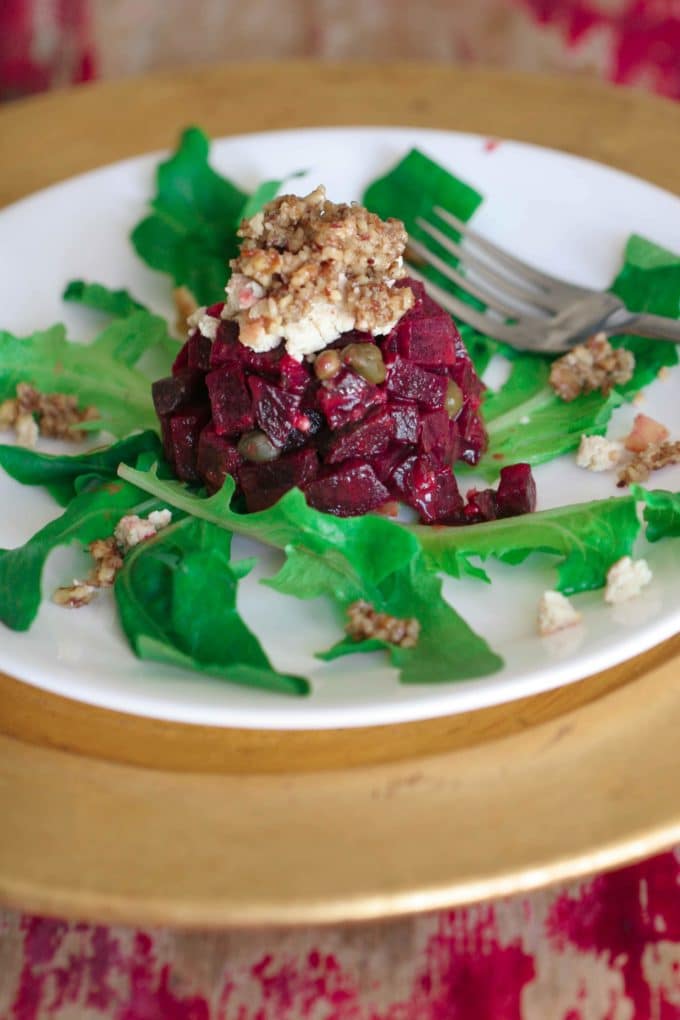 The rich magenta color of these tasty roasted beets pair well with any holiday and will be a wonderful addition to your Vegan Thanksgiving table. Most Beet Tartare recipes are made with goat cheese, something I choose not to indulge in as a Vegan. But never fear, I've married my Vegan Beet Tartare to my Vegan Tofu Chèvre (featured below), the perfect Vegan substitute for goat cheese. What can I say, both recipes are screamin'.
Cheese and crackers anyone? No way, we're Vegan and there's nothing like my Baked Garlic Tofu Chèvre to remind us of why we chose this lifestyle. This stuff is the bomb, you guys, I've never tasted anything like it and it's the perfect substitution for goat cheese. Serve it with some warm biscuits or dinner rolls or as a snack with crackers and a Vegan cheese plate. Either way, you're gonna love it as a Vegan Thanksgiving appetizer.
If you want an extra special appetizer to top whatever bread or crackers your serving on turkey-less day, why not try this red Hot Ajvar, also known as Serbian Roasted Red Pepper and Eggplant Relish. It's smoky, spicy and rich with flavor, but let's not forget about it's amazing color. A perfect compliment to any side dish or appetizer.
Yay, it's pumpkin time again, where everything pumpkin can come out to play! My Spicy Pecan Pumpkin Hummus is just the thing to get your Thanksgiving dinner party started. Pair it with some warm french bread, whole wheat crackers or a beautiful vegetable plate and you'll have yourself a winner. Seriously hungry friends, you don't want to miss this one.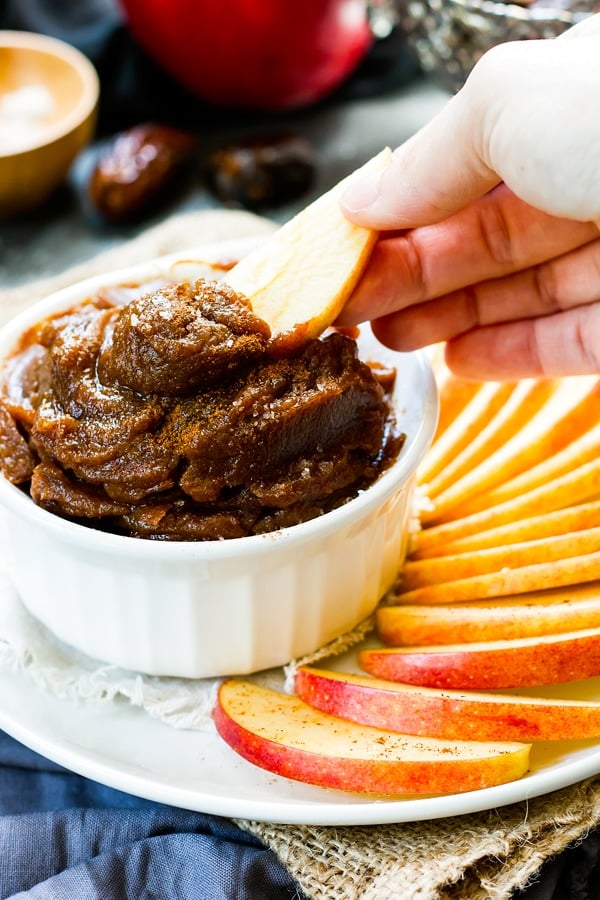 I absolutely love the color of this Healthy Pumpkin Caramel Dip. You can be sure it tastes just as good as it looks. It's also no surprise, coming from Evolving Table, that it's Vegan, gluten-free and refined sugar-free. Pair it with some sliced apples topped with a sprinkle of cinnamon and you'll have a Vegan Thanksgiving appetizer to die for.
Vegan Thanksgiving Soups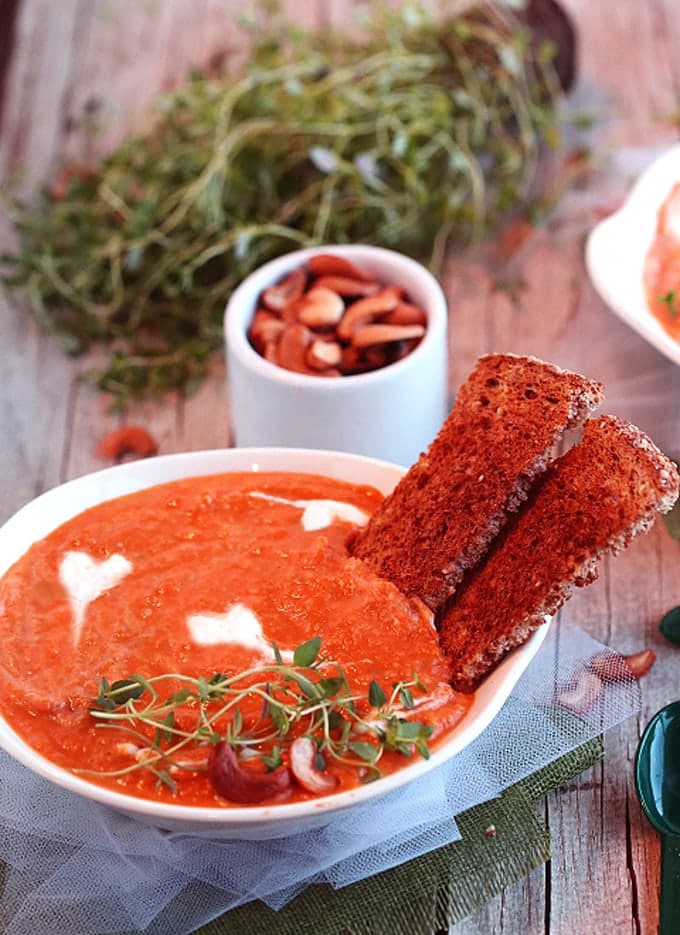 Toasted cashews, sweet carrots and spicy ginger meld together with rich coconut milk to create this Toasted Cashew Carrot Ginger Bisque, an exotic, East meets West mix of savory flavors and hearty wholesome taste. If you want a simple, super delicious Thanksgiving Soup Recipe to serve to your hungry guests on Thanksgiving, this one will leave them with a smile.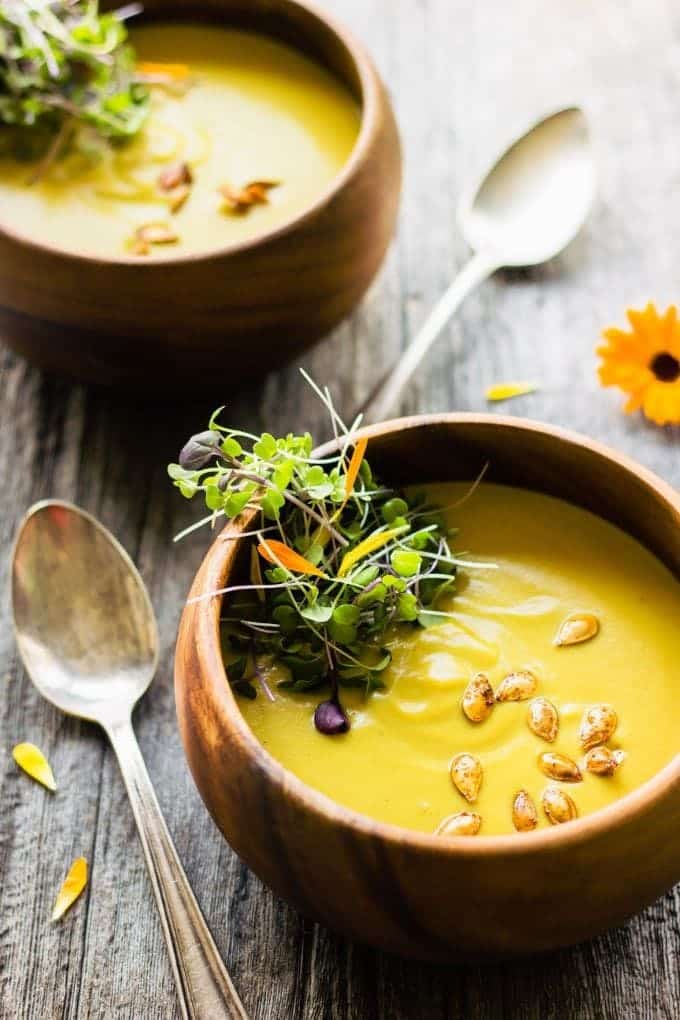 This next recipe is brought to you by One Clever Chef. I promise you, you're going to love this Curried Acorn Squash Cream Soup. Garbriel describes this soup as a combination of sweet, spicy, creamy and savory. Wow! All that in one soup! An absolute must-try for the upcoming holiday. Remember, to make it Vegan, use the vegetable broth option in the recipe notes.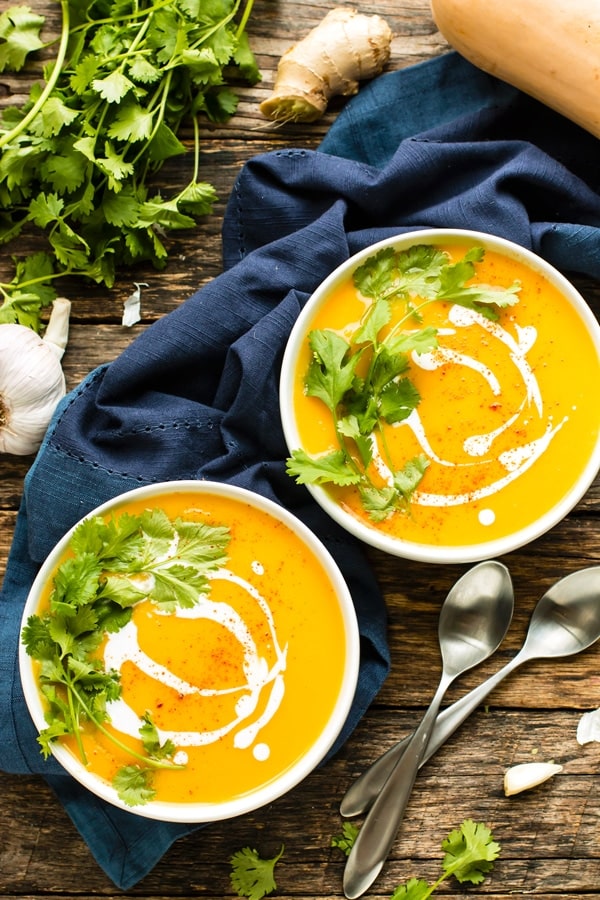 Another awesome recipe from Evolving Table, this Roasted Butternut Squash Soup is Vegan, gluten-free, Paleo, refined sugar-free and low carb. One bowl of this has over 50% of your daily requirement for Vitamin C. It's rich, creamy, soothing, comforting, super healthy and will pose as the perfect appetizer to compliment your other Vegan Thanksgiving recipes.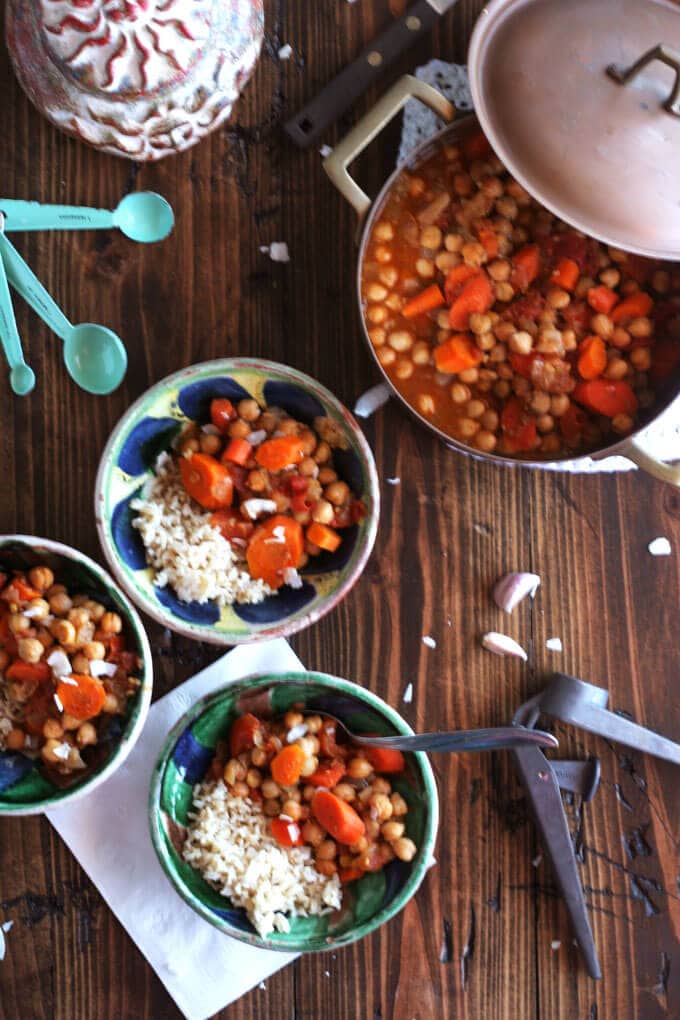 If you need a little comfort food on Thanksgiving day, think about making my Garbanzos de Espania, or put simply, Vegan Garbanzo Bean Stew. You can make this ahead of time and stick it in the fridge for a day or so. By the time you serve it on Thanksgiving Day, all the spices will have melded together to make a rich and decadent amazing culinary treat.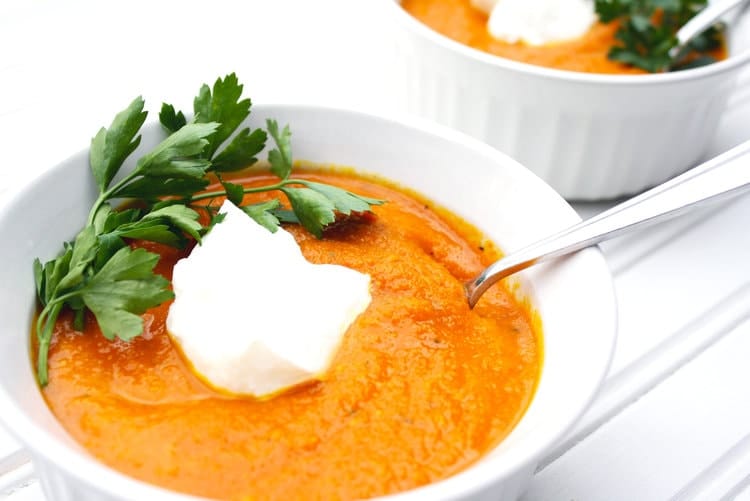 The healing properties of this Carrot, Tumeric and Ginger Soup will last far beyond Thanksgiving Dinner. Low fod-map, anti-inflammatory and anti-bloat, according to my friend Sara of Real Balanced, this soup is also paleo, Whole30 compliant, gluten-free, grain-free, dairy-free, vegetarian, and sugar-free. Wow, I don't know how she does it but she did!
Vegan Thanksgiving Side Dishes
Oh my gosh, all this food is making me hungry, especially when I look at these Oven Roasted Eggplant Cubes with Balsamic Vinaigrette. Can you say healthy and good for you! Thank you once again, One Clever Chef! Yes, it's true, these are Vegan, gluten-free and refined sugar-free. And they are super easy to make. Just spread them on a sheet pan, put them in the oven and whammo, they are done and ready to serve to a hungry Thanksgiving crowd.
Vegan, gluten-free, low carb, low calorie, Paleo, I can't say enough about how healthy this Thanksgiving Cauliflower Stuffing is, brought to you by Vickie and Ruth, my friends over at May I Have That Recipe? The ingredients alone make me want to swoon! Imagine how your guests will feel when they taste it. Um, um, good! The best part about this recipe, it can be made in 20 minutes. I like that!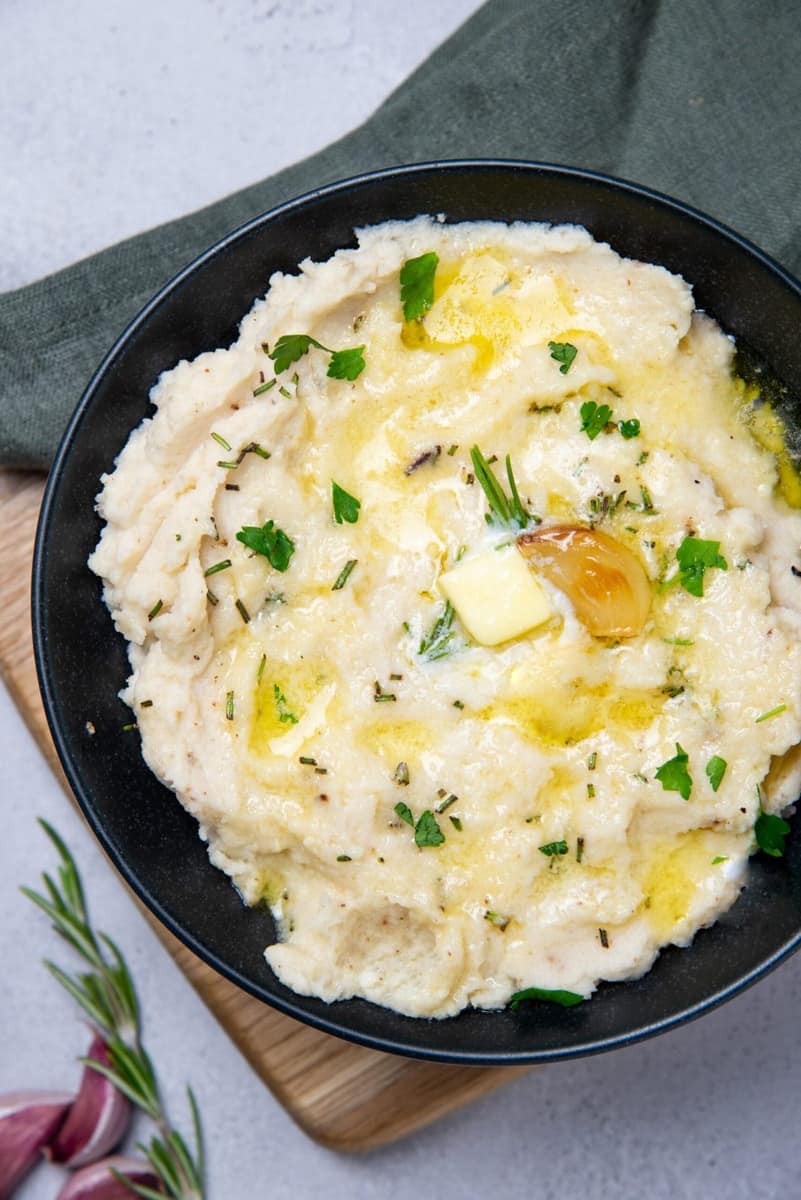 This was one of the first Vegan Thanksgiving recipes I ever created. My Roasted Garlic Mashed Cauliflower is topped with savory sauteed mushrooms and puts a new spin on traditional mashed potato recipes. These will pair well with just about anything Thanksgiving and mashed potato fans will be amazed at how much they taste like real mashed potatoes, only completely plant-based!
No Thanksgiving is complete without this Easy Cranberry Sauce from Queen of My Kitchen. Out of all the Vegan Thanksgiving recipes included in this roundup, this delightful Vegan Cranberry Sauce is probably the easiest requiring only 3 ingredients. It can be made on the stove top or in the slow cooker. Easy to prepare and clean-up is a breeze if you use crock pot liners. Wow, wish I had known about those years ago! This is one easy cranberry sauce recipe that you'll want to revisit, year after year.
There's something about the rich ruby color of pomegranates that just screams holiday, don't you agree? Once again, Vicky and Ruth from May I Have that Recipe have outdone themselves. These Warm Green Beans with Chestnuts, Pomegranates and Lemony Tahini look almost too good to eat! What you'll get in this dish are sautéed green beans, creamy chestnuts, tart dried cherries and crunchy pomegranate seeds drizzled with tangy lemony tahini. This dish is so bright, your guests are going to have to wear sunglasses just to eat it!
This Healthy Vegan Sweet Potato Casserole with Pecan Oat Crumble from Evolving Table is made with fresh organic sweet potatoes, pure maple syrup and gluten-free rolled oats. Easy to make and only 312 calories per serving. But who's counting, it's Thanksgiving for goodness sake.
To make these decadent Thanksgiving Stuffed Yams, you first remove their tender flesh and then whip it with some Vegan cream cheese, a little coconut oil and some spices. You then stuff the flesh back into their skins and top with a crunchy oat topping. Yum, yum, good. From my friends at May I Have That Recipe.
Vegan Thanksgiving Main Courses
A fool-proof, easy-peasey Vegan twist on Beef Wellington, one of the hardest dishes to ever get right as told by my friends over at May I Have That Recipe? But we don't have to worry about all that because according to the girls, this Vegan Tempeh Wellington is not only Vegan, it's foolproof. It will be the perfect centerpiece in which to set all your other Vegan Thanksgiving recipes around.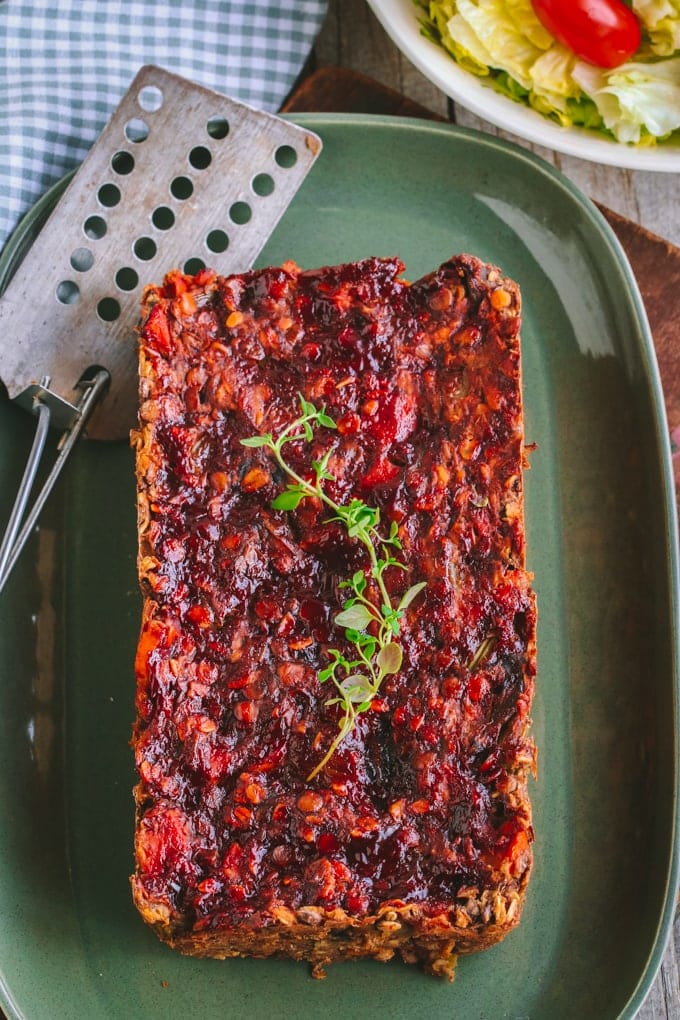 Nothing says quintessential comfort on Thanksgiving more than this Savory Vegan Lentil Loaf. Made with sauteed vegetables, lentils and a medley of spices, this Thanksgiving Main Dish is not only vegan, but Whole Food Plant Based and gluten-free, too. Traditional meat loaf doesn't hold a candle to this tasty loaf!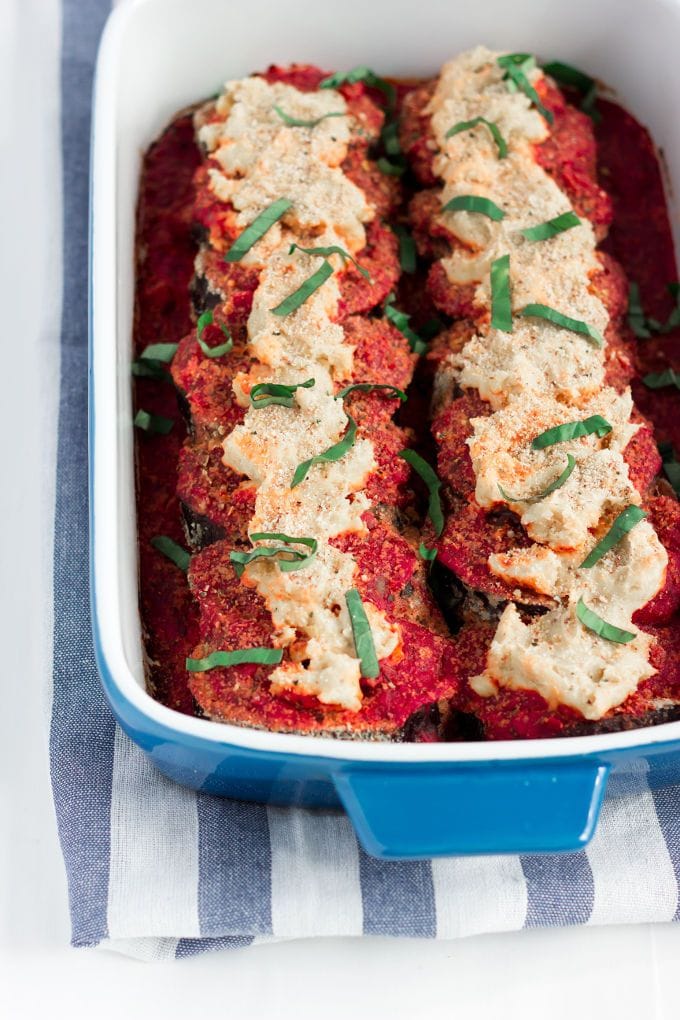 Who needs Parmesan cheese when you have this Vegan Oven-Fried Eggplant Casserole topped with creamy Vegan mozzarella? This Vegan version of Eggplant Parmesan is made with 100% unprocessed ingredients so the health factor of this dish is blazin'. And thank you Gabriel from One Clever Chef for making this dish Gluten-free, Egg-Free, Dairy-Free, Vegan, Flourless and Paleo!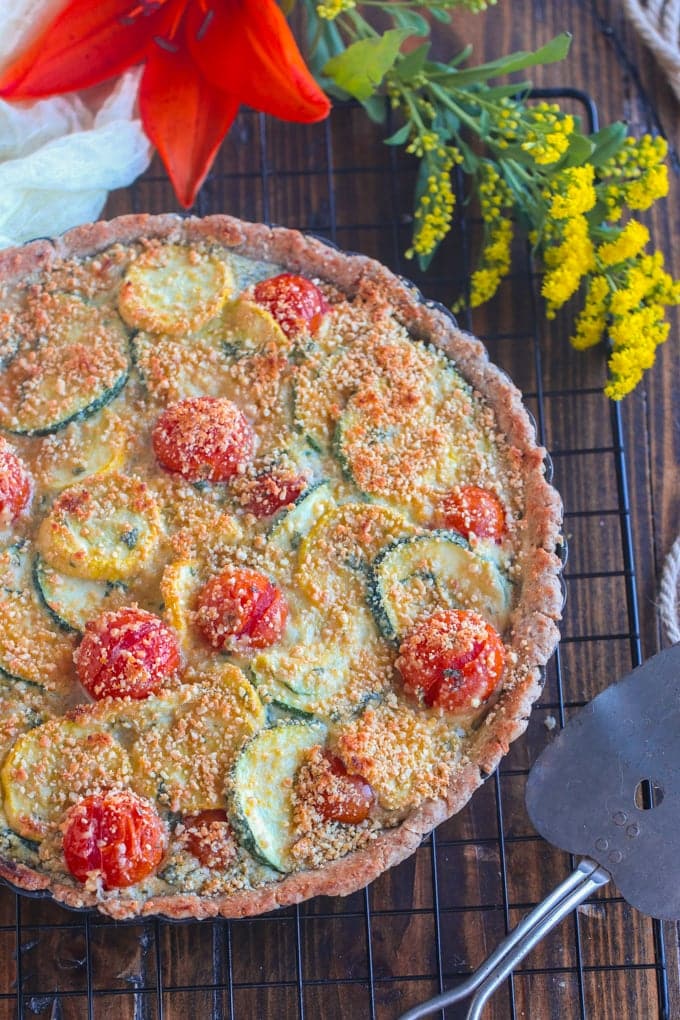 If you're looking to get away from traditional Thankgiving recipes, why not try my fabulous Vegan Tomato Zucchini Tart with Creamy Cashew Cheese? Made with fresh basil, cherry tomatoes, fresh zucchini, yellow squash and Vegan Parmesan Cheese, it will make a beautiful, holiday center piece that's guaranteed to please.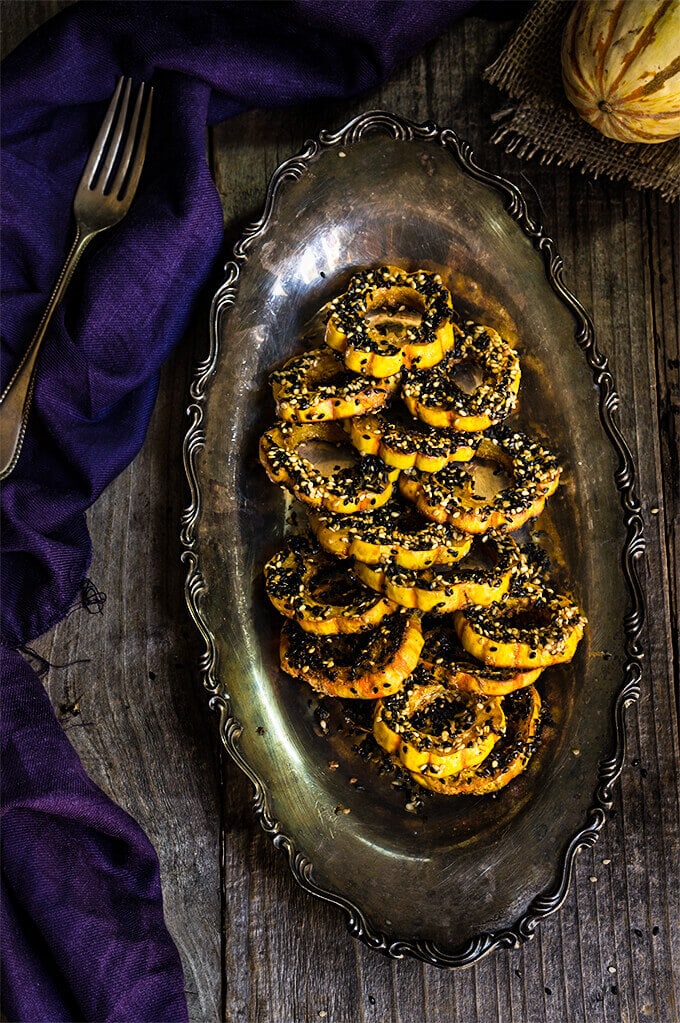 Sesame Roasted Maple Chipotle Delicata SquashDecisions, decisions...is it a main dish or a side? This Sesame Roasted Maple Chipotle Delicata Squash is a no-peel squash recipe that looks so beautiful in this picture, I decided to place it in the main dish category. We can thank my friend Viktoria over at ViktoriasTable.com for this amazing spin on delicata squash. Viktoria swears they are sweet and spicy and freakishly delicious! And let's not forget the crunch!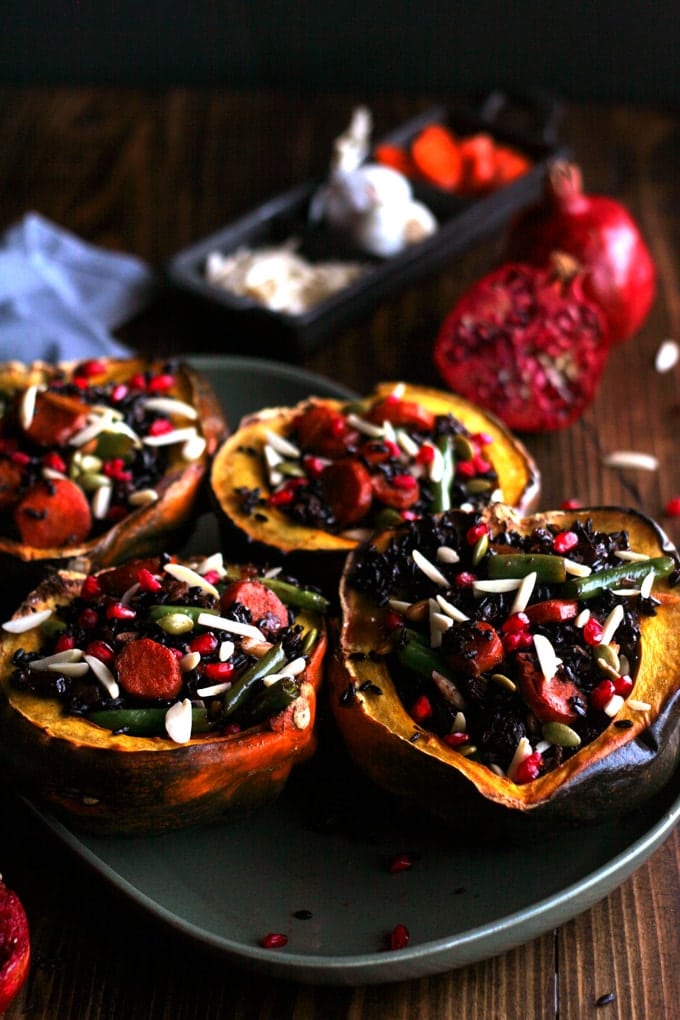 Topped with crunchy almonds and ruby red beads of pomegranate, this Stuffed Holiday Acorn Squash is filled with a Forbidden Rice stuffing packed with seasonal vegetables and a medley of amazing spices. Vegan, gluten-free and refined sugar-free and a must have for this vegan holiday season.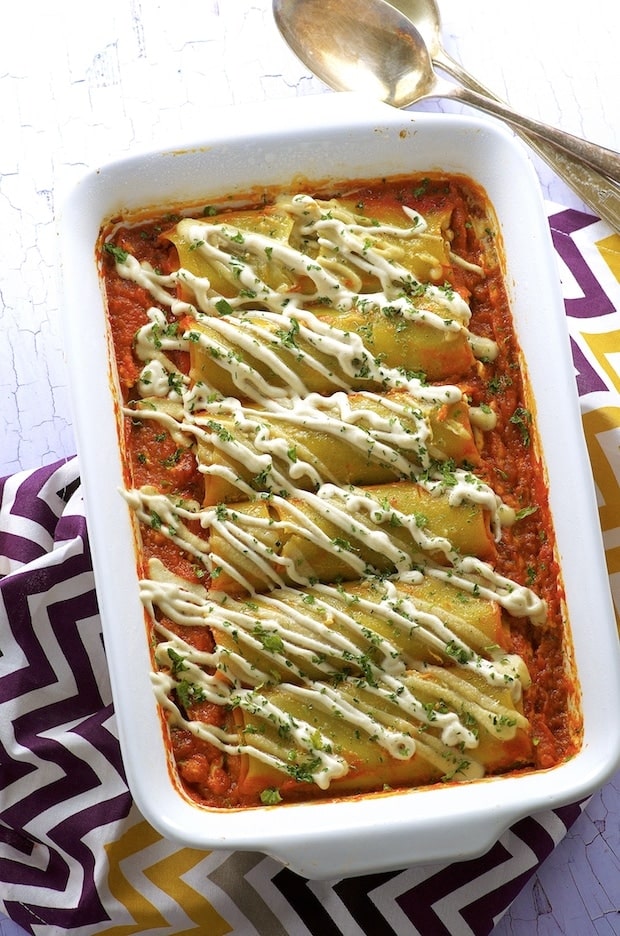 Visions of pumpkins are dancing in my head right now. Vicky and Ruth from May I Have That Recipe have done it again with this amazing Vegan Pumpkin Canneloni with Cashew Cream. These little delights are made with Explore's Green Lentil Lasagna sheets, stuffed with a super easy pumpkin filling and then baked on a bed of tomato sauce. If you're looking for a meatless main pasta dish to serve on Thanksgiving Day, look no further.
Wow, these Vegan Wild Rice & Chorizo-Stuffed Baby Pumpkins really jump out at you, don't they? They look so amazing, I can't wait to try this recipe. Any of you feel the same way? From the girls over at May I Have that Recipe.
Vegan Thanksgiving Dessert Recipes
This Pumpkin Cashew Cheesecake is full of pumpkin pie flavor with the sinful creaminess and richness of a traditional cheesecake. This baby is vegan, dairy and gluten free! Thanks again May I Have That Recipe!
Yum, my Healthy Chocolate Chip Cookie Dough Bites are Vegan, gluten-free and refined sugar-free. These babies take only a few minutes to whip up and the best news is, you don't have to cook them! Yes, friends, this is one cookie dough recipe that is edible and actually good for you. A wonderful Vegan Thanksgiving dessert recipe your whole family will enjoy.
Whoever said Vegan Thanksgiving recipes were boring were so wrong. Take this Grain Free Pumpkin Pie by Evolving Table . It's made with coconut milk and sweetened with maple syrup for an easy to make dairy-free, gluten-free, Vegan and Paleo pumpkin pie Vegan dessert for your Vegan Thanksgiving dinner. Takes 80 minutes from prep to plate and is only 242 calories per serving. Yummy!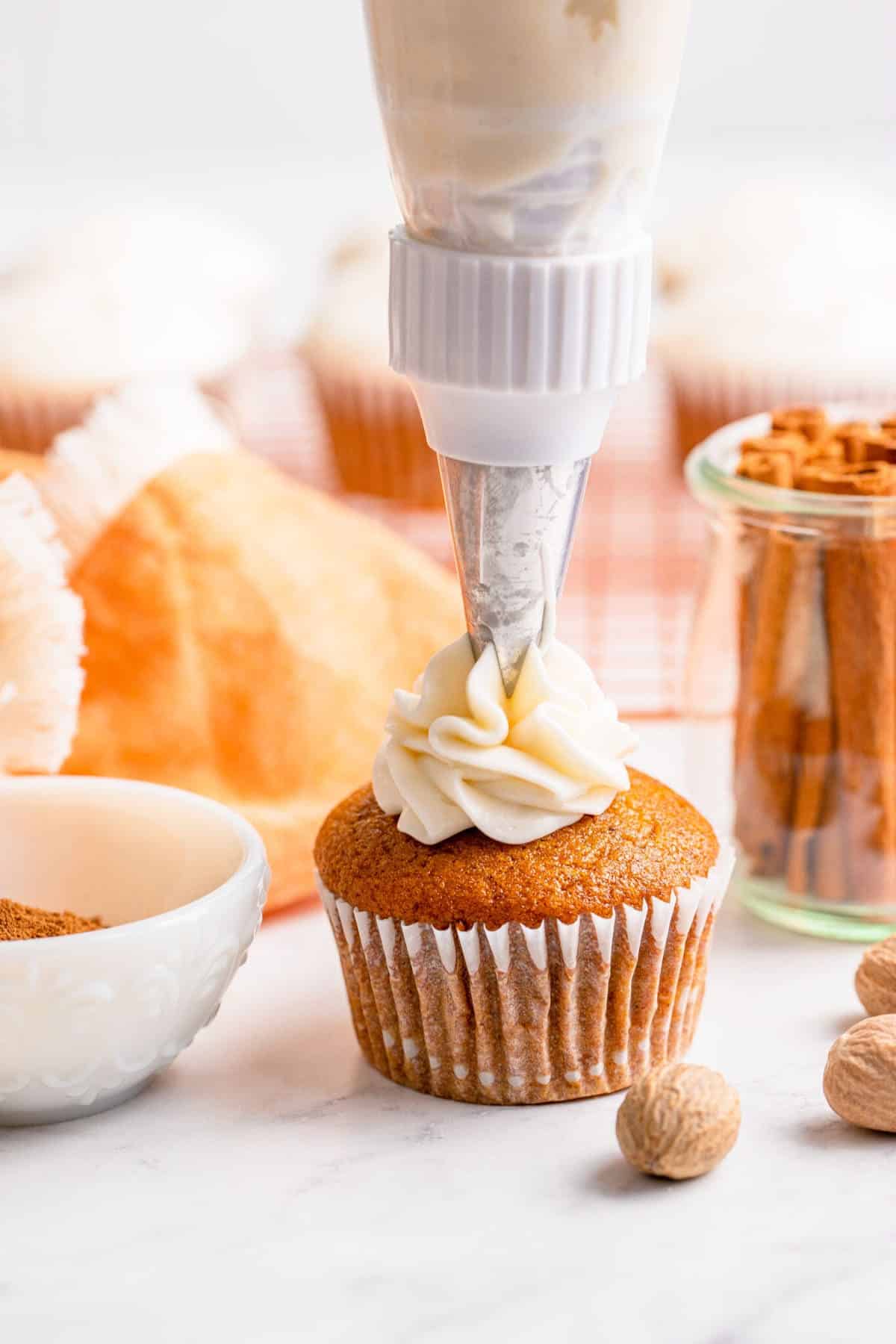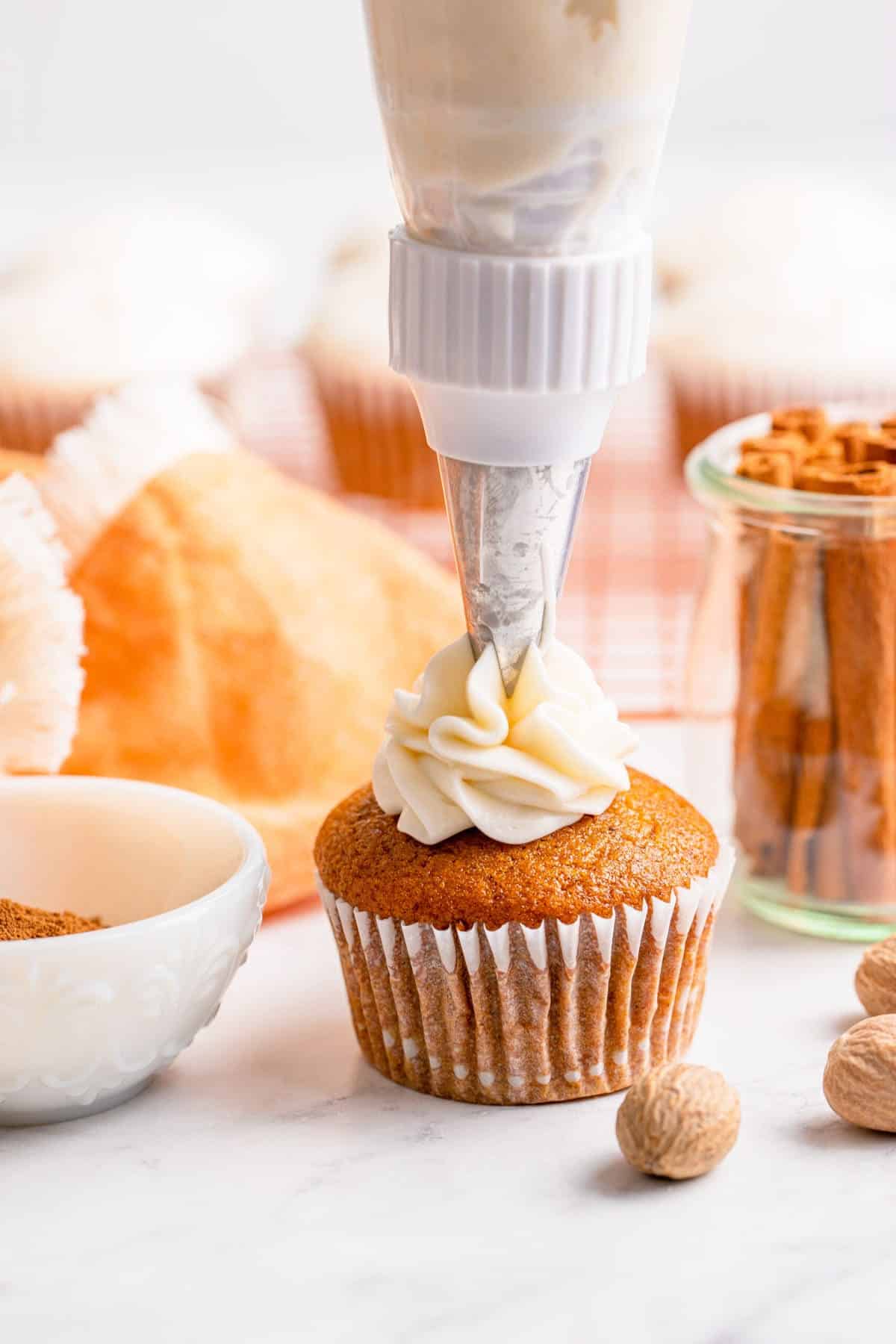 Sweet, moist and oh-so-pumpkin, these Vegan Pumpkin Pie Cupcakes with Cream Cheese Frosting are rich and creamy and purely plant-based! They're the perfect Vegan Thanksgiving Dessert to serve with French Roast Coffee after a satiating Thanksgiving meal. These are a breeze to whip up and bake in the oven. Your guests are going to lap them up!
These sweet treats just shout out yum yum factor, don't they? Thank you Meagan from Eat Something Delicious for sharing your Pecan Pie Shortbread Bars. These Fall-inspired bars have a soft maple shortbread layer covered in sticky date caramel. But wait, they're also topped with candied cinnamon pecans and made from just three ingredients. And they're all Vegan. Can't wait to try these!
The End of our Vegan Thanksgiving Recipes
We hope you enjoyed browsing our Vegan Thanksgiving recipes. If you make any of the dishes on this page, don't forget to take a photo and tag it #veganvigilante1 on Instagram. Please also follow me on Facebook, Pinterest and Twitter. I would absolutely love to hear what you think about my very first roundup. Please leave me some lovin' in the comment section under this post. If you want to leave me a private message, contact me anytime by email at [email protected].
Don't forget to sign up for my newsletter. I promise never to spam you or share your information. See our privacy policy for more info.
I hope you all have a wonderful Thanksgiving!