Avocado Tartine with Hot Ajvar and Pickled Onions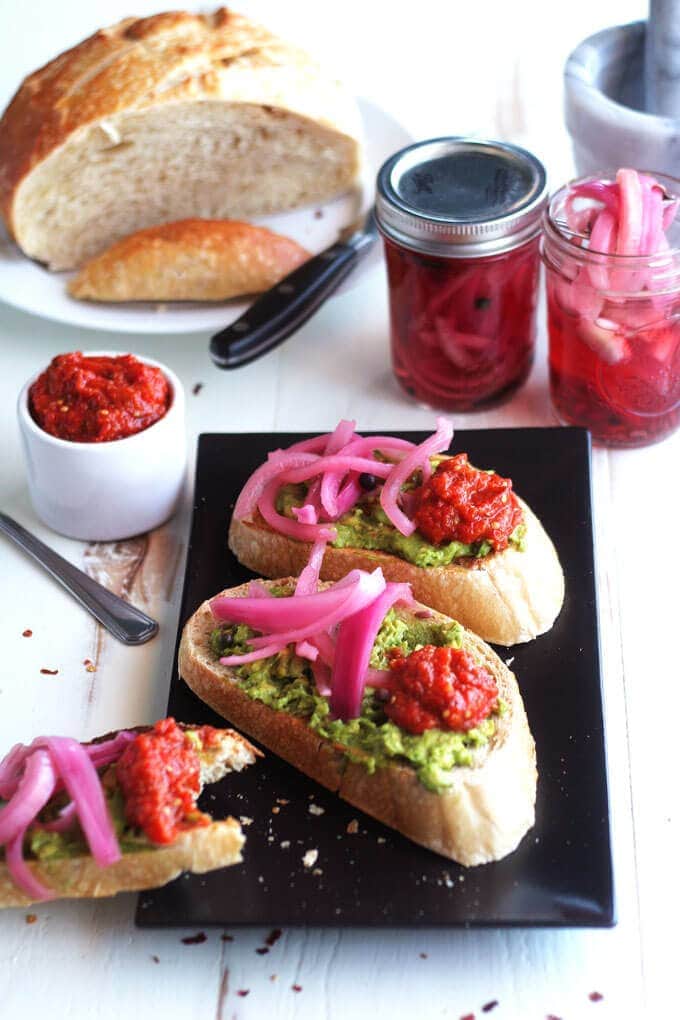 Tartine (tärˈtēn) - a fancy French word for a slice of bread with a sweet or savory topping. This amazing sandwich, if you will, is purposefully left open-faced to showcase its many elaborate toppings in a stronger spotlight. While traditionally slathered with just butter and jam, today's tartine is fashionably dressed in a delicious vegan mélange of roasted vegetables, savory olive butter, asparagus tofu, vegan hollandaise, caramelized onions, figs...anything the heart desires. Start with a good rustic loaf of bread or a freshly baked baguette and you're ready to take your Vegan Tartine to the next level. That brings me to why I'm reaching out to you today. My Avocado Tartine with Serbian Hot Ajvar and Spicy Pickled Onions.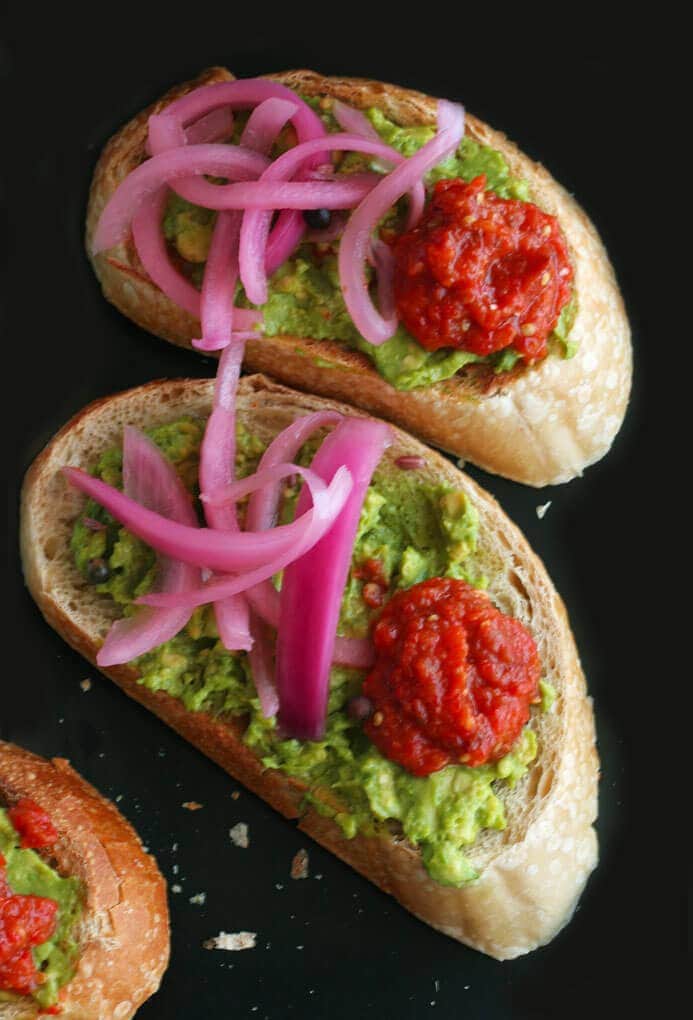 The inspiration for this Avocado Tartine comes from Frontier Cafe in Yucca Valley, one of the few restaurants in my town that offers vegan food choices. Every time I eat there I order the same thing: The Avocado Tartine with Hot Ajvar and Pickled Onions. I go there after work sometimes and this delicious menu choice is always waiting for me. I liked it so much I decided to make my own version of it. And I'm so glad I did.
Lets Talk Recipe!
For this recipe, we will be using two popular previous recipes on my blog: my Hot Serbian Ajvar and my Two-Toned Spicy Pickled Onions. The Ajvar is primarily made from roasted red bell peppers and eggplant and has it's roots in the Balkans, frequently showing up in Serbian, Croatian and Bosnian cuisine. It was the one ingredient in Frontier Cafe's version of my recipe that I couldn't identify.
The Tartine
The bread you choose when making any kind of Tartine is extremely important. You want it to be sturdy enough to handle layers upon layers of toppings without succumbing to the weight and making a big mess all over your floor. Frontier Cafe used a French Country Levain. I chose a freshly baked loaf of sour dough from my local bakery.
Once you've chosen your bread, slice it into 1 inch slices and pop it in the toaster. Now you're ready for the avocado part. For this, I simply scoped fresh avocado out of its shell and mashed it up in a bowl. Easy-peasy. If you're the adventurous type, feel free to add some spices like dill, fennel seed or tarragon. Remember: the sky's the limit!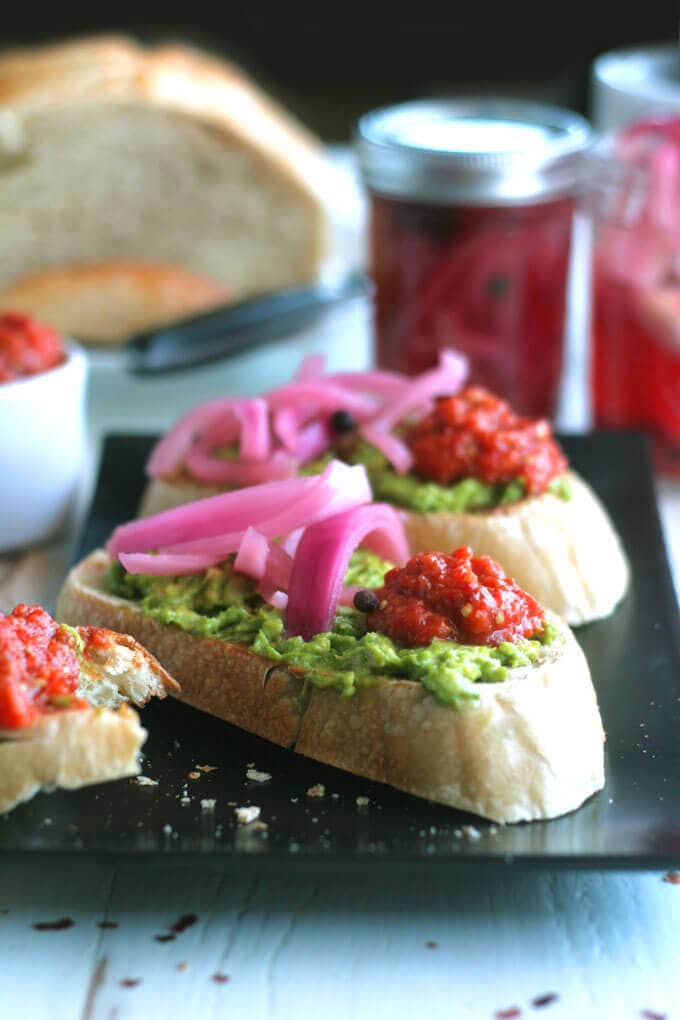 I have a confession to make. I'm a big klutz in the kitchen. I mean every time I approach the kitchen to create a masterpiece, something bad happens to interrupt my zen. Just a few of the things that happened in the last week include dropping a brand new, full bottle of virgin olive oil all over the kitchen floor (I'm still picking glass out of my feet), almost burning down the house (never walk away from your fry pan when you're heating oil as it will explode into flames), losing a piece to my most prized possession, my food processor :-(( and nearly slicing off my finger when I cut the onions for this recipe. And another thing.
I can't tell you how many times I walk into the kitchen and forget what I was going in there for. I often find myself asking: "is this a normal part of the aging process or am I getting Alzheimer's". I've found that the only cure for my fading memory is comfort food. And comfort food can be anything like this Avocado Tartine topped with Hot Serbian Ajvar and Spicy Pickled Onions. I could eat this stuff all day long and never get tired of the flavor. I hope you like it as much as I did.
If you have questions about this, or any other recipe on my blog, don't hesitate to contact me or leave a comment. If you decide to try the recipe, please be sure to get back to me and let me know how it turned out. If you made changes, I'd love to hear about them. I'm always looking for new ways to create delicious recipes. Finally, don't forget to sign up for my newsletter and follow me on Instagram, Facebook and Twitter. See you in the kitchen.

📖 Recipe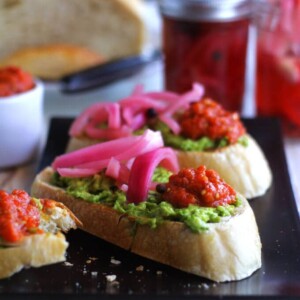 Avocado Tartine with Hot Serbian Ajvar and Spicy Pickled Onions
This Avocado Tartine is topped with a dollop of Hot Serbian Ajvar and a fork-full of Two-Toned Spicy Pickled Onions. One bite and you'll be hooked.
Print
Pin
Rate
Ingredients
8

slices

rustic style country bread

levain (or one whole baguette)

4

large ripe avocados

8

oz

Hot Serbian Ajvar

equivalent to one jar

1

jar Two-Toned Spicy Pickled Onions

sea salt

to taste
Instructions
Toast bread. Set aside.

Slice avocado in half, length-wise and spread apart. Pop out seed and with large spoon, scoop out avocado and put in medium sized bowl. Mash thoroughly. Add salt to taste. If you're adventurous, try adding some spices such as fresh dill, tarragon or thyme.

Spread avocado evenly on toast. Top with a dollop of Hot Serbian Ajvar and a fork-full of pickled onions. Serve immediately.
Notes
Nutrition
Serving:
1
g
|
Calories:
681
kcal
|
Carbohydrates:
86
g
|
Protein:
18
g
|
Fat:
33
g
|
Saturated Fat:
5
g
|
Polyunsaturated Fat:
5
g
|
Monounsaturated Fat:
20
g
|
Sodium:
786
mg
|
Potassium:
1165
mg
|
Fiber:
17
g
|
Sugar:
8
g
|
Vitamin A:
294
IU
|
Vitamin C:
22
mg
|
Calcium:
97
mg
|
Iron:
6
mg