Hungry friends, are you searching for vegan Christmas dinner recipes?  Look no further. I've collaborated with a few of my Food Blogger Pro friends to bring you 47 of the most delicious vegan holiday recipes on the planet. From Christmas vegan beverages and appetizers to Christmas main dishes and desserts, you're sure to find something here that will fit perfectly with your vegan Christmas dinner theme.
Vegan Christmas Beverages
I love to partake in delicious Christmas beverages during the holidays. I thought maybe you might too! Here are just a few to get you started. Warning: Alcoholic Beverages are for Adults Over the Age of 21
Celebrate the holidays with these Spiced Cranberry Spritzers topped with Blood Oranges and Candied Rosemary. A marriage of homemade cranberry jam,  spicy ginger beer and sparkling, non-alcoholic Rosé makes this a flavorful, festive mocktail that's easy to make and refreshingly delicious.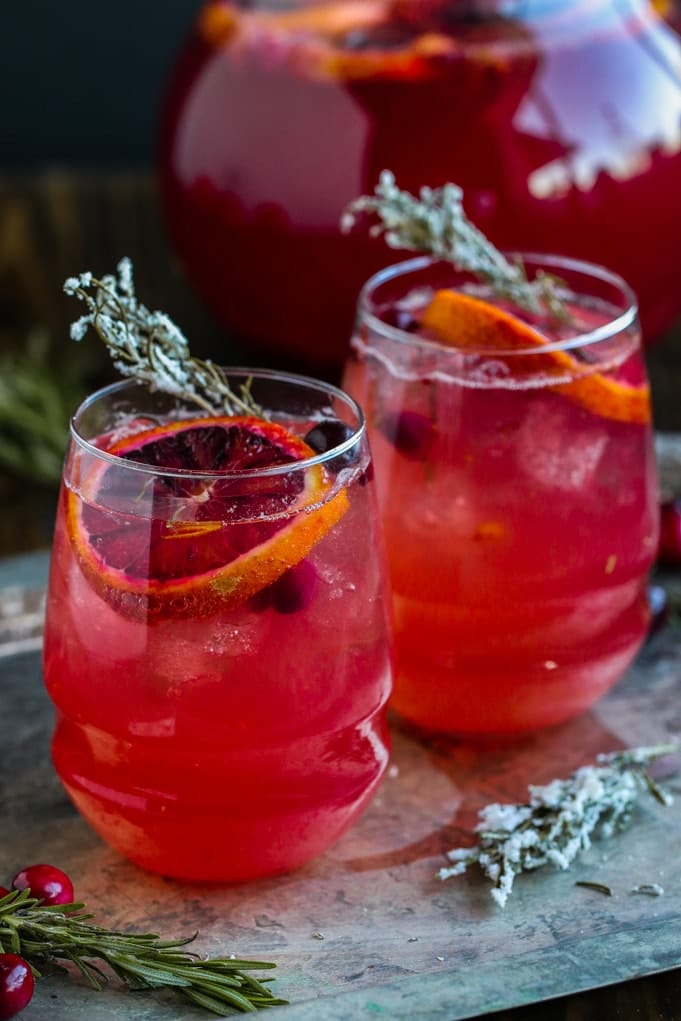 Finally a cocktail worthy of avocado toast, a Pomegranate Prosecco Kombucha Cocktail is a touch sweet, a little tart and perfectly probiotic.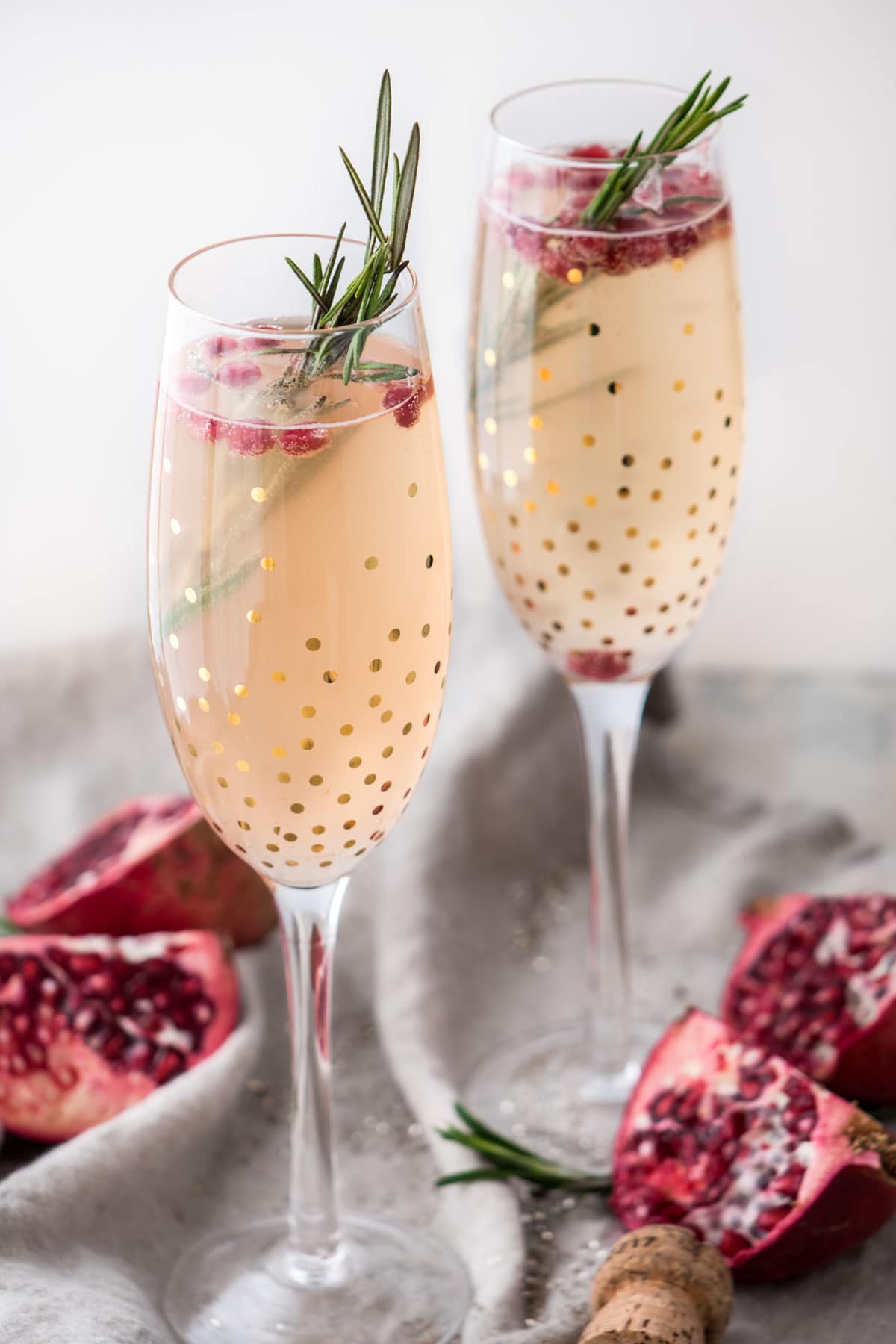 This rich, creamy vegan eggnog is alcohol and dairy-free and tastes just as good as the real deal. Of course, if you'd like to serve it with alcohol, add a shot of your favorite rum or brandy!
Baked apples combine the whole range of Christmas flavors. If you're looking for a new approach to this dessert, try our Spicy Baked Apple Smoothie today!
Bring on the holiday spirit by shaking up these bright and cheerful, rosemary infused, citrus martini.
Bloody Berry – bloody-colored, berry-flavored, fresh-tasting and simply bloody good!
Vegan Christmas Appetizers
Oh, how I love a great tasting appetizer, don't you? It just sets the mood for what's to come and you can bet if the appetizer is divine, the rest of the meal will be just as grand.
If you're looking for a pumpkin hummus recipe to make as a Christmas dinner appetizer that's easy to make and delicious, try my Spicy Pecan Pumpkin Hummus. You can serve it with just about anything: pita bread, whole wheat crackers, tortilla chips, a healthy vegetable and vegan cheese platter, you name it, it will taste good on it, guaranteed!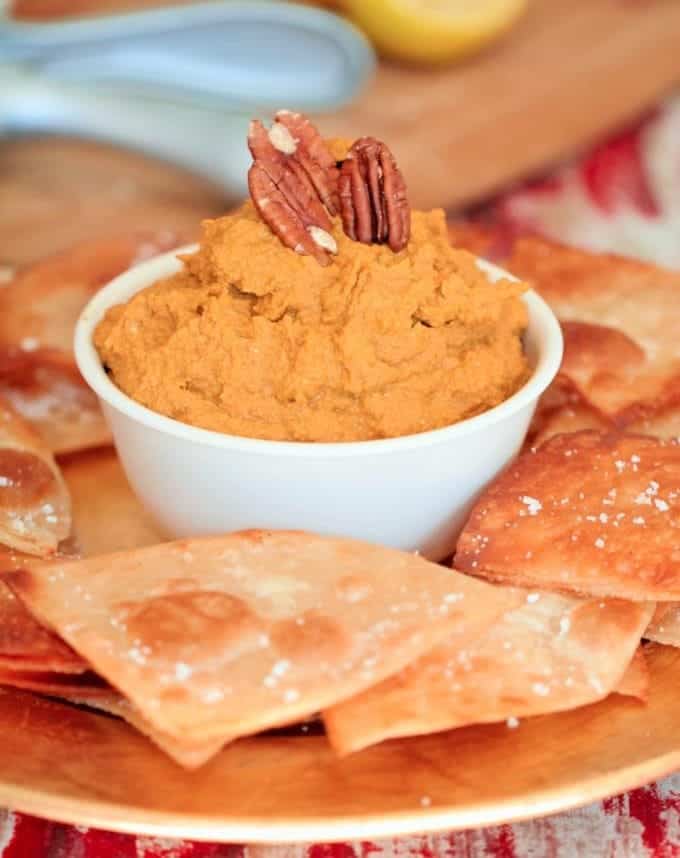 Ohhh, look at the color of this Hot Serbian Ajvar. If you've never had it before, Ajvar adds a unique flavor to any dish. You can add it to sandwiches, tartines or serve it with vegetables, crackers or other appetizers and it's amazing flavor won't let you down. Make it sweet, piquant or hot. It's sure to please the taste buds of even the pickiest eater. Perfect for a Christmas dinner appetizer.
The Best Vegan Cheese Recipe is a lactose-free cheese made with macadamia nuts, nutritional yeast, and other delicious flavors. The best thing about it: it's ready in only 5 minutes.
Would you like a tasty Christmas appetizer that's crunchy, flavorful, and healthy? Smoky and spicy roasted chickpeas deliver guilt-free, tasty satisfaction. Serve these up as at your Christmas dinner party and your guests will still have room for dinner.
Roasted beets are in this season and this Vegan Beet Tartare is nothing short of amazing. Imagine all these little beet pods sitting on your Christmas dinner table for each of our guests to devour before the main meal! This Vegan Been Tartare goes with my very popular Vegan Garlic Tofu Chèvre, an amazing substitute for goat cheese that will drive your guests crazy!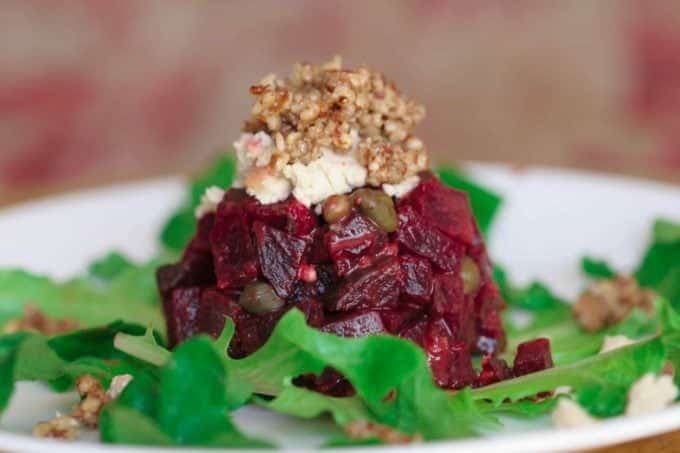 Muhammara Spicy Red Pepper Dip is a delicious vegan appetizer packed with goodness and flavor. It's so easy to make, it will soon become a go to recipe for you, too! Thank you David from Cooking Chat for contributing this awesome dip for my Christmas dinner roundup!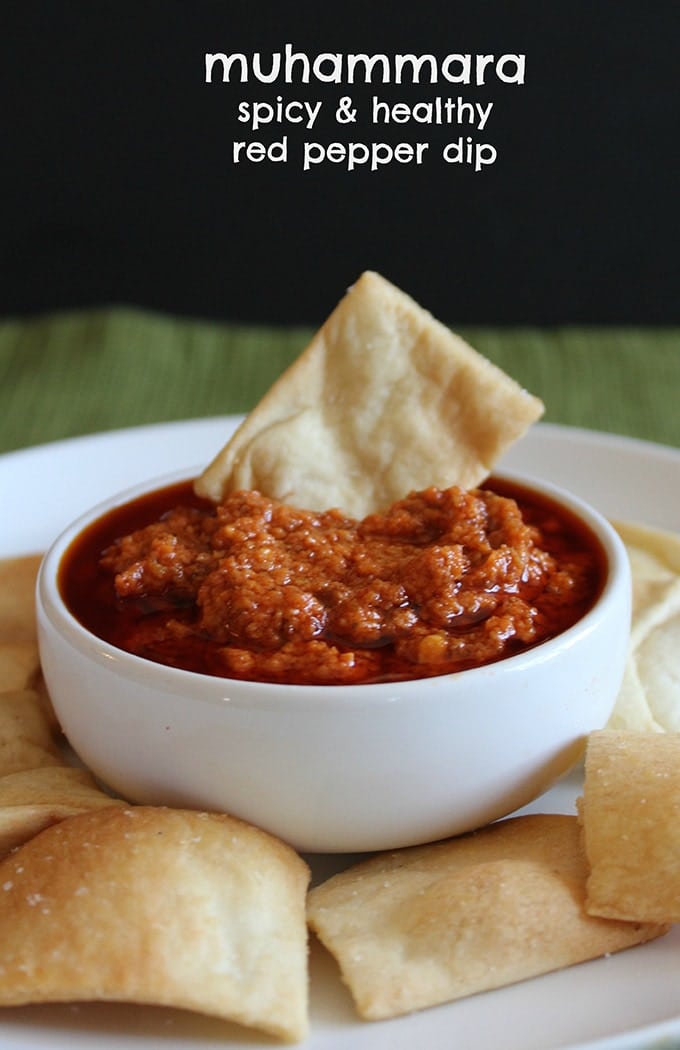 Muhammara Spicy Red Pepper Dip
OMG, I think I've died and gone to heaven, look at the fabulous color of my Roasted Beet Hummus recipe! Take advantage of the amazing health benefits beets have to offer by serving this tasty vegan appetizer on Christmas day.
These Sweet & Smoky Black Bean-Stuffed Mini Peppers make for the perfect appetizer at your Christmas dinner party or you can even serve them as a main dish. Nature provides us with such beautiful colors and these Stuffed Mini Peppers are a perfect testament to that.
Vegan Christmas Salads
There's nothing like a good vegan salad as a precursor to a beautiful Christmas dinner. Check out what I have in store for you:
This vegan Christmas salad is a vibrant addition to your festive table. Quick to put together, crunchy, fresh, naturally vegan and gluten-free.
This chopped broccoli salad is tossed in a sweet sauce full of balsamic vinegar, maple syrup and a bit of almond butter. It's finished with toasted walnuts, dried cranberries and pumpkin seeds for a healthy, gluten-free side dish to serve with Christmas dinner. Thank you London, for contributing this awesome salad idea!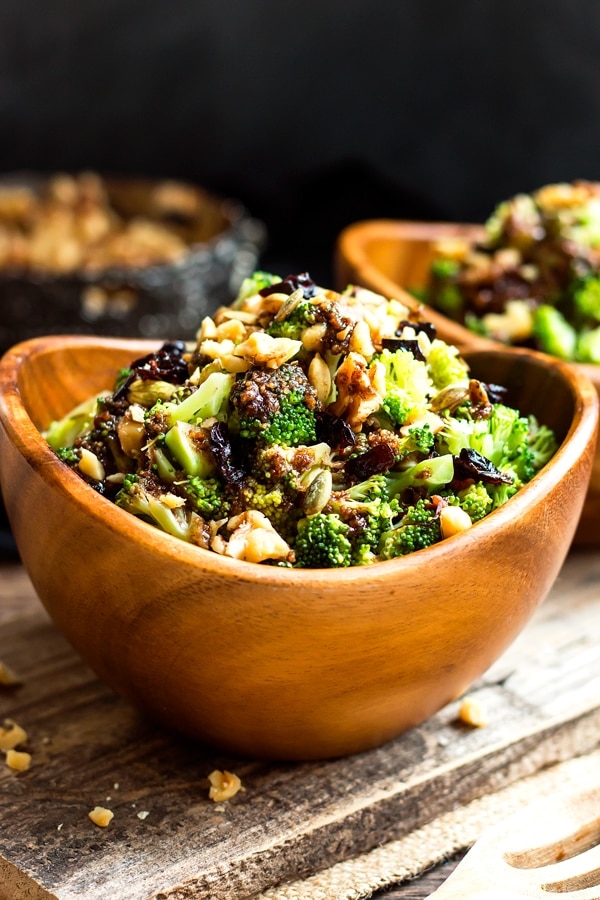 Hello, it's me again! This Pear Pecan Portobello Mushroom Salad is my go to salad when I want something easy and good for you, as well. Just think pear, pecan, cucumber and avocado with a drizzle of balsamic vinaigrette, and you've just described this delicious recipe that will go great with any Christmas dinner theme.
Vegan Soups and Stews
As winter approaches, more and more of us are turning to vegan soups and stews to keep us warm. The following soups and stews will do just that for you on Christmas day.
This amazing One Pot African Peanut Stew is simple to make with many pantry staples you probably already have. Loaded with nutrition-packed sweet potatoes, black beans and a medley of other vegetables, this is one of those Christmas dinner ideas you'll revisit time and time again.  
This easy and healthy curried acorn squash soup is the perfect fall comfort food. It's also vegan, gluten-free, dairy-free, paleo.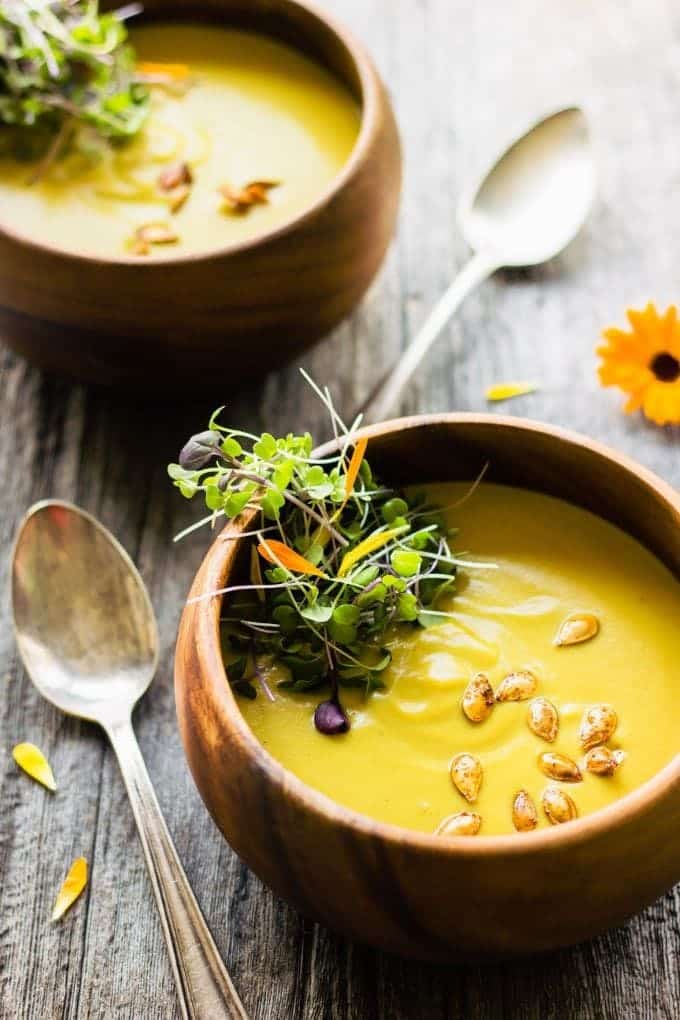 Curried Acorn Squash Cream Soup
Enjoy a big bowl of roasted butternut squash soup that is made with coconut milk and other Whole 30, vegan, and Paleo-friendly ingredients.  It makes a wonderful main dish, appetizer, or side dish recipe to serve on Christmas day.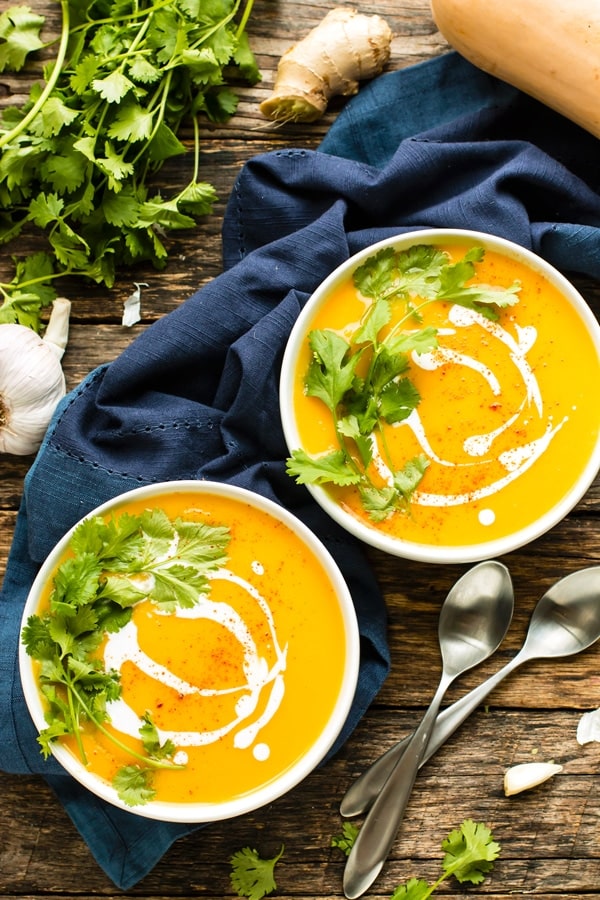 Vegan Christmas Side Dishes
If you haven't tried Cauliflower Mashed Potatoes yet, you and your guests are in for a nice surprise. The roasted garlic pairs exceptionally well with these cruciferous cauliflower gems as do the sautéed mushrooms, with a dollop of vegan butter, of course. You can also pour some vegan gravy over them for a real treat for your Christmas dinner.
This delight requires absolutely no cooking and can be used as a dessert sauce on ice cream or cake, or as an ingredient in an appetizer. The combination of spices gives this sauce a festive gingerbread taste without overpowering the classic cranberry flavor. And, this can also be made into jellied cranberry sauce for those who are more traditional.
Sesame-roasted, maple chipotle delicata squash – crunchy sesame crust, sweet and spicy soft interior, fun looking, and so freakishly delicious, it's scary. These are  perfect as a Christmas dinner side dish.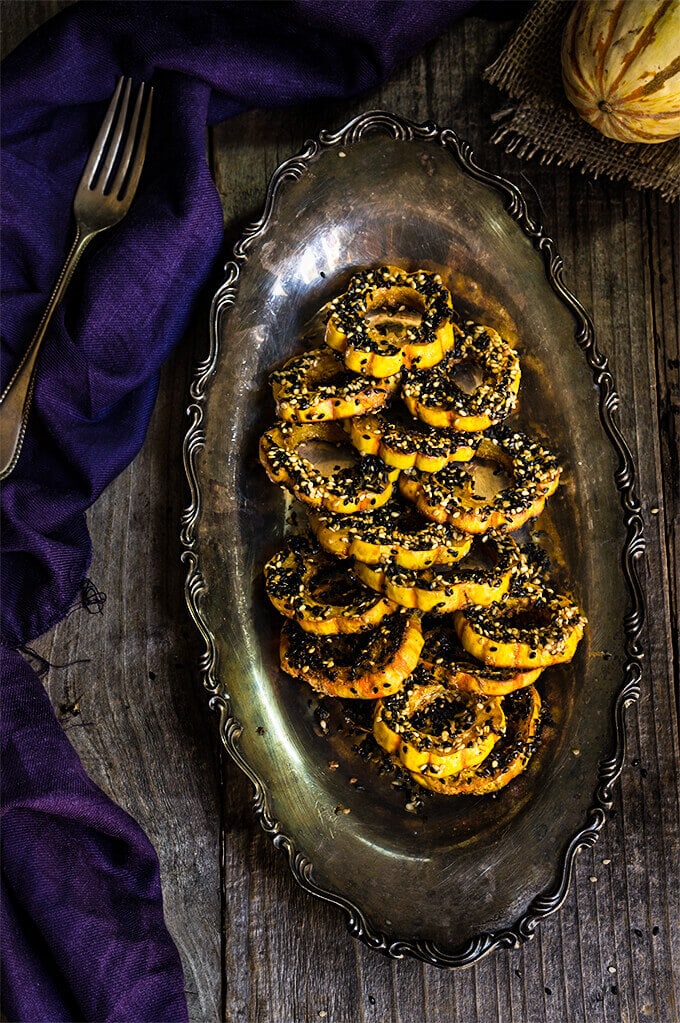 Sesame Roasted Maple Chipotle Delicata Squash
Tired of that old green bean casserole Aunt Mavis keeps bringing for the holiday? Why not try an alternative? This beautiful concoction is made of sautéed green beans, creamy chestnuts, tart dried cherries and crunchy pomegranate seeds drizzled with tangy lemony tahini. Easy to prepare and a whole lot healthier than that darn green been casserole. And, it will absolutely brighten your Christmas dinner table this Holiday season.
Maple Orange Glazed Brussel Sprouts from Evolving Table
Orange & Maple Glazed Brussels Sprouts are a stunning side dish sure to impress guests at your holiday table.  These roasted Brussels sprouts are free of gluten, grain, and refined sugar and can easily be made vegan! Thank you London for this awesome dish.
All you need for these Vinegar Green Beans is green beans, onions, olive oil, red wine vinegar and 15 minutes! A perfect, simple side dish when you have so much other stuff to cook on Christmas day.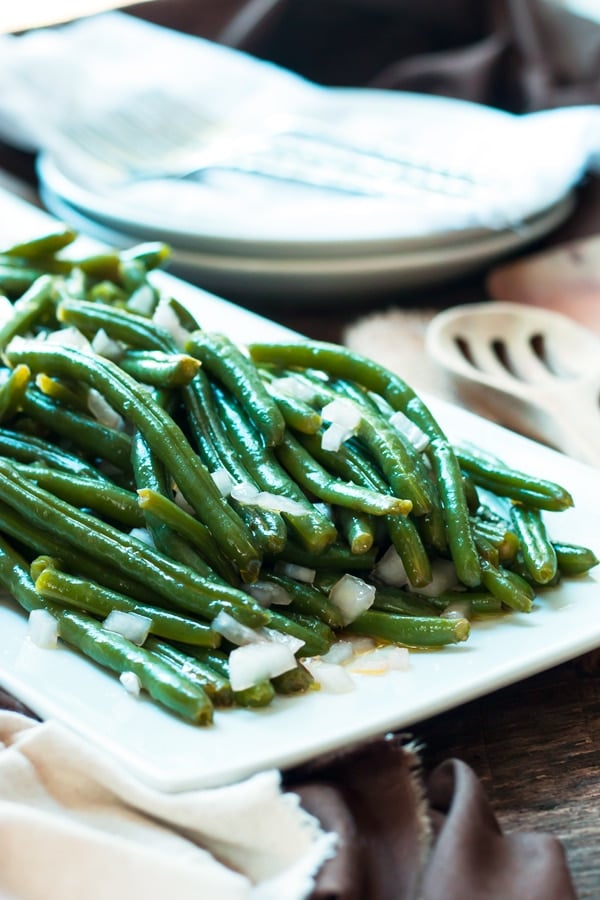 What Christmas dinner is complete without a Vegan Sweet Potato Casserole? This one's even better than the real deal because it's oil-free, butter-free and refined sugar-free and yet still delicious. All the same goodness of traditional sweet potato casseroles without the guilt. Oh, and it's topped with a pecan cashew crumble that sounds absolutely scrumptious. Enjoy!
Vegan Christmas Main Dishes
I hope you're liking these 40 Christmas dinner ideas so far. Next up, we have main dishes. I wish I had a big enough table to try everything on this Christmas dinner menu. Wouldn't that be grand? I know you're going to like these, so let's go!
For easy, no-fuss Christmas dinner ideas, you know you can count on May I Have That Recipe. I'm so happy to include this Vegan Tempeh Wellington in this Christmas roundup. According to the girls, this recipe is not only foolproof, but easy and delicious, as well. Although I've never had Beef Wellington before so I have nothing to compare it to, I have made Vegan Wellington before out of puffed pastry and it's to die for. I'm sure you're going to love this.
Topped with crunchy almonds and ruby-red pearls of pomegranate, these Holiday Acorn Squash are infused with maple syrup and stuffed with a festive medley of Forbidden rice and healthy vegetables, then topped with my Three Tomato Jam (not pictured). I don't know about you, but these are going to look so nice on my holiday table this year.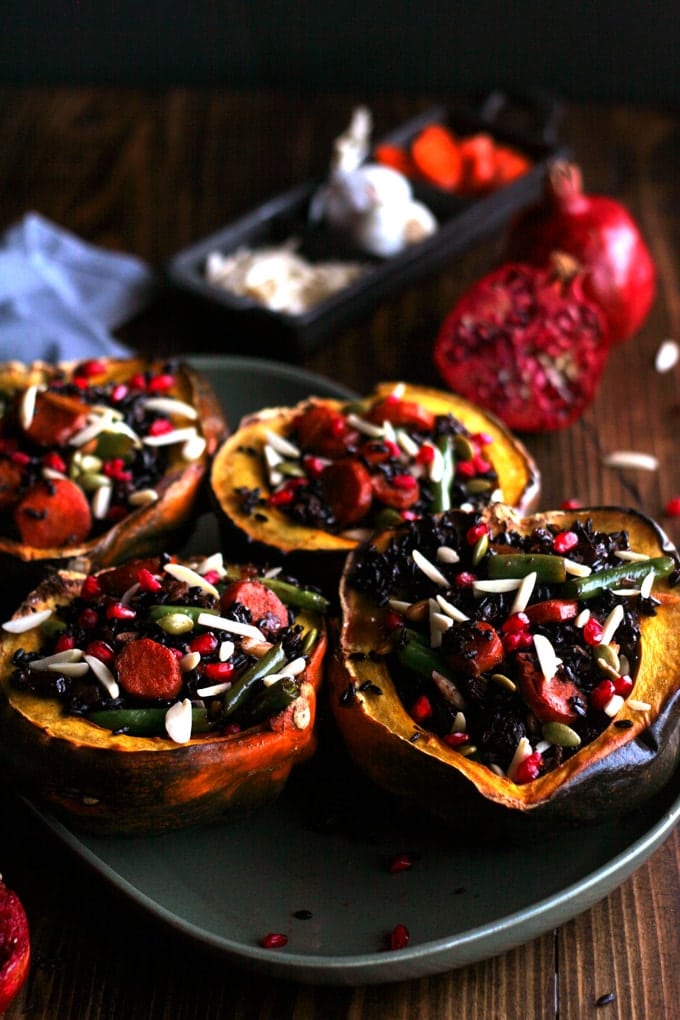 This Vegan Fried Eggplant Bake is nothing like you've seen before. Making this dish Gluten-free, Egg-Free, Dairy-Free, Vegan, Flourless and Paleo was truly a feat, according to Gabriel from One Clever Chef but he assures us that this recipe is 100% healthy, made with real unprocessed food and so, so good.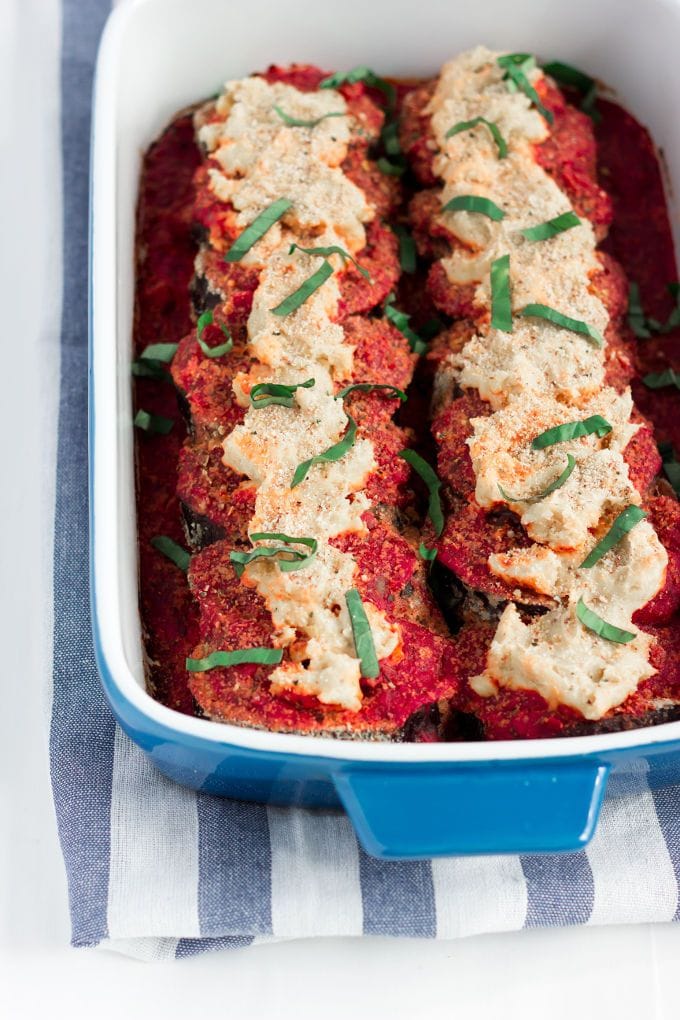 This Vegan Mushroom Wellington is stuffed with sweet caramelized onions, savory mushrooms, sweet potato and springs of rosemary for a fabulous vegan spin on the classic Beef Wellington.  Save a turkey this holiday season! Go vegan with this tasty vegan wellington.
These Vegan Pumpkin Cannelloni with Cashew Cream are made with Explore's Green Lentil Lasagna sheets. They're stuffed with a super simple pumpkin filling, and baked on a bed of tomato sauce and topped with an absolutely delicious cashew cream. Perfect for a holiday dinner theme.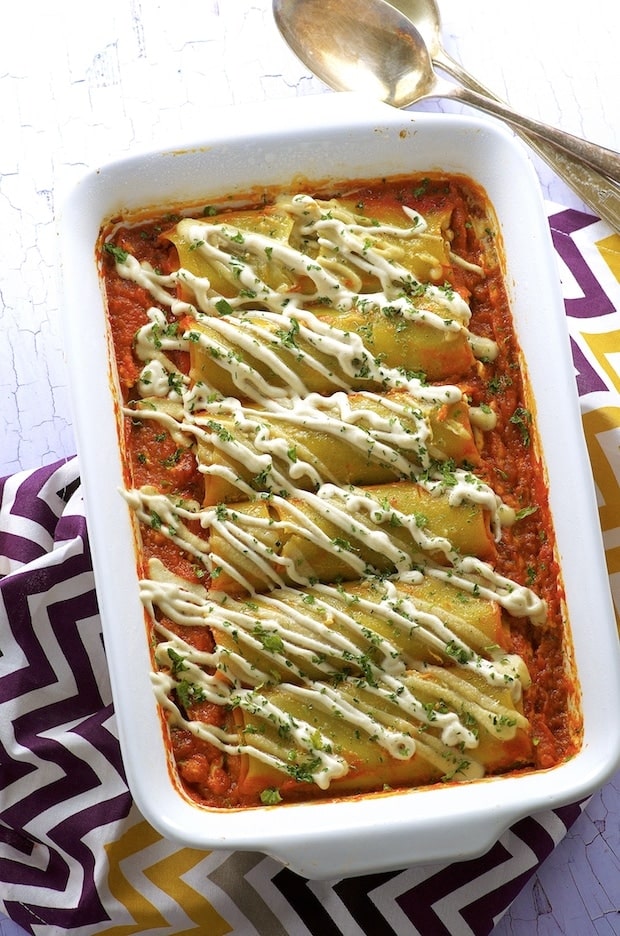 One of the first vegan recipes I ever created, this Vegan Mushroom Stroganoff is made with a creamy mushroom gravy that's made with a delicious tofu sour cream. If pasta is what you're serving up this vegan Christmas, you'll definitely want to include this on the menu.
Nothing says quintessential comfort like this Savory Vegan Lentil Loaf with Maple Balsamic Glaze. Made with sautéed vegetables, lentils and a medley of spices, this best vegan loaf recipe is also whole food plant based (WFPB) and gluten-free. Perfect for holidays or any day you're looking for a simple, wholesome meal.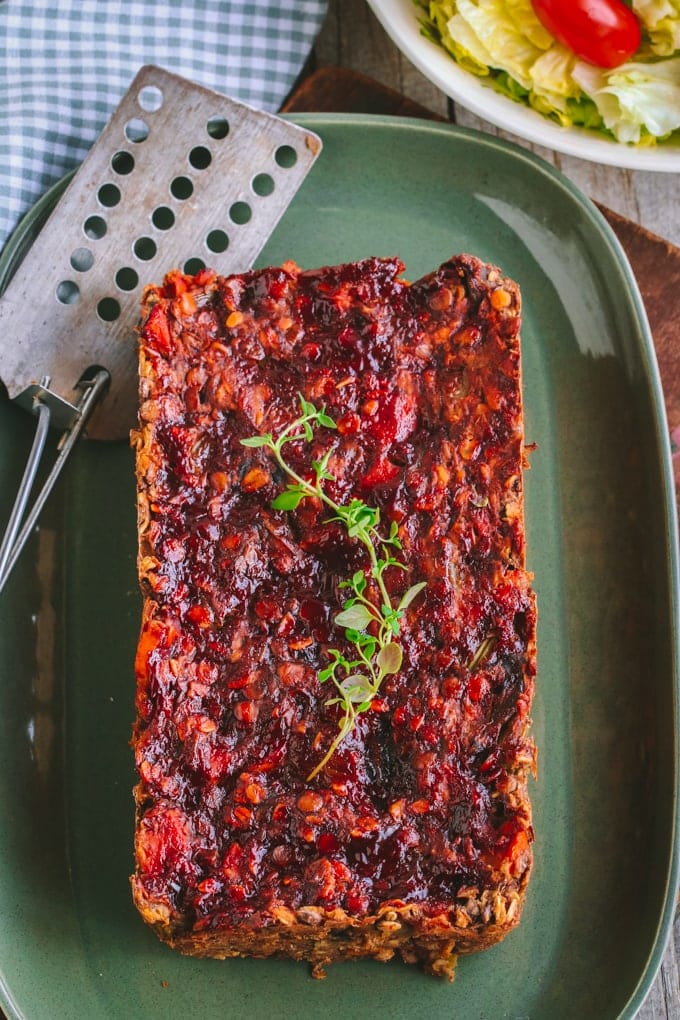 Vegan Christmas Desserts
Ohhh la la, I just love vegan desserts, don't you? I can't believe much of the world doesn't know how good they are. But you do and that's why I present to you, these vegan Christmas desserts for 2017.
I never really knew what a snickerdoodle was until I looked at London's recipe. I know, I don't get out much! On a serious note, with these gluten-free, dairy-free, vegan Snickerdoodle Cookie Dough Bites you can enjoy your sweets while still loading up on nutrition. This healthy "cookie dough" recipe only requires a few simple ingredients and no baking. Perfect for the busy Christmas cook in your family.
Imagine the perfect cupcake. Sweet, moist, the perfect texture. The frosting, a bit tart, a bit sweet, melts in your mouth the minute you take a bite. All these things achieved with healthy, plant-based ingredients. Guess what? You have a great imagination! You've just described my amazing Vegan Pumpkin Pie Cupcakes with Cream Cheese Frosting. It took me 4 tries over the Thanksgiving holiday to get these right. So glad you're considering them as part of your Christmas dinner ideas.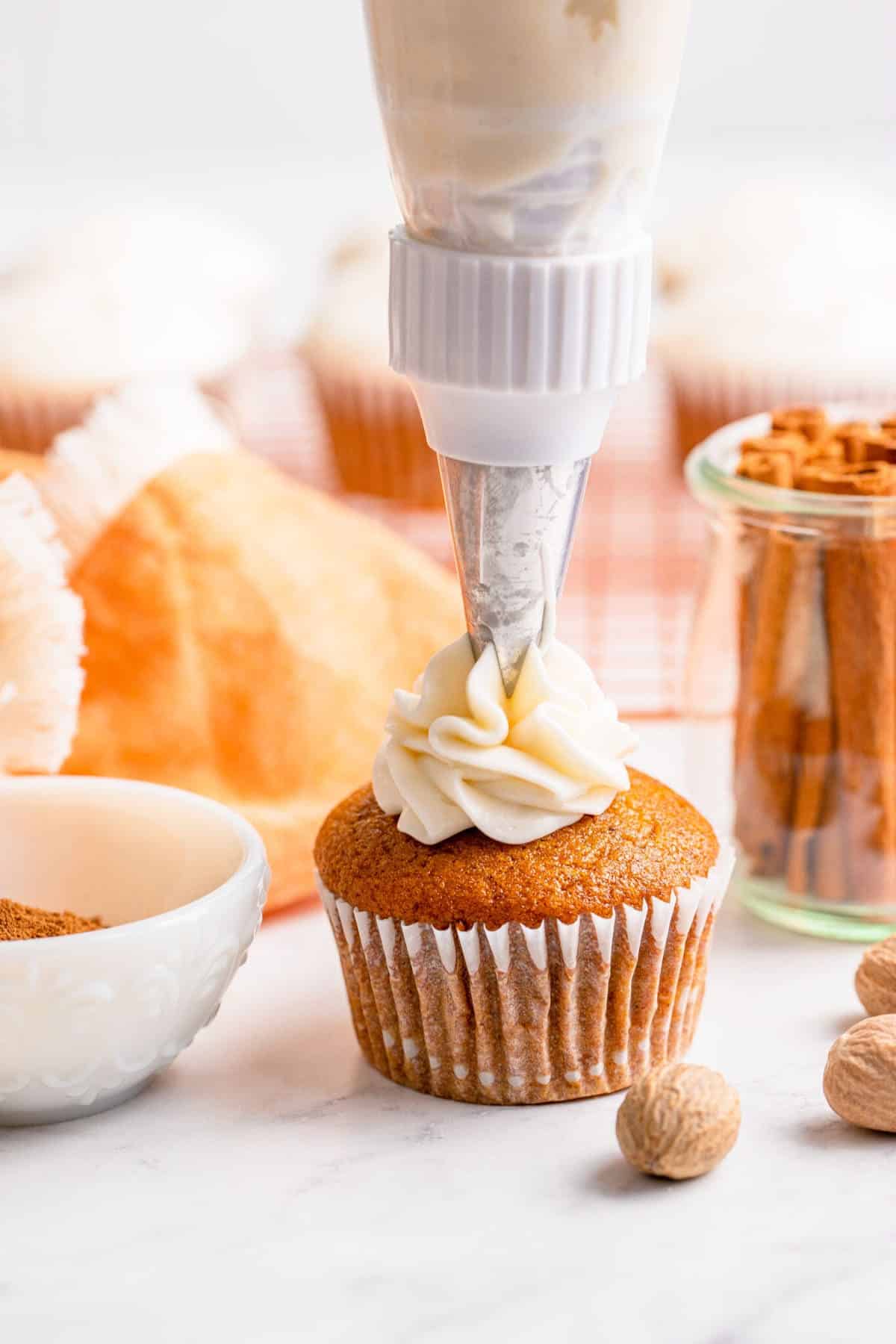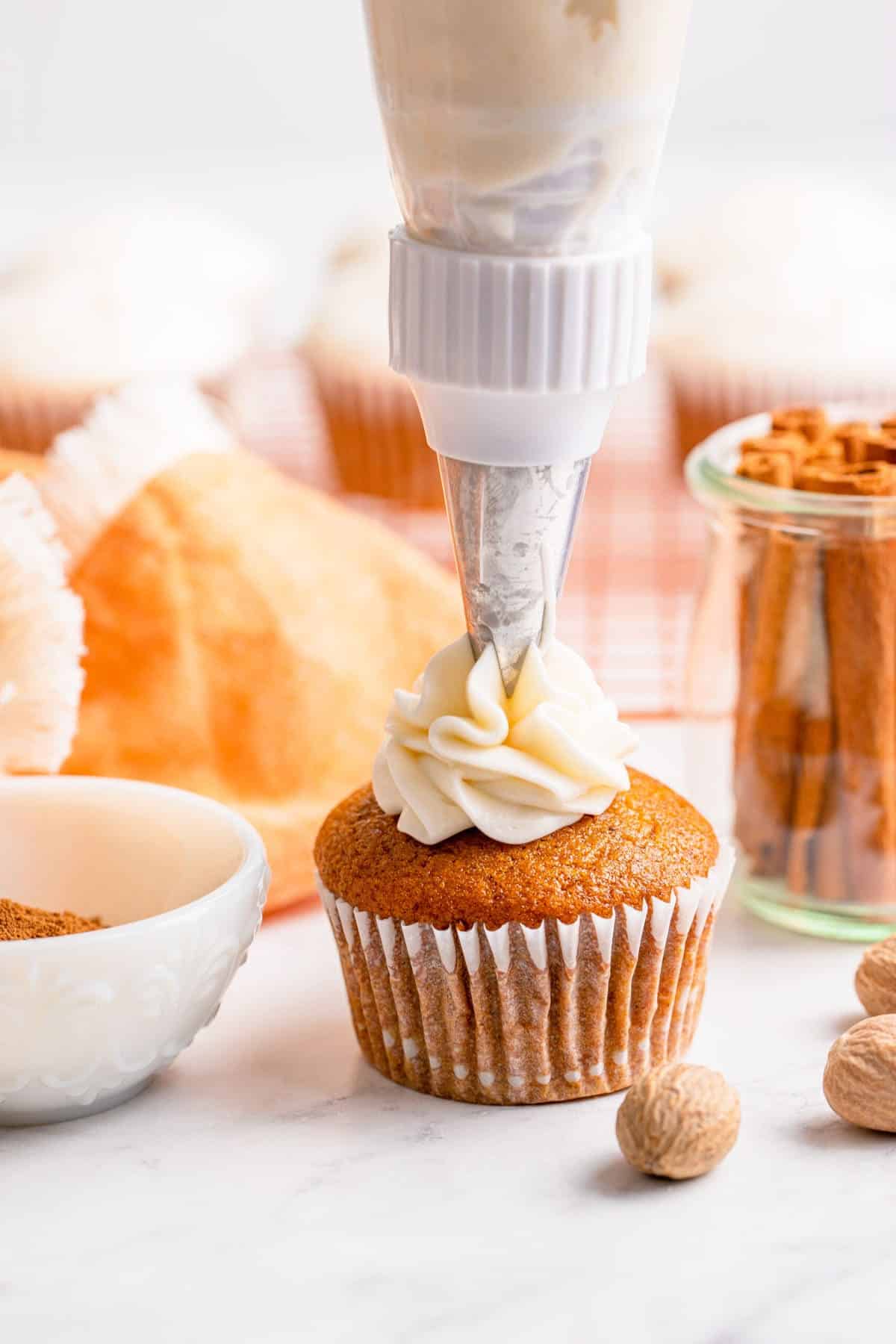 Vegan, gluten-free and refined sugar-free, these No-Bake Pecan Pie Mini Tarts are a great dessert to serve after the big Christmas dinner. Mini in calories as well as size, you can have a couple of them and still have room for other Christmas desserts.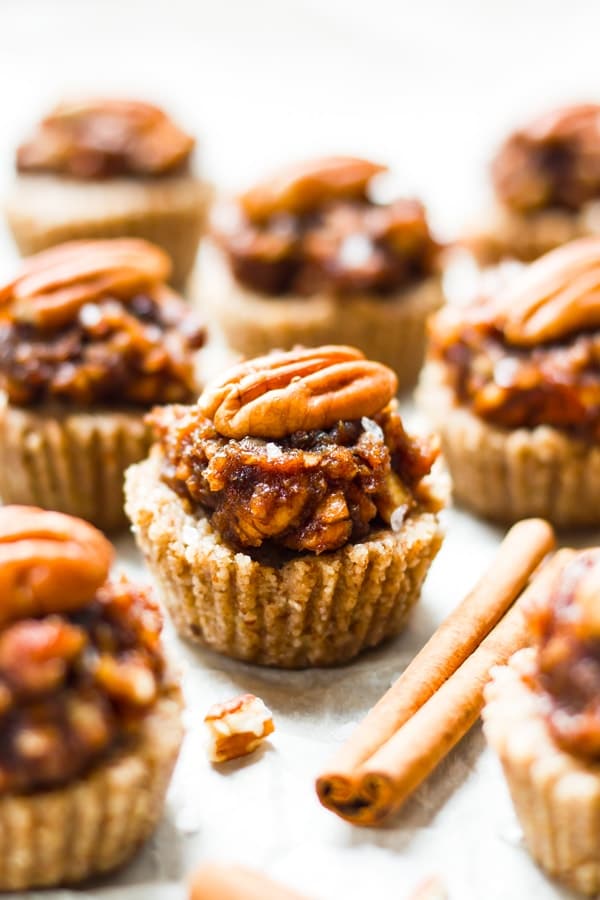 Another dessert that is vegan, gluten and refined sugar-free, these Healthy Chocolate Chip Cookie Dough Bites take only a few minutes to whip up but will have lasting results on your taste buds. Made with only 7 plant-based ingredients, you just can't go wrong with these as a holiday treat.
Ohh, we're on a roll here with no-bake desserts! These No Bake Molasses Cookies are paleo, vegan and gluten-free. They only need about 30 minutes in the oven and are only 182 calories per serving. But who's counting calories already? It's Christmas.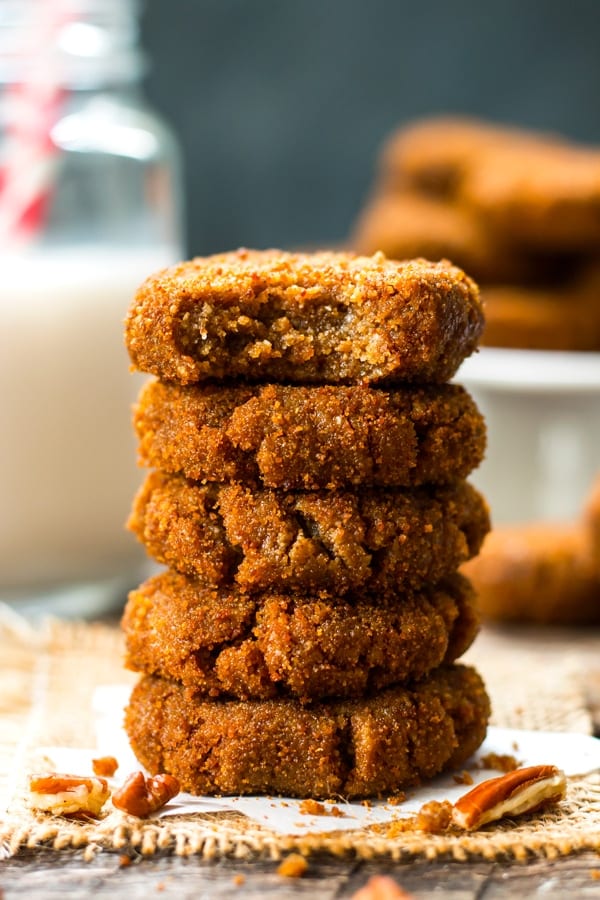 I must say I've been eyeing these since Jen from the Sprouting Zen submitted them to me for inclusion in this 47 Christmas dinner ideas roundup. This quick and easy healthy brownie recipe has no added sugar and no oils! It's sweet, but not too much, with a perfect soft chewy texture. And made from the purple sweet potato? That should strike up a delightful Christmas dinner conversation!
Vegan Purple Sweet Potato Brownies
If you're searching for a no back holiday dessert, look no further. Place these chocolate coconut date balls in colorful mini muffin liners and they'll be ready to go! Made with only 8 ingredients, they're super easy to make, too.
Dark Chocolate Nut Bark by Diabetic Foodie
This Dark Chocolate Nut Bark is made from only 2 ingredients, and none of them come from an animal! A truly decadent dessert that can be made ahead to reduce the stress of cooking everything on Christmas day.
Candied pecans on top of a sweet, tender Blondie base, make this delicious mock pecan pie a holiday favorite. Made from wholesome ingredients like almond flour, pecans, maple syrup, and ground flax.  And don't forget the vegan whipped cream!
Although I tend to steer clear of anything with alcohol in it, lest I be dancing on the Christmas dinner table instead of serving food on it, I might just make an exception for these Holiday Whiskey Truffles. These traffic stopping gems can be made ahead of time and are made from vanilla wafers (make sure the ones you buy are vegan) and pecans. A must-try holiday delight and an amazing as far as Christmas dinner ideas go if you've never had truffles.
I'm not sure where you live, but marzipan is not readily available in many of the stores I frequent in Southern California. I do know it's available on Amazon. If you don't know what marzipan is, don't feel alone, either did I. But I looked it up and it is simply almonds and sugar made into a paste. And boy is it decadent in chocolates and truffles. A great dessert to serve on Christmas and one of my favorite Christmas dinner ideas thus far, these are made with one of my favorite nuts.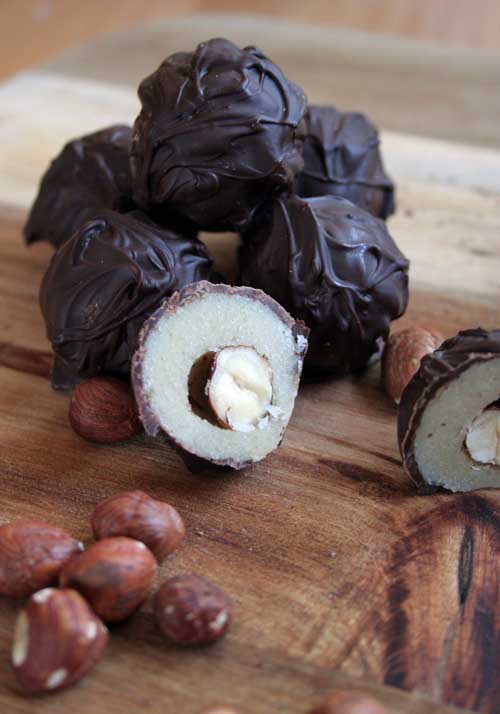 Rich and fudgy and sure to satisfy even the sweetest of sweet tooth's, these Vegan Black Bean Brownies are the perfect healthy dessert to serve on any holiday. And who can resist cacao chocolate chips! MMMmmm, major yum-factor!
Attention, attention, we have a major yum factor here! As Christmas dinner ideas go, this gluten-free Vegan Carrot Cake may be the best you'll ever taste! But don't take my word for it. Try it at your next holiday get-together and see for yourself. Made from delicious, plant-based ingredients with a little love from me!
That's all folks! I hope you enjoyed this roundup of Christmas dinner ideas. If you can't get enough of these types of roundups, I do them frequently so please sign up for my newsletter so you don't miss a roundup or a recipe.  I promise never to spam you or share your information as per my Privacy Policy.
If you make any of these Christmas dinner ideas, don't forget to take a photo and tag it #veganvigilante1 on Instagram. Please also follow me on Facebook, Pinterest and Twitter. I need your support and appreciate you so much for taking the time to read this. Please give me some lovin' by sharing your comments after the recipe. I appreciate it more than you know. If you have questions or want to share a recipe of your own as a guest blogger, please email me at [email protected]. See other holiday roundups here. See more of my recipes here.
On behalf of my Food Blogger Pro friends and myself, we wish you a very Merry Christmas and Happy New Year. But don't stop browsing our sites because there's plenty more to come during the holidays and after the New Year into 2018.