These Stuffed Acorn Squash are a warm and cozy way to celebrate any season. Vegan, gluten-free and refined sugar-free. The Best!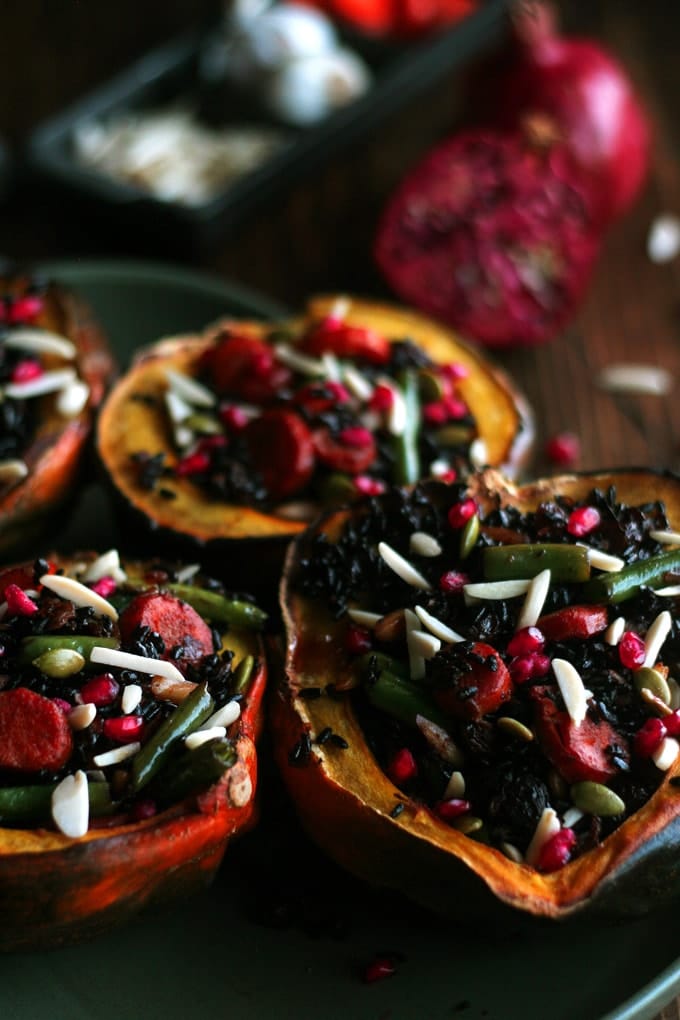 It's finally cooling off in the California desert and today has been all about smelling crusty rye bread baking in the oven and feeling a nice cool chill rest on the afternoon air. I don't know about you, but there's something about Fall that makes me want to roast vegetables. Whether it's watching the leaves turn from green to rust or anticipating a bright, burning blaze in my fireplace, roasting vegetables is just one of those things that goes along with the season.
Where I live, the stores are packed with everything winter squash. From delicata, butternut and pumpkin to Heart of Gold, kabocha and spaghetti, winter squash are at the peak of their flavor and nutritional value at this time of year. That said, I'm pleased to present to you one of my favorite acorn squash recipes of all time, my Stuffed Holiday Acorn Squash.
The first time I made this recipe was 3 years ago. I had just moved into a new place and on the very first day in town, I met a man. We met in December and on the following Valentine's Day, I decided I was finally going to cook for him. When he arrived to my home, my kitchen was a hot mess (I'm not a very neat cook) and he sat patiently by the fire in the living room for it to be ready. After it was all done and the meal was a success, he admitted to me when he saw my kitchen and the mess it was in, that he had his doubts about my ability to even make toast, much less a complicated meal. I remember laughing with him and being so happy that he was in my life (and still is). And I remember this recipe. Ahhhh, yes, the reason you're here!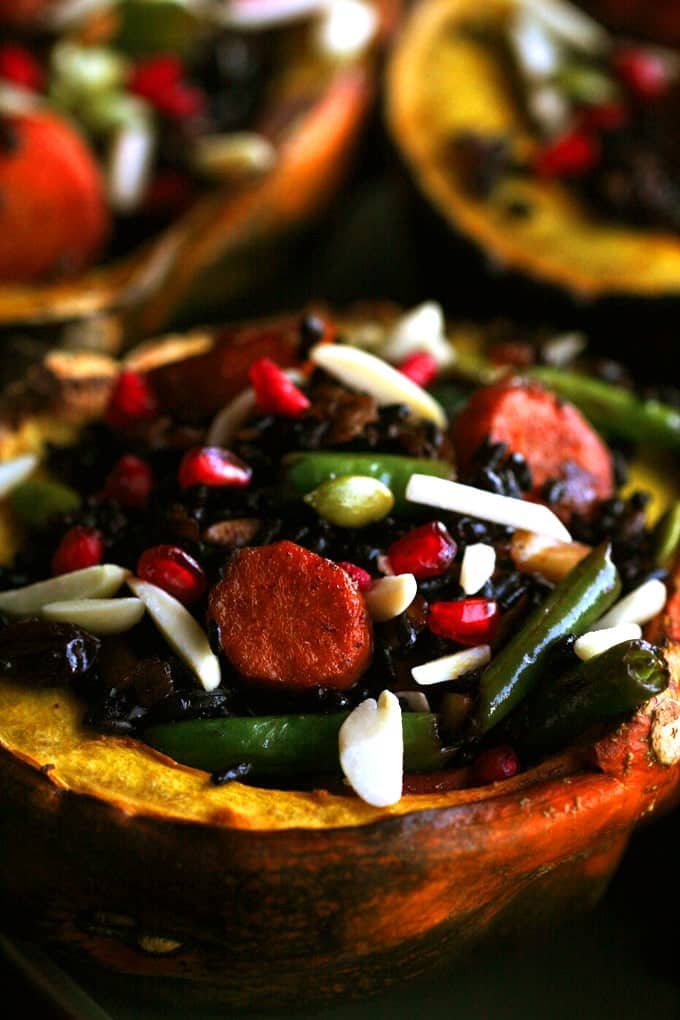 The Recipe
You begin this acorn squash recipe by preparing the squash. Wash, seed and cut them in half, vertically. You can also cut them horizontally, but I like how it looks other way. Drizzle a few drops (or more) of maple syrup on them and brush so the entire cavity is well-glazed. I love maple syrup on these because I find it enhances the natural sweetness of the squash. I also add a little Vegan butter because for me, it enriches the flavor. If you prefer fat-free, just omit the butter and oil that you'll use in the stuffing. While the squash are baking, make the stuffing. If you prefer making the dressing first, then stuffing the squash and baking it all together, you can do that too. I do it this way because I don't want my dressing to get dry during the roasting process.
Let them roast for 30 to 40 minutes. By that time, the stuffing will be finished. I cook the stuffing until the vegetables are almost fork-tender. This way, it won't get overcooked when you put the squash back in the oven after stuffing it. Brush a little more maple syrup onto the squash before stuffing them with dressing, if you'd like. Place them back in the oven and allow them to cook for another 10 mintues.
I love to top these Stuffed Acorn Squash with either crunchy almonds and ruby red beads of pomegranate or my delicious Three-Tomato Jam, a thick, sweet tomato sauce intensely flavored with fresh and sun dried tomatoes and a blend of savory spices. I hope you like this acorn squash recipe as much as we did.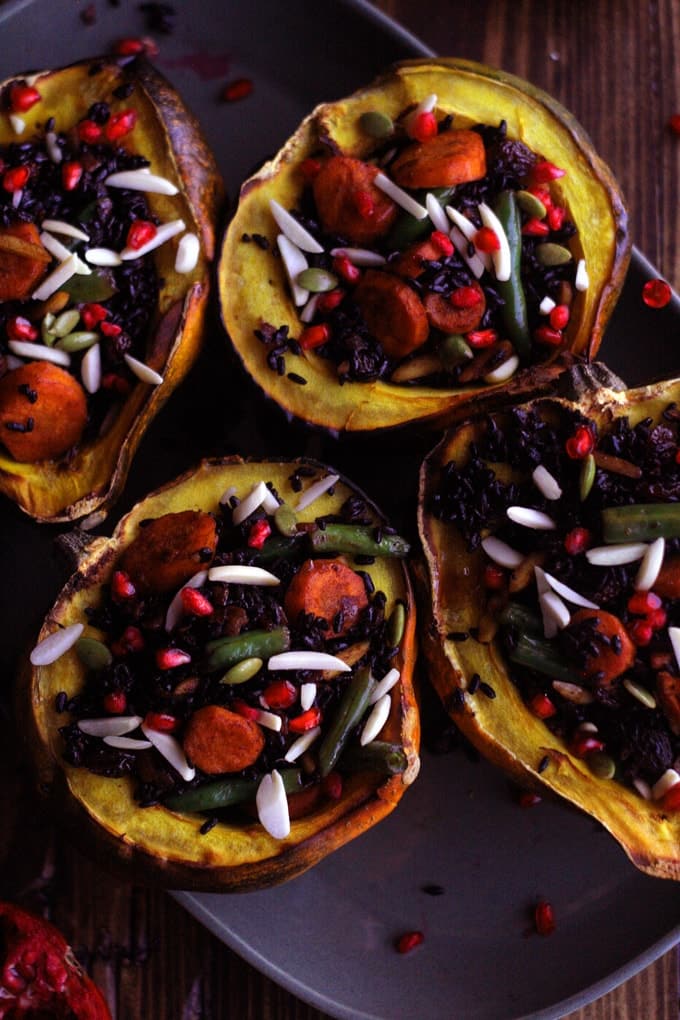 If you make this acorn squash recipe, don't forget to take a photo and tag it #veganvigilante1 on Instagram. Please also follow me on Facebook, Pinterest and Twitter. As always, comments and constructive criticism are appreciated. I will always answer your queries within 24 hours or less. I'd love to know what you think about these Stuffed Holiday Acorn Squash and other recipes and the blog, overall. Contact me anytime by email at [email protected].
Need some awesome Vegan recipes to make on Thanksgiving? Read 30 Easy Vegan Thanksgiving Recipes for some amazing ideas.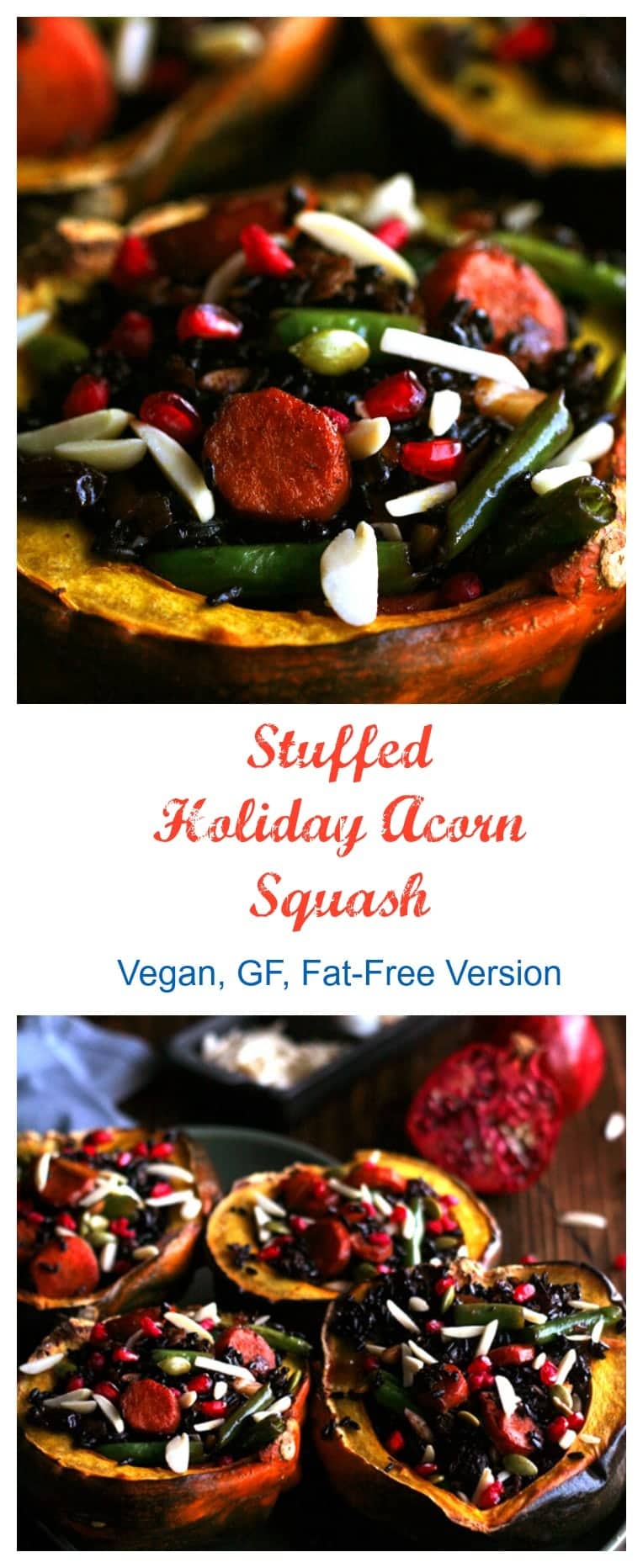 📖 Recipe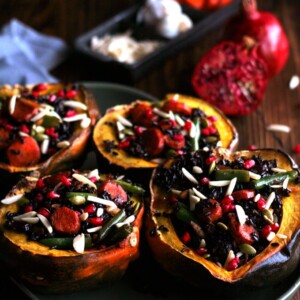 Stuffed Holiday Acorn Squash
These Stuffed Holiday Acorn Squash are a warm and cozy way to celebrate your holiday season. Vegan, gluten-free, refined sugar-free.
Print
Pin
Rate
Ingredients
For the Squash
2

large acorn squash

rinsed, cut in half vertically and seeded

2

tablespoon

pure maple syrup

Grade A, dark

2

tablespoon

vegan butter
For the Stuffing
1

tablespoon

extra virgin olive oil

4

large cloves garlic

pressed in garlic press

½

teaspoon

smoked paprika

1

cup

red onion

finely chopped

1

teaspoon

ground cumin

¼

cup

slivered almonds

¼

cup

raisens

black or golden

1

cup

chopped carrots

1

cup

green beans

sliced into ½ inch strips

2

cups

Forbidden Rice

cooked

½

teaspoon

sea salt

to taste

½

teaspoon

pepper

to taste
Garnishes
handful of pomegranate seeds

handful of raw slivered almonds

2

tablespoon

Three-Tomato Jam

recipe to follow this
Instructions
For the Squash
Preheat oven to 450 degrees Fahrenheit (232 Celsius). Line a baking sheet with parchment paper. Place acorn squash on sheet, brush with maple syrup and add a dollop of Vegan butter. Cover loosely with piece of aluminum foil. Bake for 30-40 minutes until almost fork-tender. Make stuffing while squash are baking.
For the Stuffing
Add olive oil, garlic and onion to large fry pan or Wok. Saute until onion is translucent. Add spices. Stir well. Add almonds, raisins and continue stirring. Add green beans and carrots saute until they are almost fork-tender. Season with salt and pepper. Set aside.
Putting it All Together
Remove squash from oven, brush cavities with maple syrup and fill each with stuffing mixture. Place back in oven uncovered for another 10 minutes. Squash is ready when toothpick slides easily into and out of flesh. Garnish and server immediately.