This Hot Serbian Ajvar (Roasted Red Pepper & Eggplant Relish) is a spicy relish used in Serbian, Bosnian and Croatian cuisine. It's easy to make with only 7 ingredients and goes great with chips, crackers or warm bread.
Smoky, spicy, rich, flavorful. These are just a few of the words associated with Ajvar (AY-vahr), a wickedly delicious, oftentimes piquant relish frequently used in Serbian, Croatian and Bosnian cuisine. Primarily made with roasted red peppers, this tasteful tidbit can also include eggplant (like my version) and a variety of spices. A sinful delight no matter how you prepare it, Ajvar can be experienced in one of three ways: sweet (traditional), piquant (the most common) or hot (the way I like it and the basis for this recipe). Which do you prefer?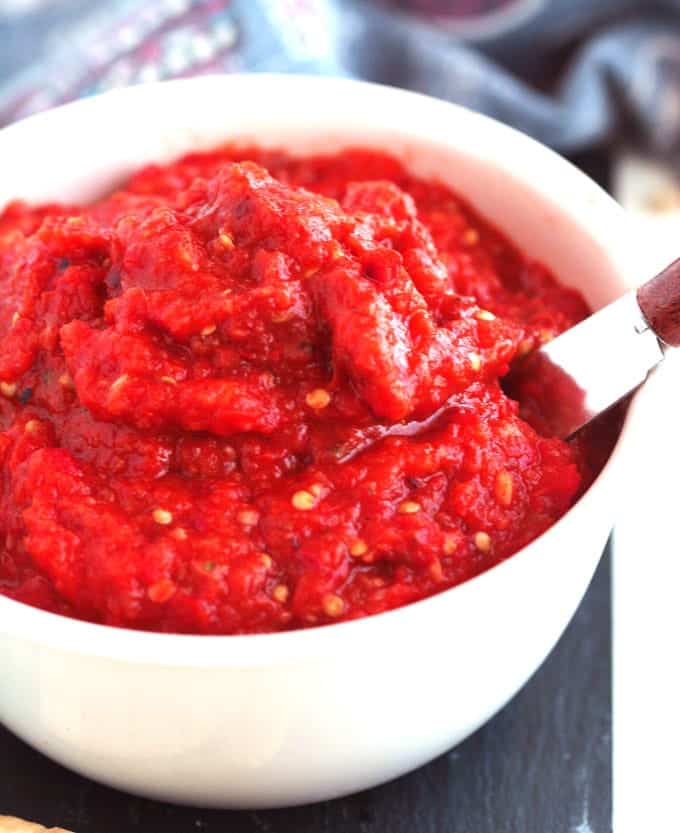 Creating this Ajvar recipe was a means to an end for me. My plan has been in the works for about 2 weeks now and includes featuring this Ajvar in my next recipe. But because it's so brilliantly-colored and beautiful, I thought it deserved its own page. Hence the recipe you're reading now. Now more about why I made the Ajvar in the first place. Are you confused yet?
The story begins in a quaint little cafe that sits on the corner of Highway 62 and Pioneer Town Road in a shy little town called Yucca Valley. It's one of those kinds of places that if you blink while driving by, you may miss it. But don't let its mediocre size fool you. Inside you'll find some of the best vegan creations this side of Palm Springs. Whenever I drop by Frontier Cafe, I always order the same thing: Avocado Tartine with Hot Ajvar and Pickled Onions. With a drink, it usually costs about $15. Well worth the cost, except that right now I'm on a budget. But that doesn't stop me from creating the recipe at home. And that's exactly what I did yesterday. Stay tuned for my version of the Avocado Tartine with Hot Ajvar and Pickled Onions to follow this recipe sometime later in the week! Hint: it's already been made, photographed and eaten; I just have to find time to post it!
Now back to the story...
The first time I ordered the avocado tartine dish at the cafe, I couldn't figure out what was giving it such a unique flavor. It tasted so rich, so full of explosive texture that, for a moment, I thought there was meat in it. After spitting out the first bite (into a napkin of course), I called the waiter over (yes, I'm one of those people), told him I was vegan and demanded he take it back. He assured me it WAS vegan and said that the red stuff was Anjar, a Balkan dish made from roasted red peppers. What a scream! I've never heard of Ajvar so as soon as I got home, I looked it up. Once I found out how simple it was to make, I bought the ingredients and the rest is history.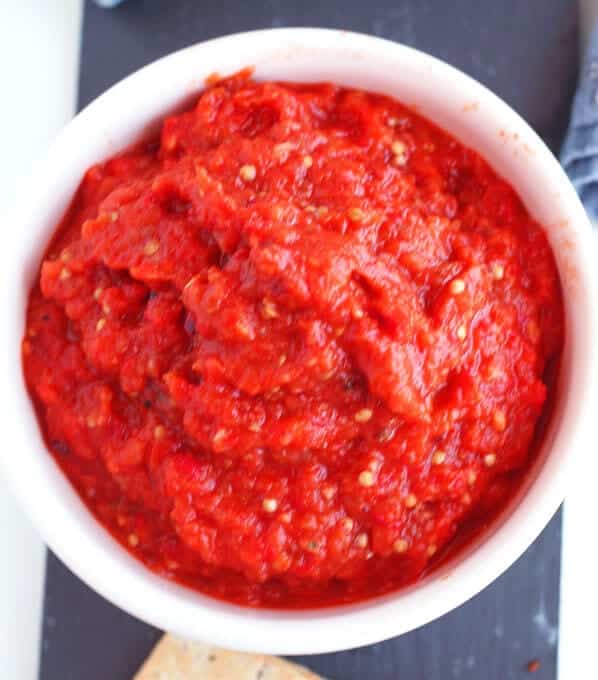 Let's Talk Recipe!
This Ajvar recipe is so easy to make, you'll wonder what took you so long to make it. The only time-consuming step is roasting the vegetables. Other than that, it's just a matter of adding the ingredients to a food processor and pressing the start button. You can also alter the recipe to your liking, adding less heat and more sweet, whatever you're in the mood for. At only 69 calories per serving, you can eat the whole jar and still have room for that Caramelized Onion and Mushroom Vegan Pizza you guys loved so much.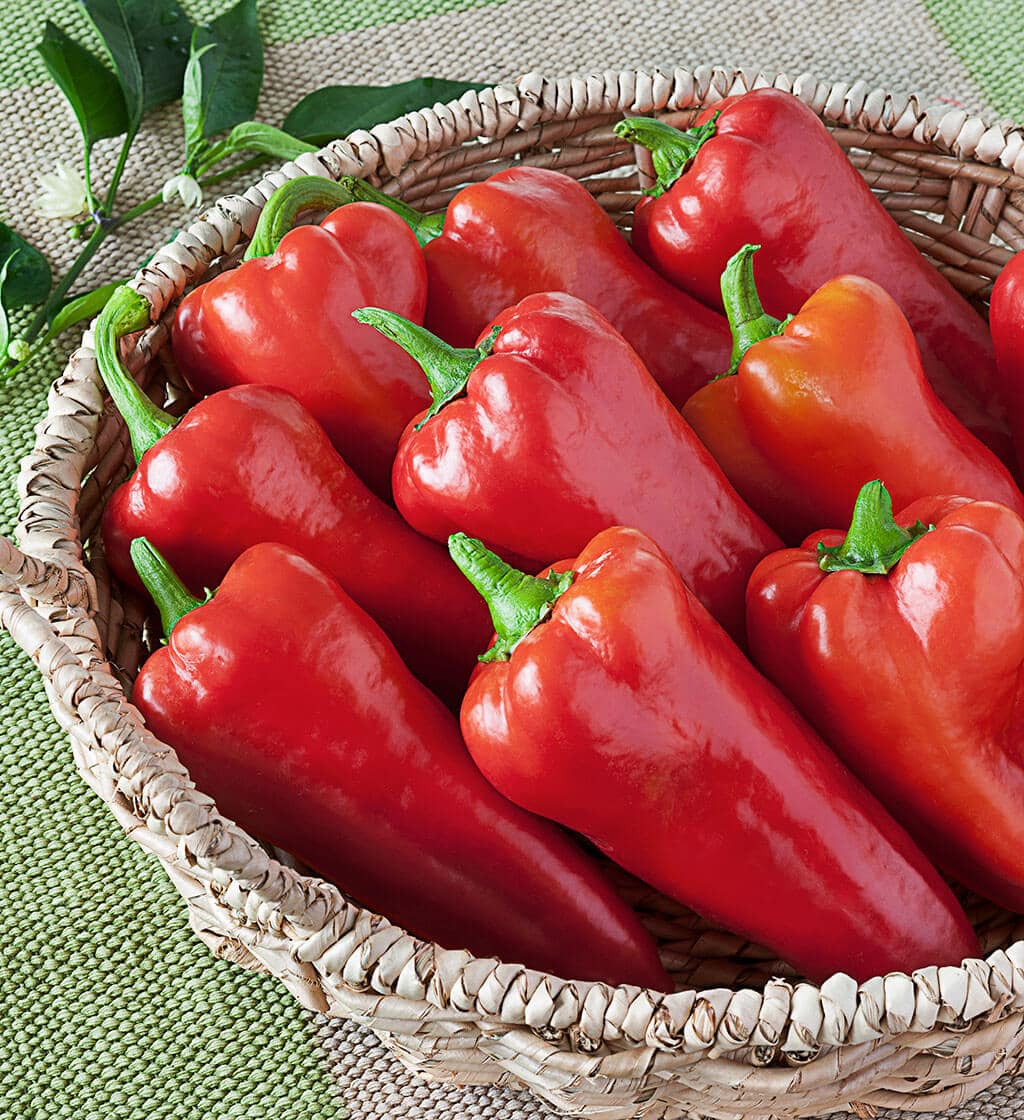 The Bell Peppers
Some Ajvar recipes call for bull's horn sweet peppers pictured above), named so for their long, pointy appearance reminiscent of a horn. Since these were unavailable, I used organic red peppers from my local supermarket. Guess what? It really didn't make a difference. My recipe turned out to be fantastic. The trick is in blackening the peppers. When I say blackened, I very much mean blackened. Easy-peasy to do. Simply turn your oven to 475 degrees Fahrenheit and cook them on the lowest rack. Remember, cook times vary. It took my oven about 40 minutes - 20 on each side - to get the peppers the way I wanted them. Just peek at them frequently until you get the desired blackness and remember to turn them over half way through. When done, the peppers will look blackened and wrinkly. Don't fret, that's the way they're supposed to look. One tip: I don't recommend using the broiler, as your peppers may blacken and burn before they are soft and well-cooked.
The Eggplant
Because I only had 4 peppers, I ended up only using ½ an eggplant. I was afraid using more would alter the rich, red color of the peppers. You can use more if you want to, especially if you want to see the exciting color contrast mixing the two ingredients together creates. Once you cut the eggplant in half, length-wise, stuck them face down in the same baking tray as the peppers. The eggplant is done when fork-tender and should not be overcooked.
Some Like it Hot
I'm no Marilyn Monroe, but because I love hot and spicy food, I used 1-½ teaspoons of red pepper flakes for this recipe. The end result, for my taste, was perfect. For less heat, simply use fewer flakes. For a sweeter Ajvar, omit the red pepper flakes and add about a tablespoon or two of some organic Agave or raw sugar.
The Olive Oil
My version of this Ajvar recipe is low fat and calls for only 1 teaspoon olive oil. Those of us counting calories and watching our fat intake can certainly appreciate this.
The End Result
My Ajvar turned out even better than the restaurant-style I tasted at Frontier Cafe. My only regret in making this Ajvar recipe is that I didn't make more. What can you serve it with? How about my Grilled Chilean Vegetable Kabobs in place of the basil chimichurri sauce? Or, use it in place of my Cilantro-Lime-Avocado-Cashew Sauce on my Spicy Jackfruit Tacos. This Hot Ajvar will enhance the flavor of just about any dish.
Storage
This recipe, as it is, can be stored in your refrigerator in an air-tight container for up to two weeks. If you're planning to make a larger batch, simply add more peppers, one or two whole eggplants and two tablespoons of cider vinegar or lemon to add some acidity. This will allow it to keep longer. What's more, if you want to make it in bulk for Christmas gifts, just send me a message and I'll alter the recipe for you and tell you how to can your jars to ensure they remain bacteria-free.
That's a Wrap
If you have questions about this, or any other recipe on my blog, don't hesitate to contact me or leave a comment. If you decide to try the recipe, please be sure to get back to me and let me know how it turned out. If you made changes, I'd love to hear about them. I'm always looking for new ways to create delicious recipes. Finally, don't forget to sign up for my newsletter and follow me on Instagram, Facebook and Twitter. See you in the kitchen.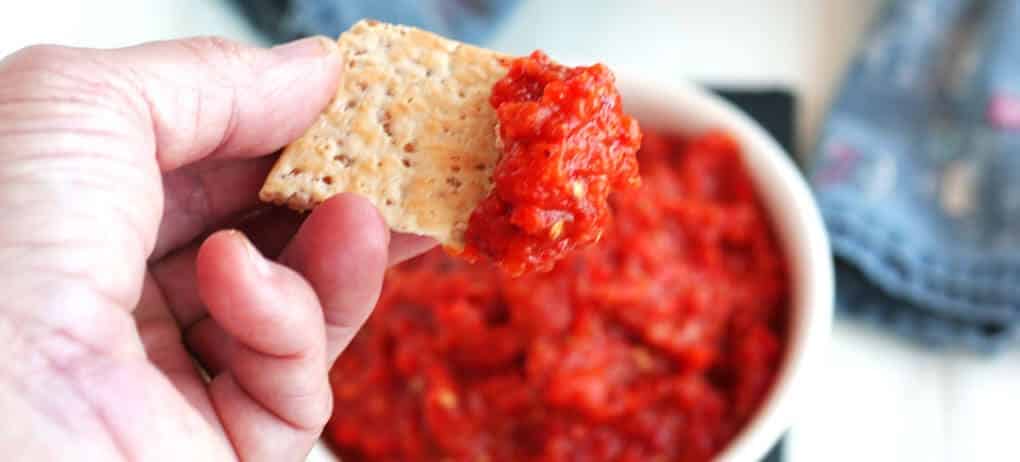 Have you tried this? Why not leave a star ⭐️⭐️⭐️⭐️⭐️ rating in the recipe card right below and/or a review in the comment section further down the page? I always appreciate your feedback. You can also follow me on Instagram, Facebook, Pinterest, and Twitter, and sign up for my newsletter!
📖 Recipe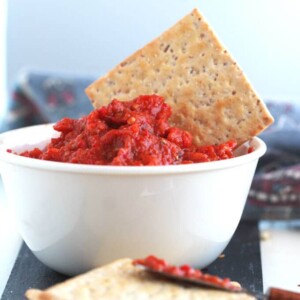 Hot Serbian Ajvar (Roasted Red Pepper & Eggplant Relish)
Ajvar adds a unique flavor to any dish. Add it to sandwiches, tartines, appetizers and more. Make it sweet, piquant or hot. It's sure to please the taste buds of even the pickiest eater.
Print
Pin
Rate
Ingredients
4

whole red bell peppers

cut in half length-wise and seeded

½-1

whole eggplant

cut in half length-wise; use more or less as desired

1

teaspoon

olive oil

4

whole garlic cloves

1-1 ½

teaspoon

red pepper flakes

use more or less, depending upon your desired heat

4

whole rainbow peppercorns

crushed

1

teaspoon

sea salt
Instructions
Preheat oven to 475 Fahrenheit. Wash eggplant and red peppers in warm water. Pat dry. Cut eggplant and peppers in half, length-wise.

Line backing sheet with parchment paper or tin foil. Brush with thin coat of olive oil to keep them from sticking. Place eggplant and peppers face down. Cook for 20-40 minutes, depending upon your oven. Turn over half way through cooking. Peppers should be blackened on both sides and wrinkled-looking. Eggplant should be fork-tender.

Remove from oven. Place bell peppers in a large bowl and cover tightly with plastic wrap (the kind that sticks to the bowl). Allow to steam for 15-20 minutes. Allow eggplant to cool.

Using a spoon, scoop out flesh of eggplant and place it in food processor, seeds and all. Once bell peppers have cooled, remove outer layer of skin. It should come off easily. Place peppers in food processor. Process for about 30 seconds.

Add olive oil, garlic, red pepper flakes, peppercorns and sea salt. Process for only 1 to 2 minutes. You want the mixture to have a chunky, relish-like consistency.

Serve immediately with crackers or toasted levain bread. Add the remainder to jar. Secure lid and allow to cool at room temperature. Store in refrigerator for up to 2 weeks.
Nutrition
Serving:
1
serving
|
Calories:
30
kcal
|
Carbohydrates:
6
g
|
Protein:
1
g
|
Fat:
1
g
|
Saturated Fat:
0.1
g
|
Polyunsaturated Fat:
0.2
g
|
Monounsaturated Fat:
0.4
g
|
Sodium:
300
mg
|
Potassium:
205
mg
|
Fiber:
2
g
|
Sugar:
4
g
|
Vitamin A:
1981
IU
|
Vitamin C:
77
mg
|
Calcium:
11
mg
|
Iron:
0.4
mg