Two-Toned Spicy Pickled Onions add a delightful flavor suitable for complimenting a wide variety of foods, including salads, burgers, tacos and more.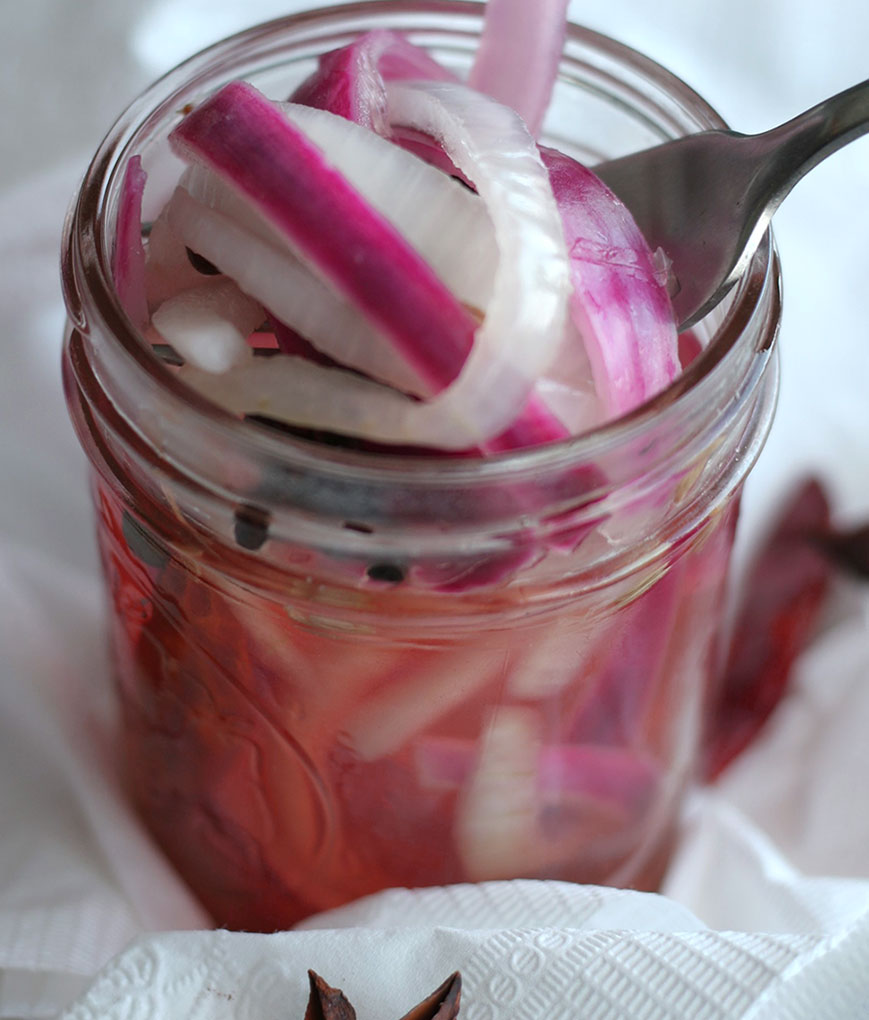 Ahhhh, the fragrance of sweet onions is filling the air in my little bitty kitchen today. I love it! And you will too once you try these Two-Toned Spicy Pickled Onions.
Aside from their unique flavor, I love pickled onions because of their versatility. You can add them to literally any dish: sandwiches, vegan burgers, tacos, casseroles, salads; any dish in which your taste buds call for an extra burst of flavor. Try them with my Grilled Portobello Mushroom Burger with Smoky Homemade Chipotle Sauce. In London, they often sit alongside a plate of Fish n' Chips. In America, we add them to a martini cocktail and call it a Gibson. In my kitchen, I eat them right out of the jar.
Let's Talk Recipe!
When it comes to a plant-based diet, nature really has a way of splashing our plates with some amazing colors. For this pickled onion recipe, I chose to use red and white onions because I thought the two colors – bright, almost magenta-like purple and opalescent, pearly white – would compliment each other while bathing in the jar. And I think I nailed it if I do say so myself. Now for a breakdown of the recipe:
The Onions
The most popular pickled onion recipes on the internet today are made with red onions. If you have a thing for red, you can certainly choose to use just use one color. It really doesn't matter. You can even use brown ones. But if you want to walk on the wild side with me, then feel free to try the recipe with both colors.
Don't Get Caught Feeling Up Your Onions
There's nothing worse than getting fruits and vegetables home only to find out they have imperfections. Be sure you give your onions a good squeeze in the grocery store to weed out any that have soft spots or blemishes. I always pick onions that are elliptical-shaped, as I think they are easier to work with but virtually any shape will do. I cut mine into half moons, but next time, I'm going to try cutting them in circles, like my friends at Epicurious, as I think they'd be easier to scoop out of the jar with a fork.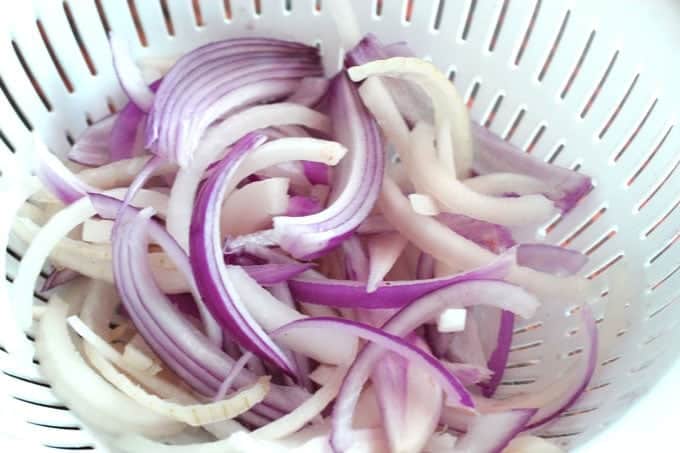 The Vinegar
Most pickling recipes call for distilled white vinegar. This is the clear, colorless vinegar made from fermenting grain. The only problem is, I don't have any. A suitable substitute is rice vinegar. Another problem, I only have half a cup. I have no choice but to use what I have enough of, which turns out to be a combination of rice vinegar, white cooking wine and cider vinegar. It really doesn't matter what type of vinegar you use, as long as the end result is something that will pickle your onions. And boy they got pickled, all right! Come to think of it so did I while I was making this recipe!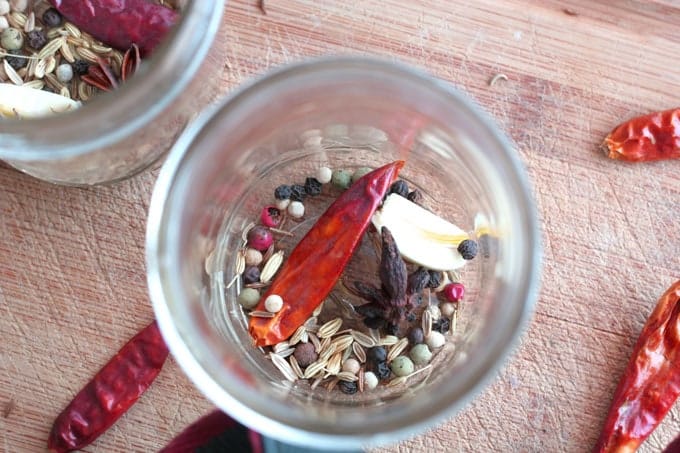 The Spices
All kidding aside, the spices are what make your pickled onions go from okay to extraordinary. You can choose to go crazy or be a bit more conservative. I landed somewhere in the middle by choosing fennel and caraway seeds, rainbow peppercorns, star anise, garlic and a red chili. Experimenting with a variety of different flavorings are what makes vegan cooking so enjoyable so be sure to have fun with it.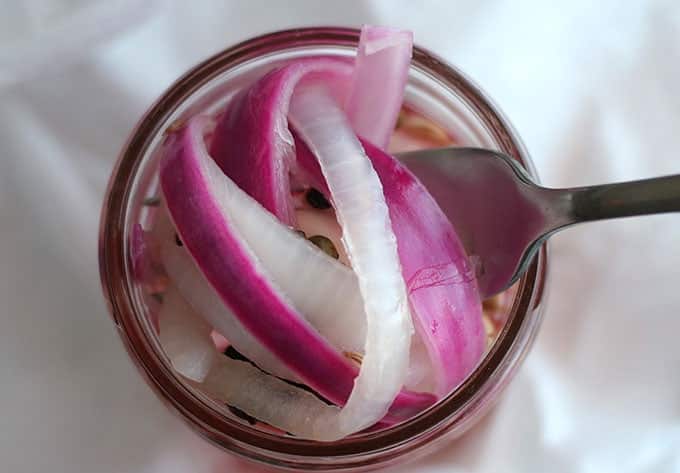 Storage
Traditional canning, and pickling for that matter, calls for the use of sterile jars and lids and tossing your completed project into a rolling water bath. For this recipe, I'm not going to worry about all that (but I will be teaching a traditional canning method in the near future as we approach the holidays so stay tuned). Simply wash your jars and lids in hot, soapy water and allow to air dry. With the acidity and salt content of the brine, you should be fine storing them in the refrigerator or pantry for up to 2 weeks. If your family is like mine, your jars won't last that long!
The Method to My Madness
I live in the high desert of California. Needless to say, there are only two vegan cafe's in the local area. The Frontier Coffee Shop, along Highway 62 on your way to Joshua Tree, has a wonderful Avocado Tartine on its menu that I order every chance I get. It has a unique flavor that is the result of a delightful relish in which they describe as a "secret ingredient". Little do they know, I finally figured out what that ingredient is and the relish, along with my own version of the Avocado Tartine, will be featured in another post I'm planning for later this week. Watch for it in your inbox and don't forget to follow me on Instagram, Facebook, Twitter and Pinterest. Remember, too, your comments are greatly appreciated and make what I do worth it. Until then, see you in the kitchen!
How 'bout trying these pickled onions with my Avocado Tartine topped with Hot Serbian Ajvar and Spicy Pickled Onions as pictured below?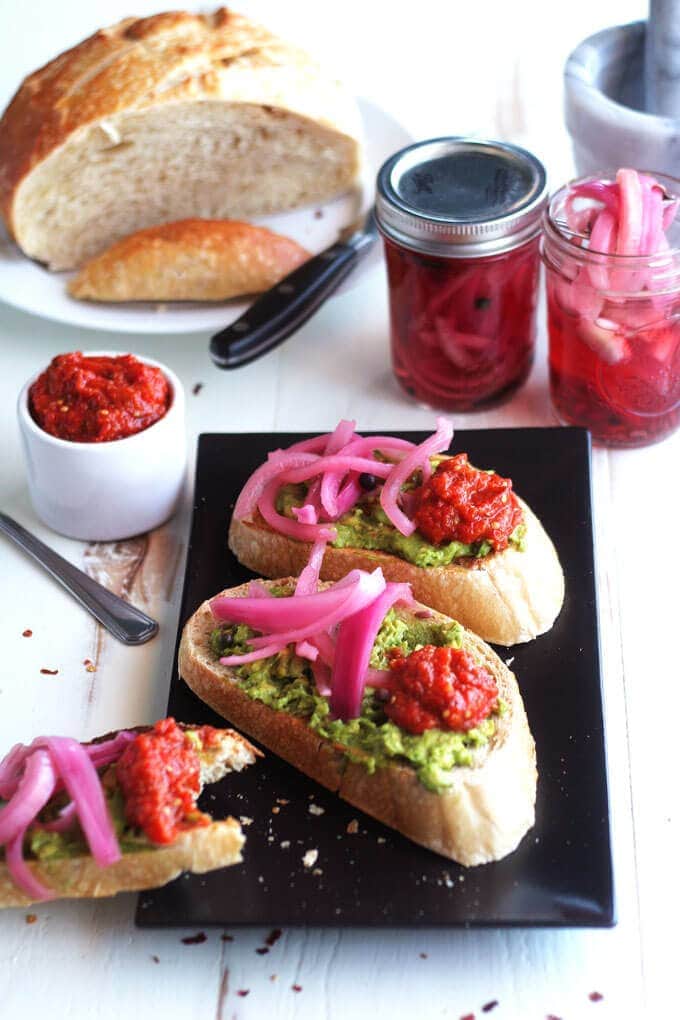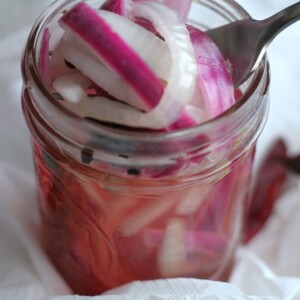 Two-Toned Spicy Pickled Onions
Two-Toned Spicy Pickled Onions add a delightful flavor suitable for complimenting a wide variety of foods, including salads, burgers, tacos and more.
Print
Pin
Rate
Ingredients
The Onions
½

large red onion

cut into ¼ inch half moons

½

large white onion

cut into ¼ inch half moons
The Flavorings
2

tablespoon

organic cane sugar

1

teaspoon

sea salt

4

whole star anise

1 for each jar

4

whole red chili peppers

1 for each jar

2

cloves

garlic

peel and cut in half

4

pinches

fennel seed

sprinkle into each jar

4

pinches

caraway seed

sprinkle into each jar

4

pinches

rainbow peppercorns

sprinkle into each jar
The Vinegar
½

cup

rice vinegar

½

cup

apple cider vinegar

1

cup

white cooking wine
The Equipment
4 8-

oz./240 ml canning jars

wash with hot, soapy water and allow to air dry
Instructions
The Onions
Place onions in sieve or colander and set inside sink. Bring 2-3 cups of water to boil. Blanch the onions by slowly pouring the boiling water over them. Set aside.
The Flavorings
Add a pinch of fennel seed, caraway seed and rainbow peppercorns with ½ clove of garlic and a chili pepper to each jar.
The Vinegar
In a medium saucepan on medium heat, combine salt, sugar and vinegar's stirring until dissolved. Keep the mixture hot but not bubbling until you're ready to pour into jars.

Using a funnel, pour heated vinegar mixture into each jar. Stir until all ingredients are combined. Place jars on lids and tighten. Allow to cool at room temperature.
Nutrition
Serving:
1
jar
|
Calories:
129
kcal
|
Carbohydrates:
17
g
|
Protein:
2
g
|
Fat:
1
g
|
Saturated Fat:
0.1
g
|
Polyunsaturated Fat:
0.2
g
|
Monounsaturated Fat:
0.2
g
|
Sodium:
593
mg
|
Potassium:
316
mg
|
Fiber:
2
g
|
Sugar:
10
g
|
Vitamin A:
443
IU
|
Vitamin C:
68
mg
|
Calcium:
56
mg
|
Iron:
2
mg