These Jackfruit Tacos are smoky, spicy and so so good, you won't even miss the meat!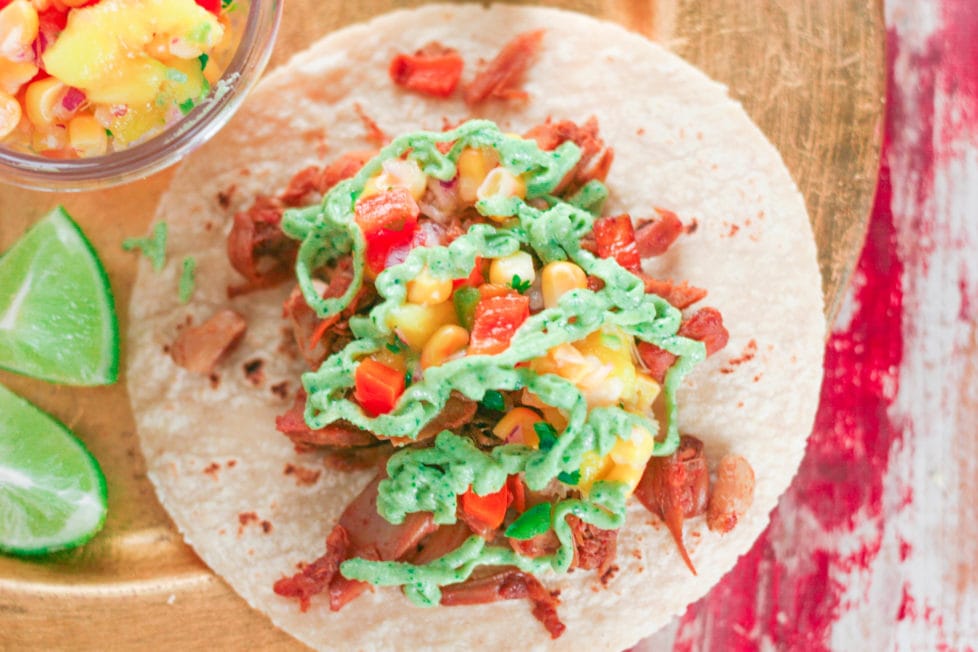 Ahhhh, the revered Jackfruit? It's the latest craze on the Internet. But is it truly worthy of all it's illustrious attention? You bet it is and when you taste my Spicy Jackfruit Tacos with Mango & Sweet Corn Salsa, I think you'll agree.
I know what you're saying right now: tacos made out of fruit – you've got to be kidding me? I assure you I'm not and these Jackfruit Tacos "al Pastor" are going to be one of those recipes that you'll be talking about for a very long time.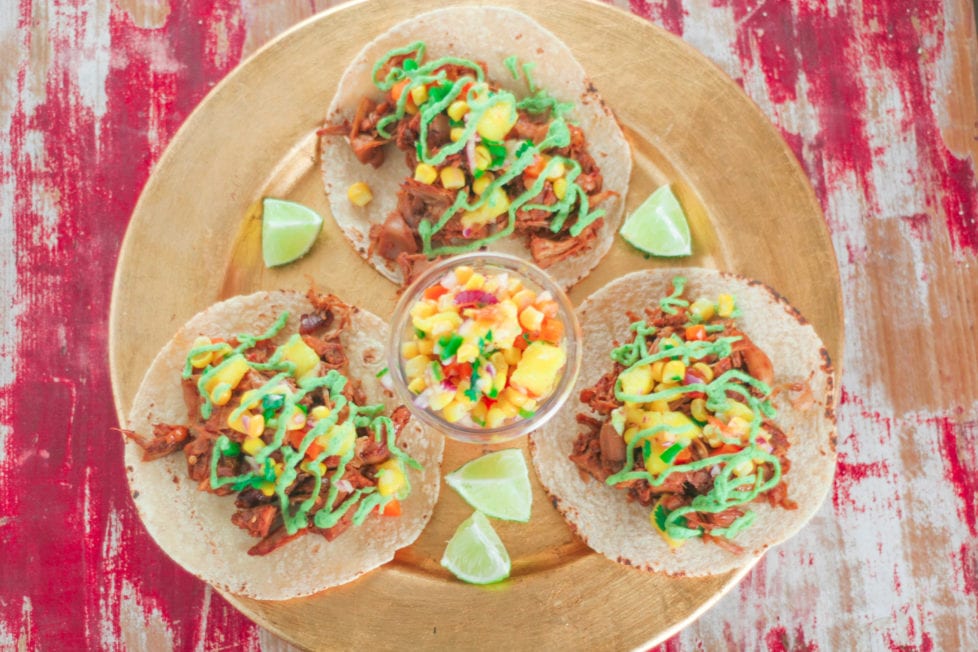 About Jackfruit
Jackfruit is the largest tree-borne fruit in the world, reaching up to 80 pounds in weight, 36 inches long and 20 inches in diameter. Indigenous to the rain forests of the Western Ghats of India, you can also find this fruit in other parts of India, southeast Asia, the East Indies and the Philippines. The interior of the fruit consists of large, edible bulbs of yellow, banana-flavored flesh that encloses a smooth, oval light brown seed. The best part about this delicious fruit is that it's fat-free and naturally low in calories.
The key to getting these Jackfruit tacos down is using the right Jackfruit. I bought mine online from Amazon, but if you go into an Asian supermarket, you'll find a myriad of choices from ripe in syrup, young in water to young in brine. We'll be using the young, green Jackfruit packed in water. This type of Jackfruit is similar to tofu: it has no taste and takes on the flavor of the spices you cook it with. And if you've never had Jackfruit tacos before, you're in for a real treat!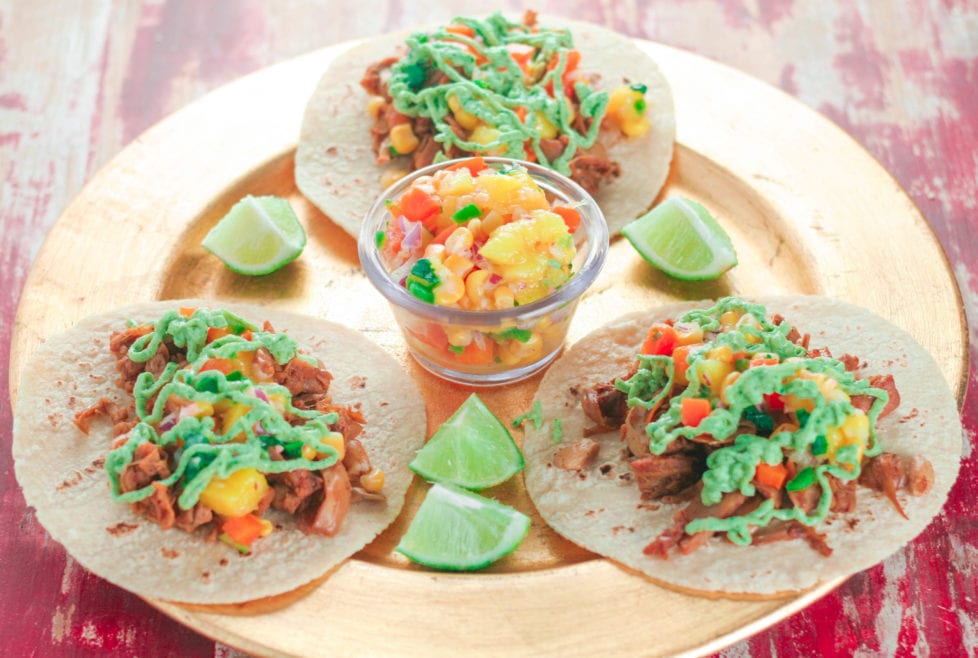 Does it Really Shred like Pulled Pork?
Right out of the can, this tasty Jackfruit shreds exactly like pulled pork. That's why it's so incredible in Jackfruit tacos. It's nature's obvious substitute for meat. And if you think it's going to taste sweet like fruit, think again. Remember, it takes on the property of whatever you're cooking it with and we're cooking it in a delicious blend of spices that give it a flavor all it's own.
Don't Forget the Toppings
Before serving these amazing Jackfruit Tacos, don't forget to add a generous scoop of my 10-Minute Mango & Sweet Corn Salsa and then drizzle some Cilantro-Lime-Avocado Cashew Sauce all over the top of them. Yum, yum good! When you taste them, you will definitely know what I mean when I say there's nothing like this recipe anywhere. See you in the kitchen!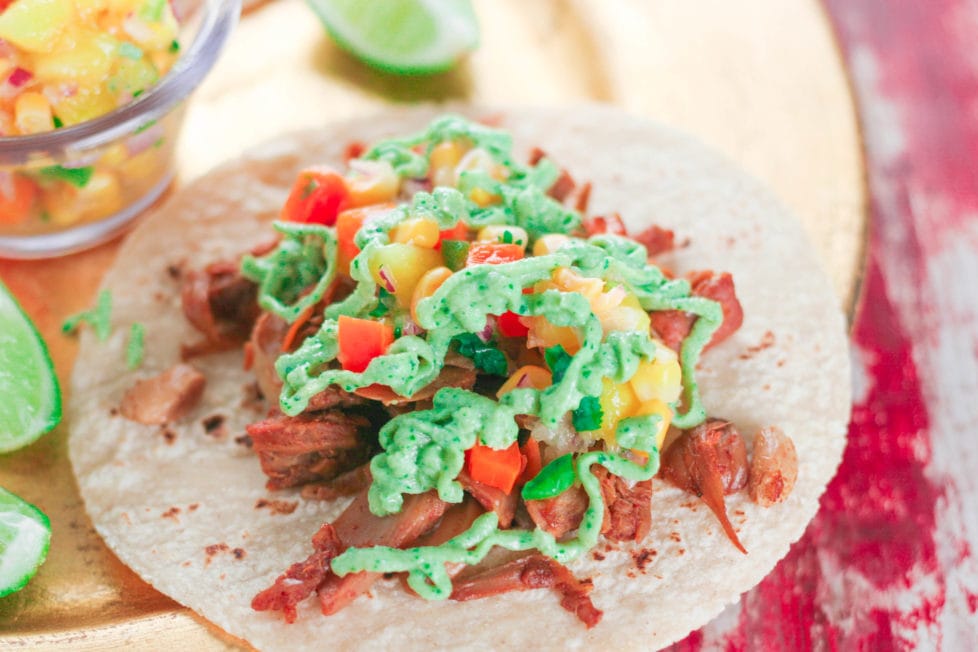 If you make this acorn squash recipe, don't forget to take a photo and tag it #veganvigilante1 on Instagram. Please also follow me on Facebook, Pinterest and Twitter. As always, comments and constructive criticism are appreciated. I will always answer your queries within 24 hours or less. I'd love to know what you think about these Zucchini Noodles other recipes and the blog, overall. Contact me anytime by email at [email protected]

Spicy Jackfruit Tacos with Mango & Sweet Corn Salsa
Jackfruit tacos put a delicious Vegan spin on traditional taco recipes made with meat. So good, you'll make this recipe again and again.
Print
Pin
Rate
Ingredients
For the Jackfruit Tacos
2

tablespoon

coconut oil

2 20

oz

cans young green jackfruit

in water; shredded

2

large cloves garlic

minced

½

large red onion

finely chopped

1-2

orange habanero chili peppers

seeded and finely chopped

2

tablespoon

molasses

3

tablespoon

tamari

2

tablespoon

pure maple syrup

Grade A

½

teaspoon

cinnamon

ground

½

cup

vegetable broth

1

teaspoon

coriander

ground

1.5

teaspoon

cumin

ground

1

teaspoon

red chili powder

2

tablespoon

tomato ketchup

1

teaspoon

sea salt

1

teaspoon

black pepper

12

organic vegan tortillas
For the Mango & Sweet Corn Salsa
1

cup

mango

finely chopped

1

cup

sweet corn

fresh or frozen

1

jalapeno

seeded and finely chopped

½

medium red onion

finely chopped

Juice of one medium lime

½

cup

cilantro

finely chopped

1

teaspoon

sea salt

1

large clove garlic
Instructions
For the Mango & Sweet Corn Salsa
Add all ingredients to a large bowl. Toss and set aside.
For the Jackfruit Tacos
Melt coconut oil in large skillet or wok. Add onion and garlic and saute until onion is translucent. Add habenero pepper and continue to saute.

Add the shredded Jackfruit and simmer for 5 minutes. Add the vegetable broth and the rest of the ingredients. Stir well and continue to simmer until all liquid has absorbed, about 10 more minutes.

Heat the tortillas over an open flame. Fill each with Jackfruit taco meat. Top with fresh mango and sweet corn salsa and my cilantro-lime-avocado cashew sauce (recipe link before last picture above)
Notes
Warning: Be very careful when handling habanero chili peppers. They are one of the hottest peppers in the world. Either wear latex gloves when you cut them or rub olive oil on your hands before cutting them to avoid getting the oil on your skin. After you cut them immediately wash your hands.