This healing Turmeric Tonic is easy to make and rich with anti-inflammatory, stress-reducing properties. Drink this healthy elixir on a daily basis to make the holidays joyous and stress-free.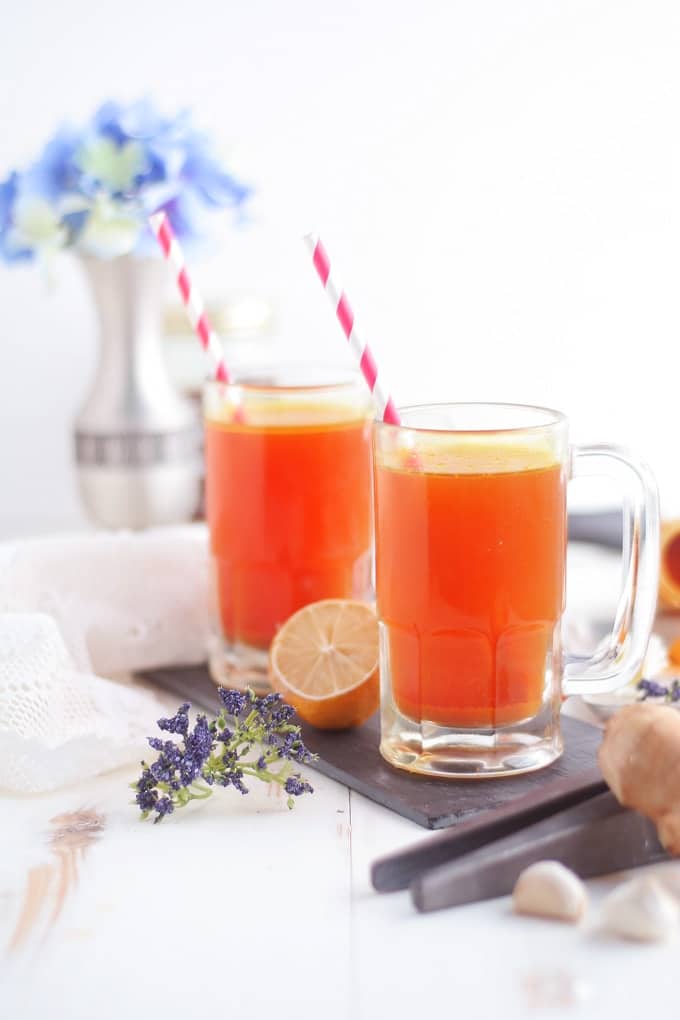 Are ya feelin' it yet? That holiday stress that usually creeps into our lives about this time of year. With Christmas only 2 weeks away, I'm a little stressed too. But I've been drinking this delicious Turmeric Tonic on a daily basis for a few days now, and I'm telling you I feel fantastic. I've been multi-tasking like crazy, cooking for the blog, posting on the blog, photographing food for the blog and everything else that comes with trying to grow my readership. This blog may be 1.5 years old, but I took a 9 month hiatus after 4 months for health reasons and have only been back since September. Yes, I'm pretty new at this but I'm determined to make a go of it and will do my best to make sure I share only the best of recipes and pictures with you. Now, back to this healing Turmeric Tonic.
I love this drink. It gives me a natural energy boost in the morning and keeps me going all day long. I really do feel less stressed than usual. That's because turmeric contains a special component called curcumin that's been studied for more than a half century for its anti-inflammatory, protective effects against cancer, cardiovascular disease, arthritis, numerous bowel disorders, ulcers, acute coronary syndrome, diabetes, diabetic neuropathy and more (Source). But the best thing about this drink - studies have shown that it reverses the effects of chronic stress and effectively helps manage depressive disorders (Source). This is great news for you and me during the holidays.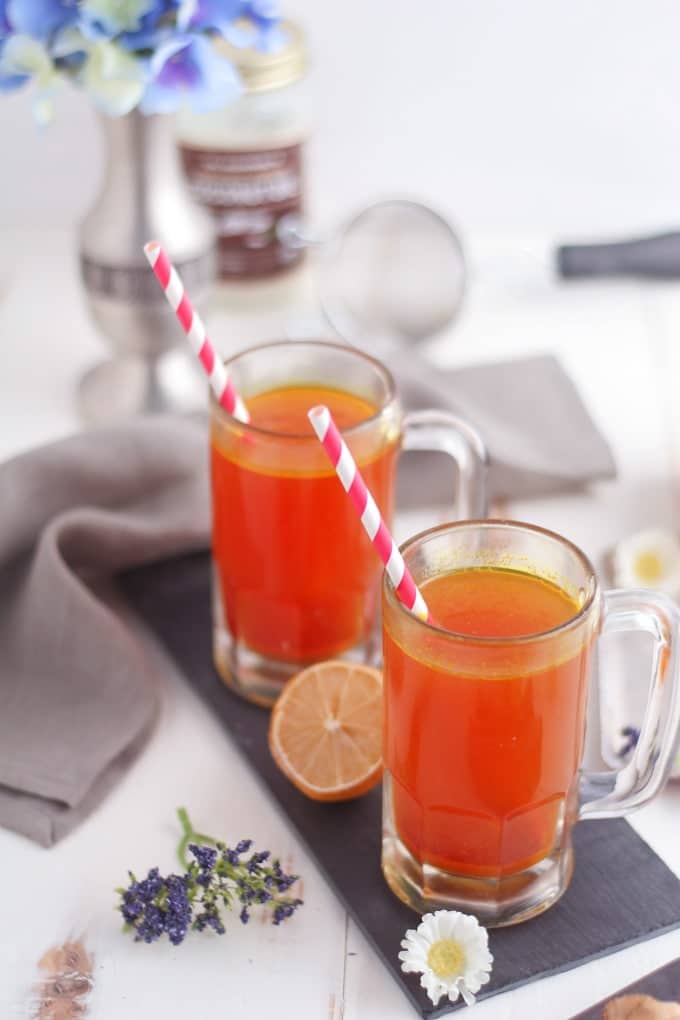 Additional Benefits of Turmeric/Curcumin and Other Ingredients
Curcumin has been used in folk medicine since ancient times. Here are some of its amazing modern-day uses:(Source)
as a paste to treat common eye infections
to dress wounds, treat burns, acne and other skin diseases
as a paste with other ingredients in a glass of hot milk after childbirth
applied to the perineum to aid in the healing of lacerations in the birth canal
taken with boiled milk to cure coughs
treats dental diseases
as a food additive to various types of curries and mustards
and much, much more
Turmeric is not the only ingredient in this healing Turmeric Tonic that's beneficial to your health. Check out the following:
Ginger - a flowering plant originating from China. Aids in digestion, helps reduce nausea, high in gingerol, a a powerful antioxidant and anti-inflammatory (Source).
Cardamom - used for digestive problems such as heartburn, intestinal spasms, irritable bowel syndrome (IBS), intestinal gas, constipation and liver and gallbladder problems. Also used to treat the common cold, bronchitis, sore throat and as a stimulant for urinary problems (Source)
Lemon - high in heart-healthy Vitamin C, helps lower cholesterol, may promote weight loss, helps prevent kidney stones, helps prevent anemia, may help prevent cancer and aids in digestion (Source).
Pepper - studies have shown this common spice contains numerous beneficial effects including antibacterial, anti-inflammatory, antiviral, gastrointestinal, and neural (relating to a nerve or nervous system (Source).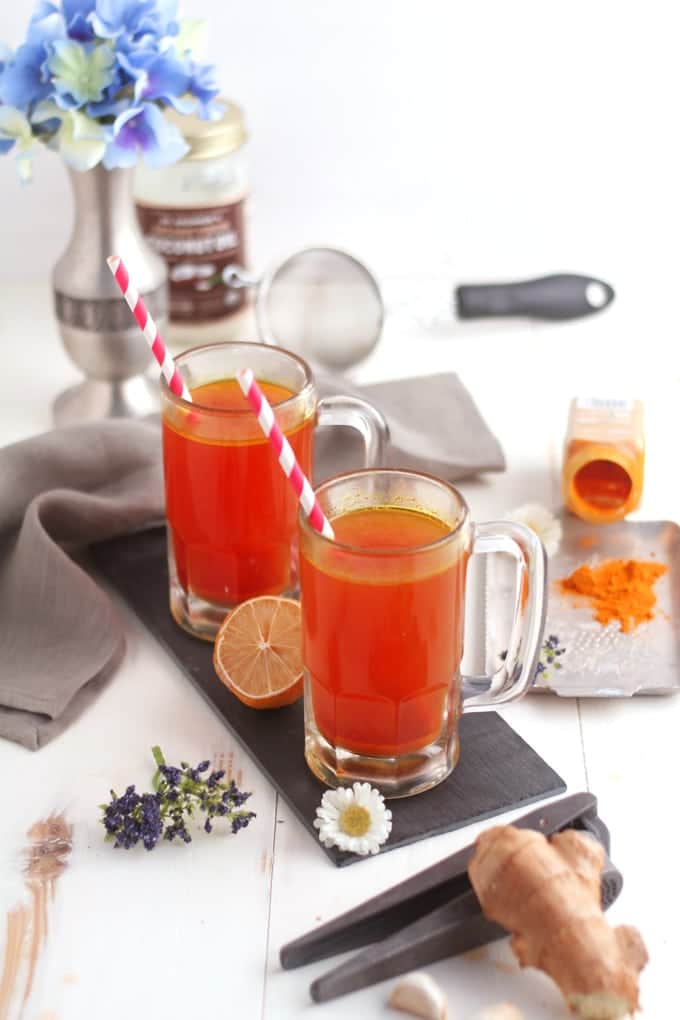 Now that you know that this Golden Milk is the perfect tonic to help get you through the holidays, I bet you can't wait to get the recipe. I'm going to keep drinking it and see what happens over time. I'll report back through this post so you can see just how beneficial this Turmeric Tonic can be when added to your daily routine.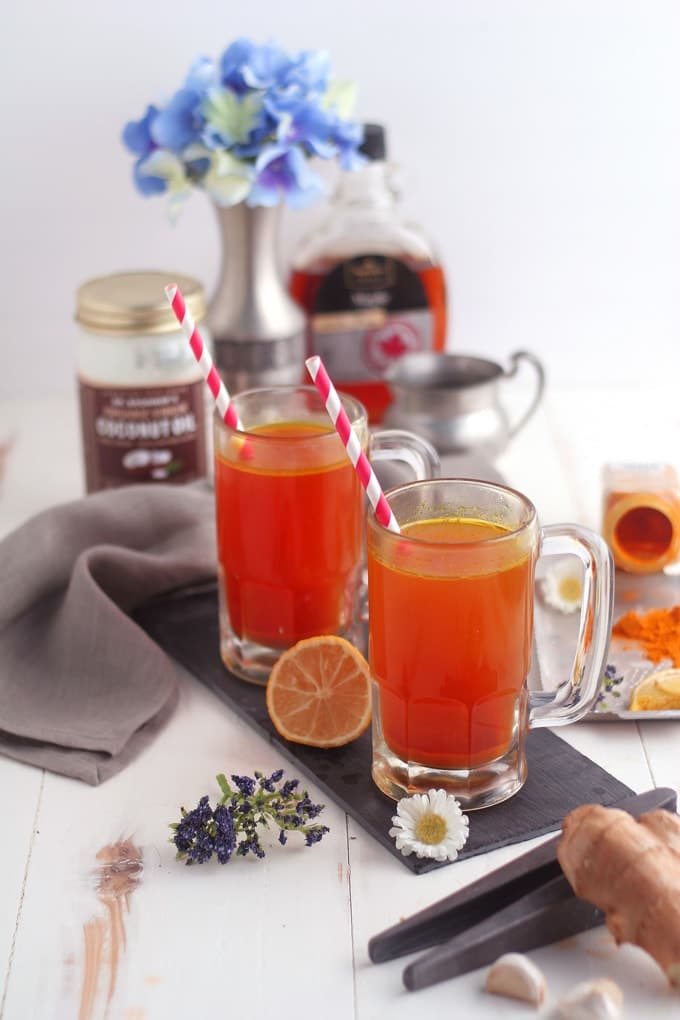 Have you tried this? Why not leave a star ⭐️⭐️⭐️⭐️⭐️ rating in the recipe card right below and/or a review in the comment section further down the page? I always appreciate your feedback. You can also follow me on Instagram, Facebook, Pinterest, and Twitter, and sign up for my newsletter!
📖 Recipe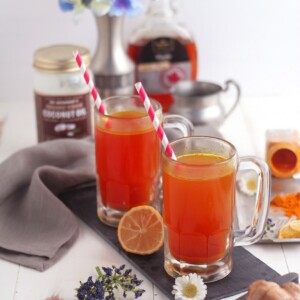 Healing Turmeric Tonic: (Golden Milk)
This healing Turmeric Tonic (Golden Milk) is easy to make and rich with anti-inflammatory, stress-reducing properties. Drink this healthy elixir on a daily basis to make the holidays happier and stress-free. 
Print
Pin
Rate
Ingredients
1 15

oz

can coconut milk

full fat

1

cup

almond milk

vanilla unsweetened

1.5

teaspoon

turmeric powder

1

inch

fresh ginger

peel the outer skin

0.5

teaspoon

cardamom

2

tablespoon

lemon juice

fresh squeezed

2-4

tablespoon

agave nector

½

teaspoon

sea salt

½

teaspoon

black pepper

dash of cayenne pepper

to sprinkle on top of tonic when poured into glass
Instructions
Add coconut milk, almond milk, turmeric powder, fresh ginger, cardamom and lemon juice to blender. Blend on high for 2-3 minutes. Pour liquid through fine mesh strainer or cheesecloth into two medium glasses.

Add sea salt, pepper and blue agave to taste. Stir thoroughly and top with a sprinkle of cayenne pepper.
Notes
**The color of your drink when you make this recipe will be a bright yellow. The reason the pictures show the drink in a golden color is that I heated mine. When you heat turmeric in water or milk, it turns bright gold. That's why it's sometimes referred to as "Golden Milk". Personally, I love both colors. Some days I drink mine straight from the blender and some days I put it on the stove and heat it up. Feel free to enjoy it either way.
**Warning: Turmeric can stain fingers and certain types of bowls, glasses, counter tops, etc. Be careful where you place your glass and other tools used to create the tonic. If you want, you can wear gloves when preparing. Once you are finished with the blender and other tools that were used in this recipe, wash them with warm, soapy water right away.
Nutrition
Serving:
1
serving
|
Calories:
618
kcal
|
Carbohydrates:
32
g
|
Protein:
6
g
|
Fat:
56
g
|
Saturated Fat:
48
g
|
Polyunsaturated Fat:
1
g
|
Monounsaturated Fat:
3
g
|
Sodium:
780
mg
|
Potassium:
678
mg
|
Fiber:
6
g
|
Sugar:
22
g
|
Vitamin A:
4
IU
|
Vitamin C:
16
mg
|
Calcium:
195
mg
|
Iron:
5
mg