This flavorful vegan Walnut Pesto is rich with essential nutrients and takes only 5 minutes to make. Pair it with pasta. use it as a pizza sauce or spread it on panini; however you enjoy it, it's a recipe you'll revisit time and again. Vegan, gluten-free, refined sugar-free.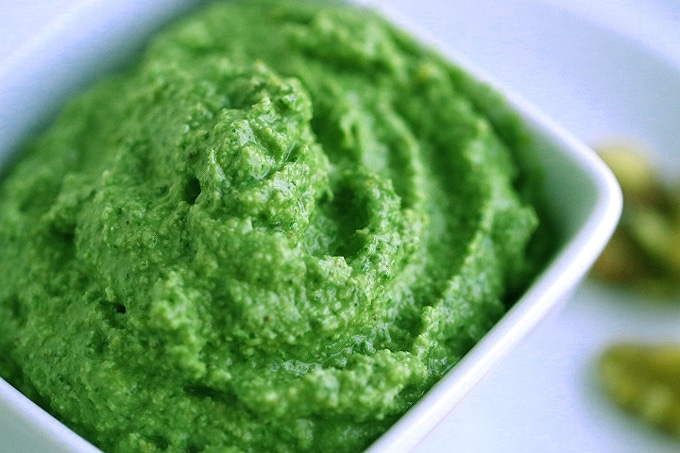 OOOh la la, I love a good pesto sauce, don't you? Tangy, zesty, nutty, I can't say enough about this Vegan Walnut Pesto which brings a new twist to your traditional pesto sauce.
Unlike traditional pesto sauce made with Parmesan cheese and pine nuts, this delicious Vegan Walnut Pesto skips the dairy but adds a powerful nutritional kick with walnuts and a secret ingredient. What is so secret about it? I'm so glad you asked, please read on.
Health Benefits of Vegan Walnut Pesto
Basil, roasted walnuts, garlic, a sprinkle of sea salt, a splash of lemon juice, olive oil, a little vegetable broth and a secret ingredient. You're only 8 ingredients away from a Vegan Walnut Pesto that's loaded with vitamins and essential nutrients.
Basil
Such a fragrant herb, I bought a live basil plant to use in this walnut pesto but I hated to cut the leaves, it was so beautiful. The health benefits of basil are plentiful. Take a look at some of them below:
Roasted Walnuts
To bring out the flavor of walnuts used in this recipe, you should roast them for about 10 minutes at 375 degrees Fahrenheit. Why add walnuts to a pesto recipe? Take a look at how healthy walnuts are:(Source)
Traditionally known for containing essential fatty acids, especially their lipid profile, which is related to a wide array of biological properties and health-promoting effects.
Contain a variety of other bioactive compounds, such as vitamin E and polyphenols.
May help fight cancer, heart and neurodegenerative diseases.
Garlic
Typically, I use a lot of garlic in my recipes. Not only do I love its robust flavor, but this little bulb's health benefits are numerous:
Long been used medicinally, most recently for its cardiovascular, antineoplastic (anti-cancer), and antimicrobial properties. (Source)
Fresh garlic is associated with a reduced risk of stroke and heart attack. (Source).
Superior to a placebo in lowering blood pressure. (Source)
Sea Salt
The nutritional wealth of sea salt includes vital minerals like sodium, potassium,calcium, magnesium, bromide, chloride, iron, copper, and zinc among other beneficial elements. (Source)
Read on for the secret ingredient!

Vegan Walnut Pesto Zoodles
The Secret Ingredient: Nutritional Yeast
Vegans and non-vegans alike tend to freak out about the lack of vitamin B12 in a vegan diet. Introducing nutritional yeast, the answer to the B12 issue:
Powerful probiotic effects which help prevent and treat intestinal diseases and boost the immune system. (Source)
Brings a nutty, cheesy taste to foods that many people love.
Is naturally rich in B vitamins including B1 (thiamine), B2(riboflavin), B5 (pantothenic acid) and B6 (pyridoxine). These vitamins support the metabolism of carbohydrates, fats and proteins to provide energy for the body.
(Source)
Many brands of nutritional yeast are fortified with nutrients, including folate and vitamin B12. (Source)
To learn more about the health benefits of nutritional yeast, read 7 Reasons Why I Love Nutritional Yeast.
Have you tried this? Why not leave a star ⭐️⭐️⭐️⭐️⭐️ rating in the recipe card right below and/or a review in the comment section further down the page? I always appreciate your feedback. You can also follow me on Instagram, Facebook, Pinterest, and Twitter, and sign up for my newsletter!
📖 Recipe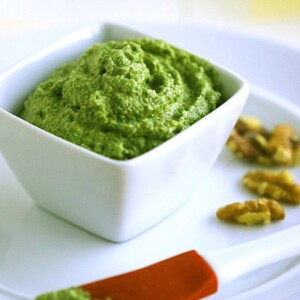 5-Minute Vegan Pesto Recipe
This easy vegan pesto takes only 5 minutes to prepare and is packed with dense nutrients. Tasty, nutty, fragrant, delicious. You won't be able to get enough of it! 
Print
Pin
Rate
Ingredients
2

cups

fresh basil

pack it down

½

rounded cup roasted walnuts

4

cloves

garlic

whole

2

tablespoon

nutritional yeast

1

tablespoon

fresh lemon juice

about ½ medium-sized lemon

¼

cup

olive oil

extra virgin

¼

cup

vegetable broth

you can also use plain water

½

teaspoon

sea salt
Instructions
For the Walnuts
Before starting, preheat oven to 375 degrees Fahrenheit. Line a baking sheet with parchment paper. Add walnuts and roast for 10 minutes until fragrant and toasty. This step is optional but it really brings out the flavor of the walnuts.
For the Vegan Walnut Pesto
Add basil, walnuts, garlic, nutritional yeast, lemon juice and sea salt to food processor. Pulse for about 2 minutes until all ingredients are thoroughly mixed together.

Drizzle in olive oil through opening in lid and pulse for another minute or two. You should now have a creamy mixture of walnut pesto sauce but it's still probably too thick.

Add vegetable broth a little at a time and pulse until desired thickness is reached, usually about 2 to 3 minutes. Add to your favorite recipe or use as a dip for bagel chips or another healthy snack cracker. Serve immediately.
Nutrition
Serving:
1
serving
|
Calories:
144
kcal
|
Carbohydrates:
3
g
|
Protein:
3
g
|
Fat:
14
g
|
Saturated Fat:
2
g
|
Polyunsaturated Fat:
2
g
|
Monounsaturated Fat:
10
g
|
Sodium:
292
mg
|
Potassium:
128
mg
|
Fiber:
1
g
|
Sugar:
0.2
g
|
Vitamin A:
634
IU
|
Vitamin C:
5
mg
|
Calcium:
27
mg
|
Iron:
1
mg