A little salty with a hint of sweet, these Rich Tea Biscuits are the perfect cake to serve with afternoon tea or as an after-dinner dessert. A rich tea biscuits recipe that's not quite crunchy and not quite soft with a unique consistency and subtle flavor that makes this rich tea cake perfect for dunking.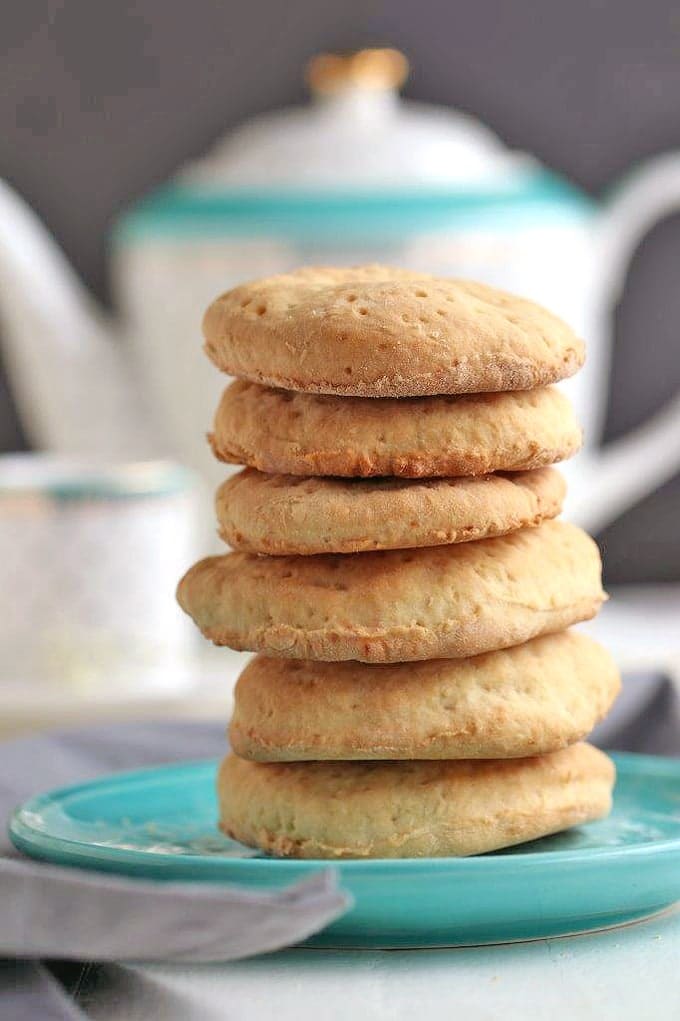 Hello hungry friends! Today I'm celebrating my British heritage with some tasty Rich Tea Biscuits. Rich Tea Biscuits are as essential to British culture as apple pie is to American culture. Best known for being the most dunkable biscuit around, their biscuit-like consistency and subtle flavor will entice even the most anti-dunker to dunk!
Frankly, I've never been much of a dunker of things in my tea or coffee. After all, who wants chunks of food floating around at the top of their cup? The sound of it even grosses me out. But I've tested these biscuits over the last week in my coffee and tea and amazingly, they can withstand the dunk without falling apart. In fact, I've dunked for as long as 20 seconds and they've remained intact. Now that's something to celebrate!
How to Make Rich Tea Biscuits
As you can see by the pictures, I''m a very messy cook. And anything with flour, forget it! You can bet my kitchen is going to look like a war-zone when I'm finished. But this rich tea biscuits recipe is easy to make and if you can contain your flour, you've got it made.
Step 1: Gather your Ingredients
If you're ready to bake, I invite you to gather your ingredients. Here's what you'll need for the recipe, which may already be in your panty:
All purpose flour, sifted (I used King Arthur's)
Vegan butter (keep it cold)
Sugar in the raw
Almond milk
Baking powder
Pinch of salt
I find preparing the ingredients before anything else by placing them in little containers makes the recipe faster and easier to complete as you can see in the Step 1 image below. Once you have everything measured out, you're going to whisk all the dry ingredients together into one bowl.
Step 2: Cut the Butter into the Flour
Keeping your butter cold until you're ready to bake makes this step easy-peasy. You're going to cut the butter in small slices and drop it into the flour. Then, with your hands, you're going to slowly work the flour into the butter until it's a crumbly consistency, as you can see below in the Step 2 image.
Step 3: Forming a Dough
Next pour the almond milk into the dry ingredients and again, using your well-floured hands, blend all the ingredients together until a dough forms. Once your dough ball is formed, put more flour on your hands and knead it for about 2 minutes.
Step 4: Rolling Dough and Cutting Out Biscuits
Flour whatever surface your going to roll your dough out on generously. And don't forget to flour your rolling pin. It may be easier to cut the dough in half and work from there, but I just used the entire ball. Roll out your dough as thin as you can possibly get it as you can see in Step 4 above. Remember: The thinner the dough, the more cracker-like your biscuit. The thicker the dough the more biscuit-like your biscuit. Next, using a cookie or biscuit cutter, cut out circles of dough as you can see in Step 4 above. Keep rolling out the dough and cutting out
Rich Tea Biscuits Steps 5 through 6
Step 5: Place on Baking Sheet & Bake for 10 Minutes
For baking just about anything, I use these Silicone Baking Mats. They are non-stick and make clean-up a breeze and using them is better for the environment than parchment paper or foil. Place each biscuit on the baking sheet and throw in the oven at 360 degrees Fahrenheit (176 Celsius).
Step 6: Allow to Cool on Cooling Rack
Once out of the oven, you can let them cool a little bit on the pan and then transfer them to a cooling rack. But, if you're like me, you'll have your tea ready to go as these golden mounds of heaven taste best straight out of the oven!
If you make this rich tea biscuits recipe, be sure to take a photo and tag it #veganvigilanteblog on Instagram. I'd love to connect with you via social media so please follow me on Facebook, Pinterest and Twitter. I appreciate you for taking the time to read about me and my vegan recipes. I'd love to hear what you think so please leave your comments after the post. If you have questions or want to share a recipe of your own as a guest blogger, please email me at [email protected].
If you like this rich tea biscuits recipe, I have tons of new vegan recipes swimming around in my head that I'm preparing to share with you. If you'd like to support my work, please sign up for my newsletter so you don't miss a recipe. For more healthy dessert/snack ideas, please visit my Dessert Section. If you're into even more tasty dessert recipes, check out my Dessert Round-Up I put together with some of my FoodBloggerPro friends.
📖 Recipe
Rich Tea Biscuits (Vegan, Refined Sugar-Free
A little salty with a hint of sweet, these Rich Tea Biscuits make for the the perfect dunkable snack to go with your afternoon tea.
Print
Pin
Rate
Ingredients
1.5

cups

280 ml all purpose flour

1

tablespoon

baking powder

½

teaspoon

sea salt

4

teaspoon

sugar in the raw

or other vegan sugar

4.5

tablespoon

65 g vegan butter (cold, keep in fridge until ready to use)

⅔

cups

almond milk

or other nut milk
Instructions
Preheat oven to 360F (176C). Line two baking sheets with parchment paper or silicone baking mats. 

Combine dry ingredients into large bowl. Mix together well with fork or whisk.

Cut the butter into the flour in small slices. Using your hands, gently work the flour into the butter until the mixture becomes crumbly like coarse bread crumbs.

Pour in the milk, and still using your hands, work the mixture into a smooth dough ball. Once formed, knead the dough briefly for about 2 minutes.

Roll out dough on a clean, well-floured working surface as thinly as possible. Using a cookie or biscuit cutter, cut out round circles of dough and place on baking sheets. Continue rolling out dough and cutting out biscuits until all the dough is used. Using a fork or pastry docker, gently prick the tops of the biscuits before they enter the oven.

Place biscuits in the center rack of your oven and bake for 10-15 minutes, depending upon your oven, or until they begin to turn golden brown. Serve immediately with a nice cup of tea or place on cooling racks to cool. Store in an air-tight container for 3-5 days. 
Notes
To make it easier when rolling the dough, cut it in half and work with only half at a time. 
Nutrition
Serving:
1
biscuit
|
Calories:
82
kcal
|
Carbohydrates:
11
g
|
Protein:
1
g
|
Fat:
4
g
|
Saturated Fat:
1
g
|
Polyunsaturated Fat:
1
g
|
Monounsaturated Fat:
2
g
|
Trans Fat:
1
g
|
Sodium:
120
mg
|
Potassium:
95
mg
|
Fiber:
0.4
g
|
Sugar:
1
g
|
Vitamin A:
0.3
IU
|
Calcium:
50
mg
|
Iron:
1
mg