A simple meal bursting with flavor, these Walnut Pesto Zoodles topped with Garlic Cherub Tomatoes require only 9 ingredients and are ready in about 30 minutes. This is one of the best vegan zoodle recipes ever! A marriage made in heaven that's also gluten-free.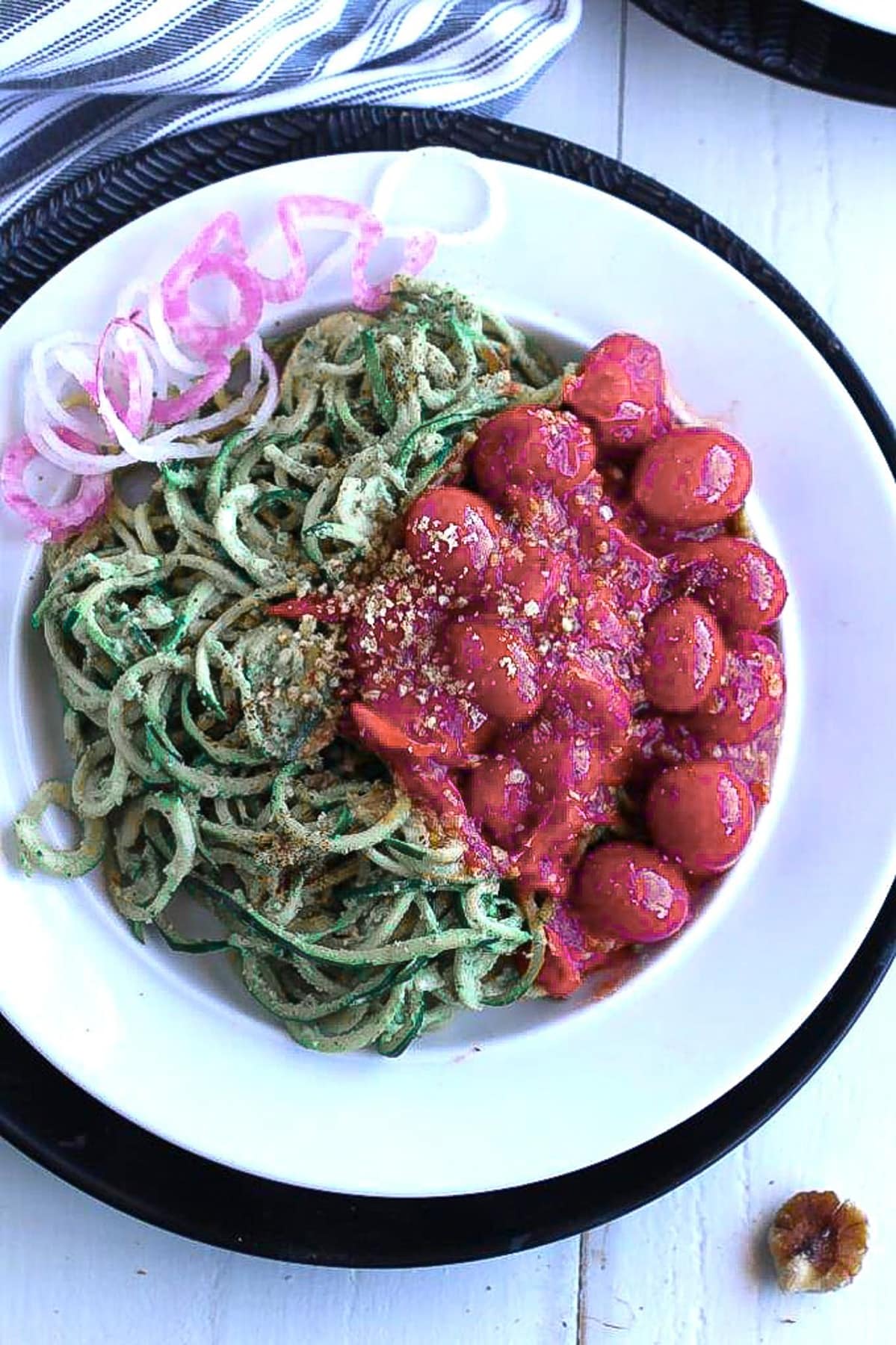 Salty, garlicy, savory, rich, full-on flavorbomb, these are just a few ways to describe these Walnut Pesto Zoodles topped with Garlicy Cherub Tomatoes. Made with only 9 ingredients, if you're well-prepared, you can probably have them ready in about 30 minutes. Don't worry! I'm now going to help you become well-prepared!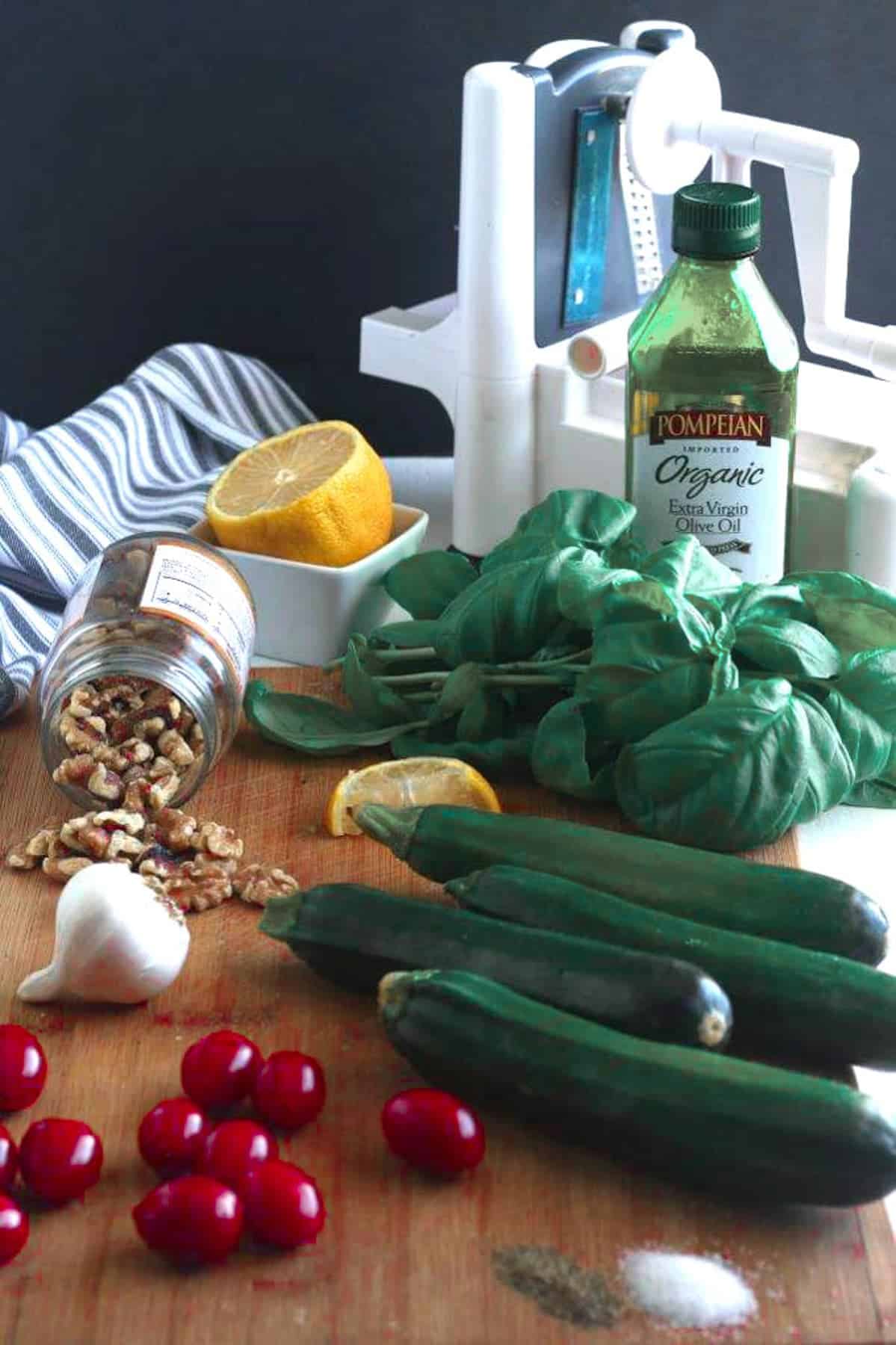 Ingredients Needed for these Zoodles
You'll need the following ingredients to make this zoodle recipe:
Zesty 5-Minute Vegan Walnut Pesto (olive oil, vegetable broth, fresh basil, walnut, garlic, lemon & sea salt)
8 medium to large zucchini
10.5 ounces Cherub Tomatoes
Olive oil
Garlic
Sea salt
You'll also need a gadget to spiralize your zoodles. I use the spiralizer you see below. It was only 19.99 at Wal-Mart. Greatest investment I ever made!
Step by Step Instructions
Ok, so you have your ingredients. Here are the steps you should take to complete this meal:
1. Start by making your walnut pesto sauce. You'll put your basil, walnuts, garlic, lemon juice and sea salt in your food processor.
2. Pulse for a few minutes to combine all the ingredients. Use a spatula to scrape the sides. Add your olive oil and vegetable broth slowly through the opening on the food processor. Use only enough to make your pesto sauce thick and creamy as seen in the picture. For a thinner sauce, use more vegetable broth. For a thicker sauce, use less. Set aside.
3. Chop the tops and ends off your zucchini.
4. Using your handy dandy spiralizer, spiralize all of your zucchini.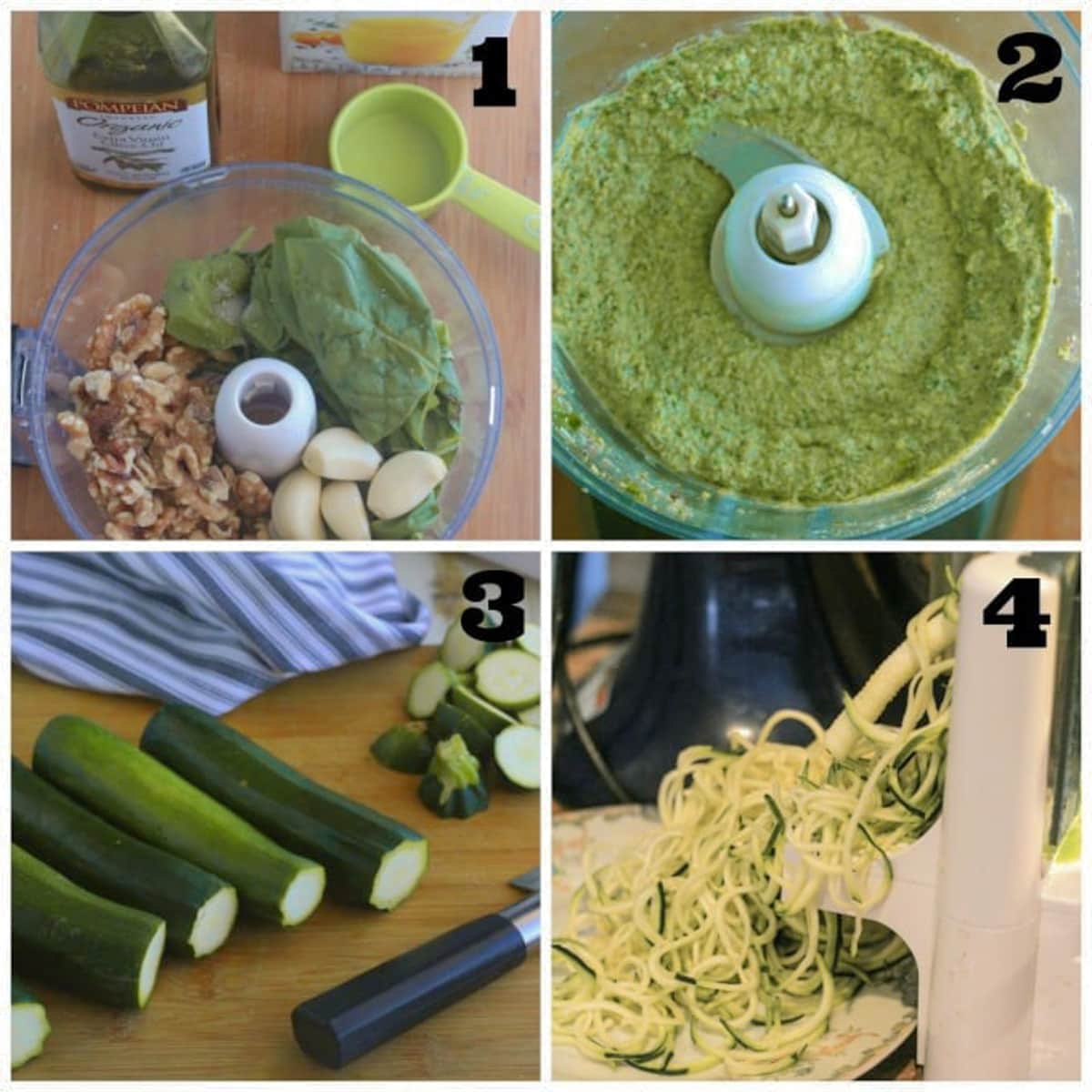 5. Place the zucchini on a few layers of paper towels as seen below. Top zucchini with another few layers of paper towels. Place something heavy, like a book, on the top layer of paper towels. Allow paper towels to absorb excess moisture from the zoodles so your recipe doesn't get too runny. Leave the zoodles between the paper towels while you handle the rest of the recipe.
6. Combine olive oil and garlic in small pan. Add your tomatoes.
7. Cover and saute over medium heat until the tomatoes start to burst. Remove from heat. Set aside.
8. While tomatoes are simmering, heat a little more olive oil and garlic in large fry pan or wok. Add your zoodles and stir until olive oil and garlic are well-distributed. Add walnut pesto and stir. Cook over medium heat just until zoodles and sauce are heated through. If you over-cook, they will wilt prematurely.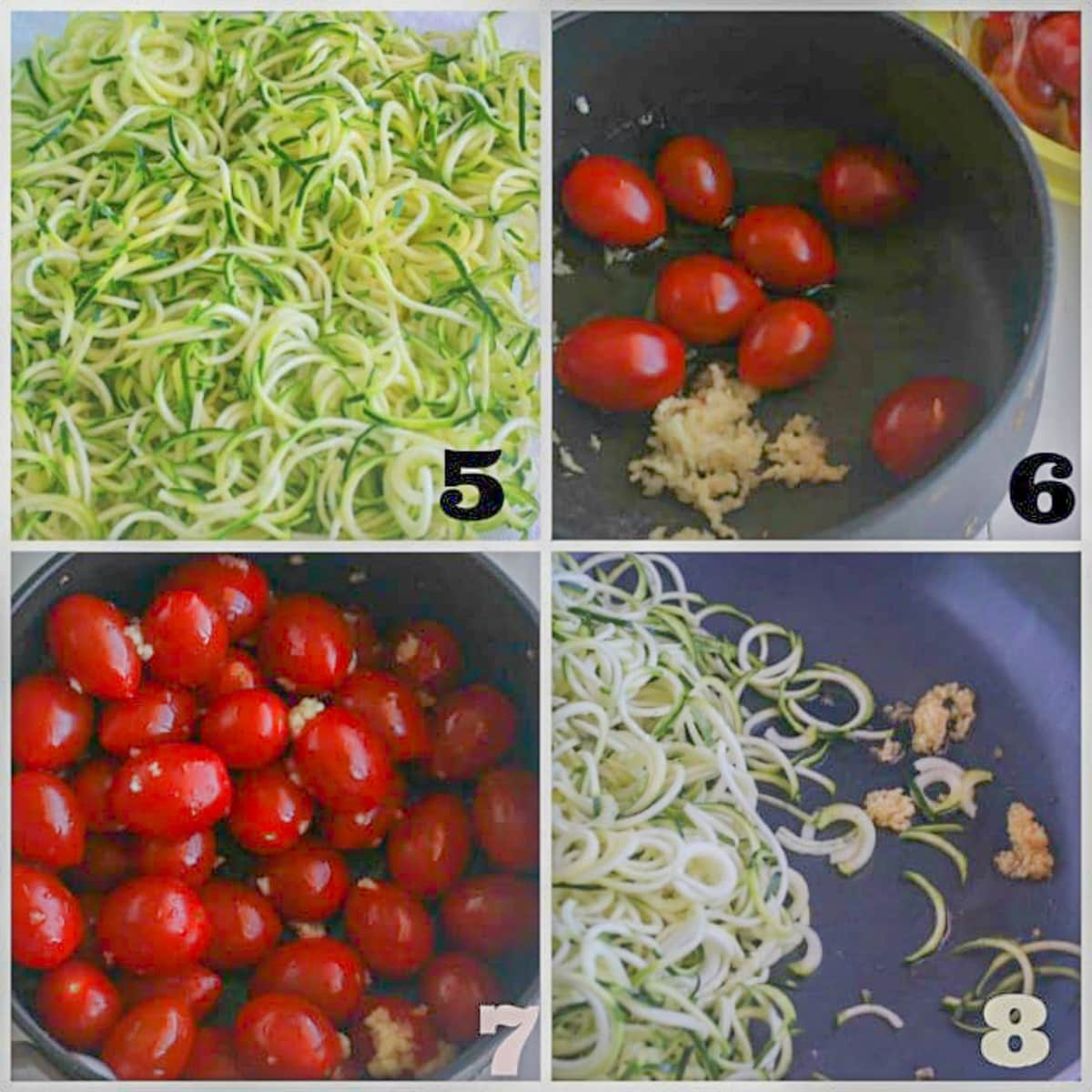 This recipe makes 4 servings. Once your zoodles and tomatoes are done, place zoodles on your plates, top with Cherub tomatoes then top with Vegan Parmesan or another favorite seasoning. Garnish with spiralized radish and serve immediately.
Honestly, I wish you could have seen me in the kitchen today cooking this vegan zoodle recipe. From dropping ingredients and my favorite kitchen gadgets all over the floor to tripping and falling to the floor myself, it would've been the funniest comedy show you've ever seen! Sometimes I wonder how I get out of there alive! Ok, enough complaining! Let's move on…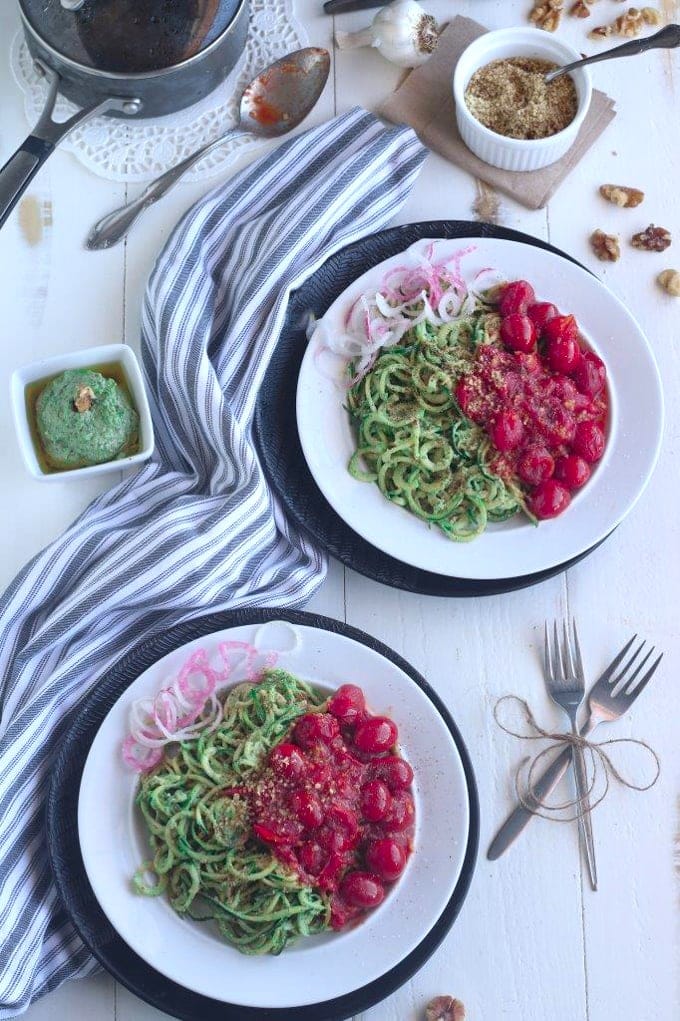 I served one of the best vegan zoodle recipes to my boyfriend for dinner tonight. I made 4 servings and he ate 3 of them. I'm telling you this to be sure you make enough of it because it's that good!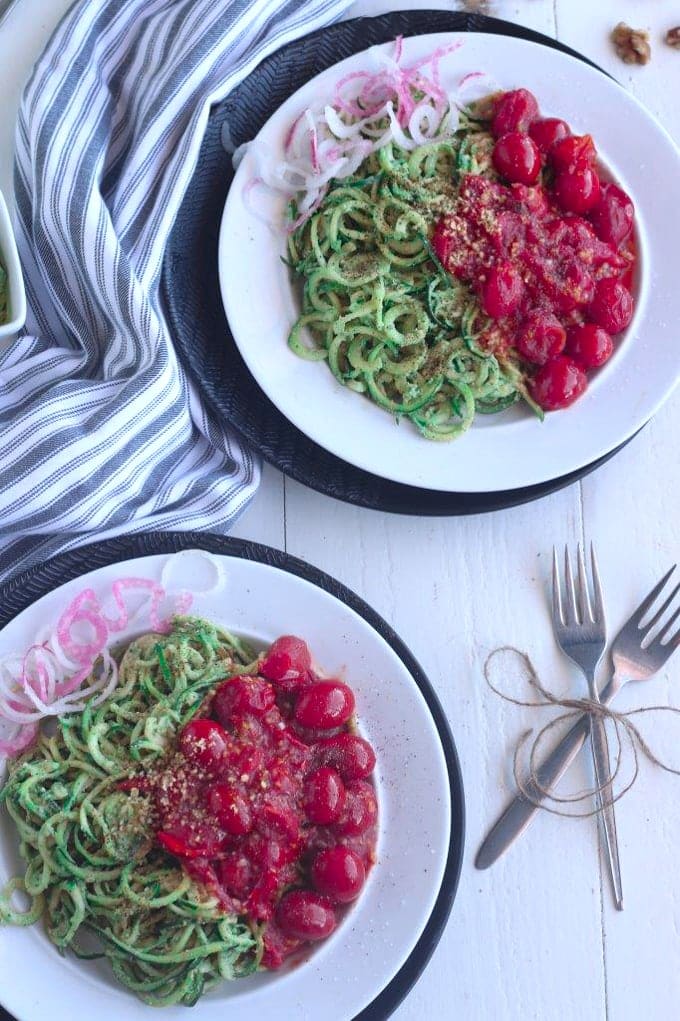 If you make these pesto zoodles be sure to take a photo and tag it #veganvigilante1 on Instagram. I'd love to connect with you via social media so please follow me on Facebook, Pinterest and Twitter. I appreciate you for taking the time to read about me and my vegan recipes. I'd love to hear what you think so please leave your comments after the post. If you have questions or want to share a recipe of your own as a guest blogger, please email me at [email protected]
I have tons of new vegan recipes swimming around in my head that I'm preparing to share with you. If you'd like to support my work, please sign up for my newsletter so you don't miss a recipe. For more healthy dinner ideas, visit my Main Dish Section. If you want a quick meal with less mess, check out my One-Pot Meal Section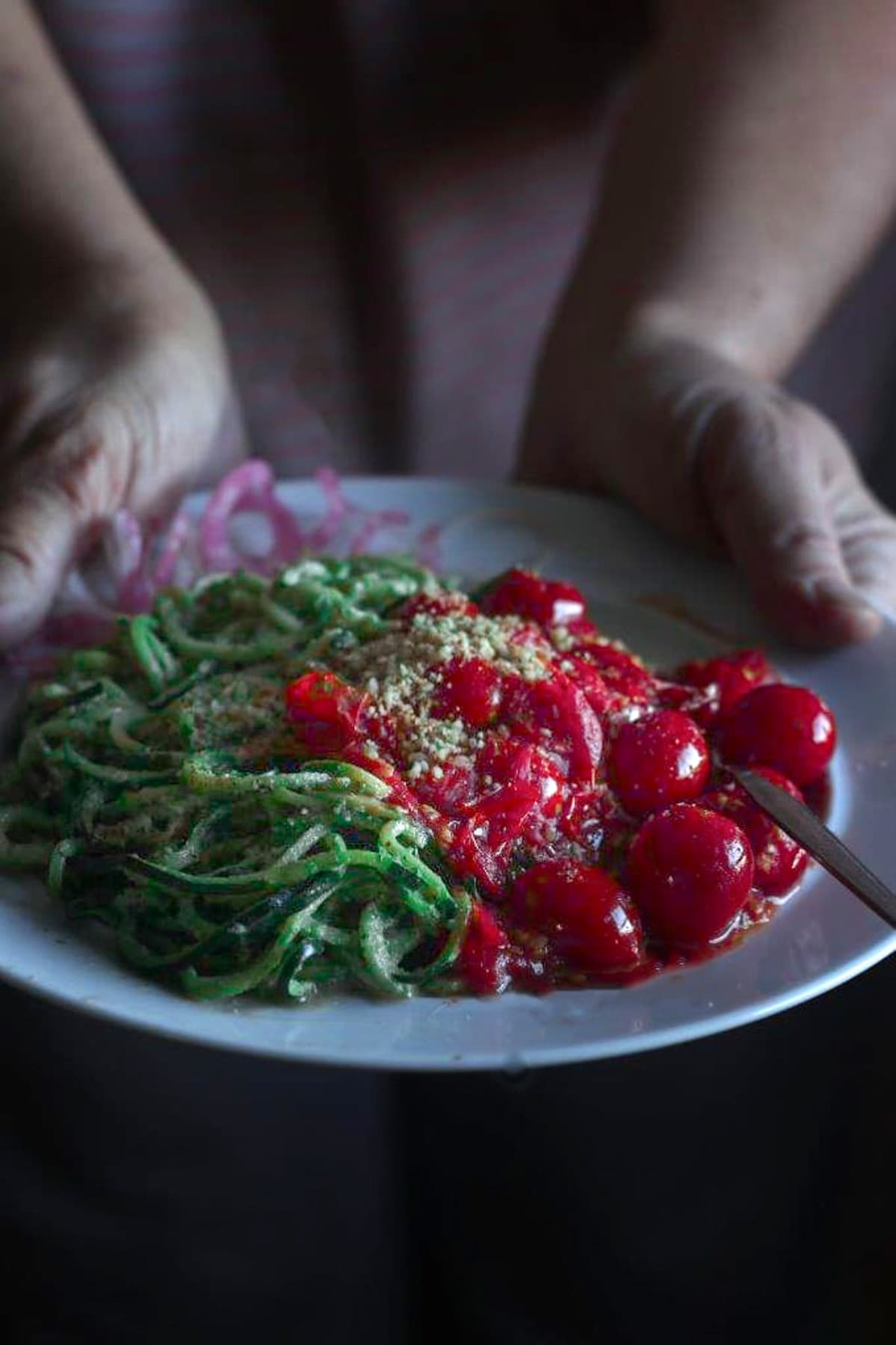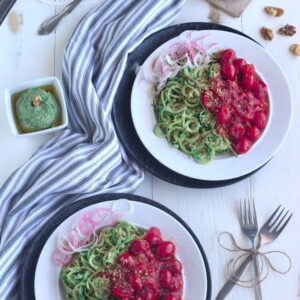 Walnut Pesto Zoodles (Vegan Zoodle Recipes)
A marriage made in heaven, these Walnut Pesto Zoodles are topped with Garlic Cherub Tomatoes for a taste so bold, even non-vegans will love it.
Print
Pin
Rate
Ingredients
1

batch Vegan Walnut Pesto

1

tablespoon

olive oil

extra virgin; divided

4

cloves

garlic

minced; divided

8

med zucchini

spiralized

10.5

oz

cherub tomatoes

0.5

teaspoon

sea salt

0.5

teaspoon

ground black pepper

optional
Instructions
For the Walnut Pesto Sauce
Prepare your Vegan Walnut Pesto recipe by following the instructions for my recipe. Set aside. .
For the Zoodles
In a large fry pan or wok, heat 1 teaspoon olive oil and 2 cloves garlic over medium heat for about 2 minutes. Add spiralized zucchini noodles, or zoodles, and toss to coat evenly. Cook zoodles only until they are heated through. Don't overcook. Stir in walnut pesto sauce and coat zoodles evenly. Set aside.
For the Tomatoes
In a small pan over medium heat, add a teaspoon of olive oil and 2 cloves garlic. Add tomatoes and stir until evenly coated. Cover and simmer for about 10 minutes or until tomatoes start to burst. Stir every few minutes.
Putting it All Together
Place zoodles on plates and top with a generous scoop of sauteed cherub tomatoes. Top with Vegan Parmesan, sea salt and pepper to taste. Garnish with spiralized radish and serve immediately.
Notes
Don't overcook the zoodles or they will wilt. Just cook until heated through. 
Store left over portions of zoodles in bowl filled with water in refrigerator for up to 3 days. 
To make this oil-free, substitute olive oil for vegetable broth.