This small batch Pear Ginger Jam requires only 4 ingredients and is made without pectin. Brimming with the fresh flavors of fall, you won't find a more delicious pear ginger jam recipe anywhere.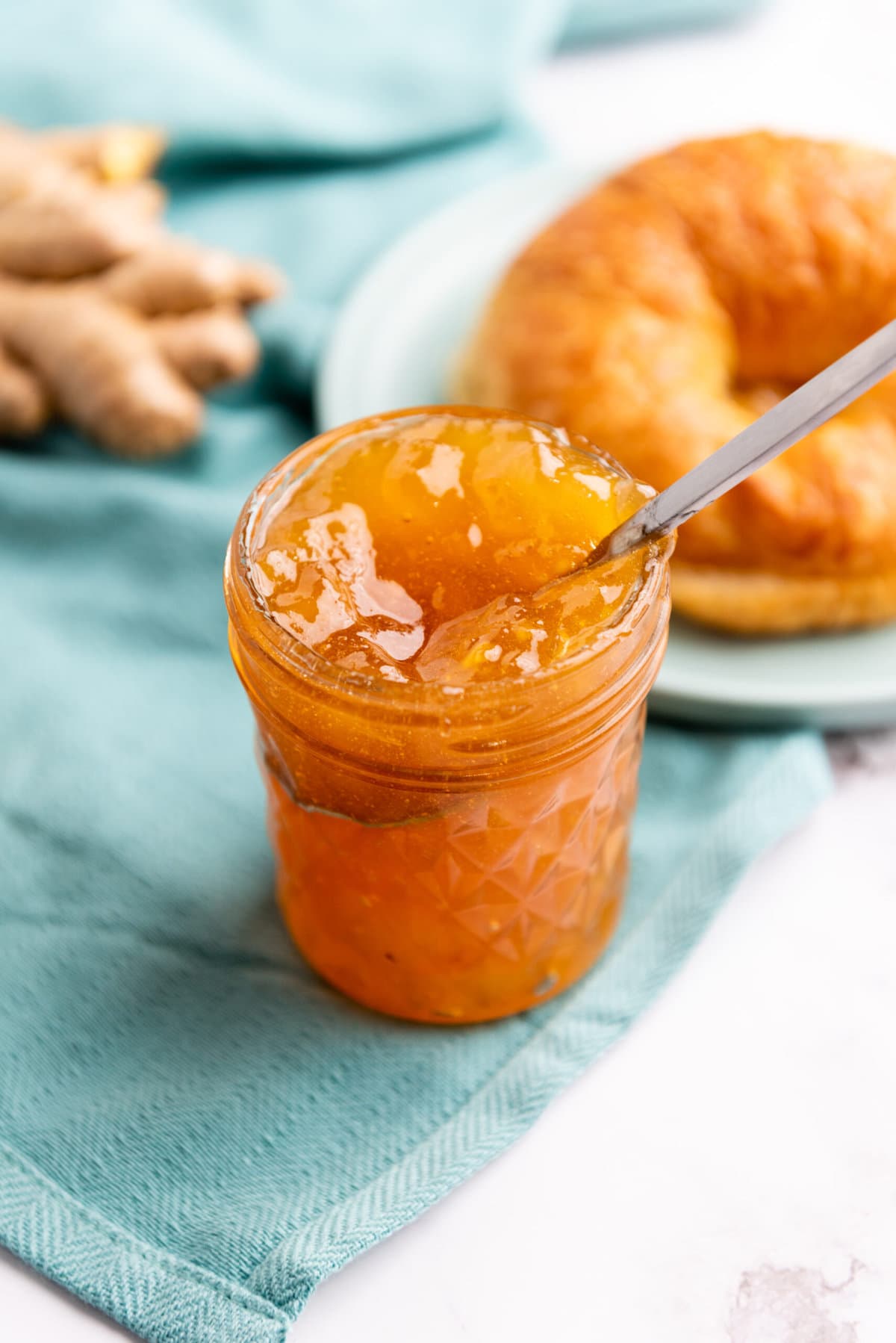 Jump to:
Pear and Ginger Jam is the perfect addition to all of my baked goods, including my Rich Tea Biscuits, Vegan Blueberry Lemon Muffins, and my easy Vegan Pumpkin Bread. This ginger pear jam recipe is great for pear and ginger lovers, alike. Pair it with a Vegan Pumpkin Spice Latte and my quick and easy Banana Peel Bacon and you have a winning combination of a vegan breakfast.
🍐 What Goes Into Pear Ginger Jam?
For your convenience, you may shop this ginger-spiced pear jam recipe from the comfort of your own home by clicking on the links below the following ingredient list.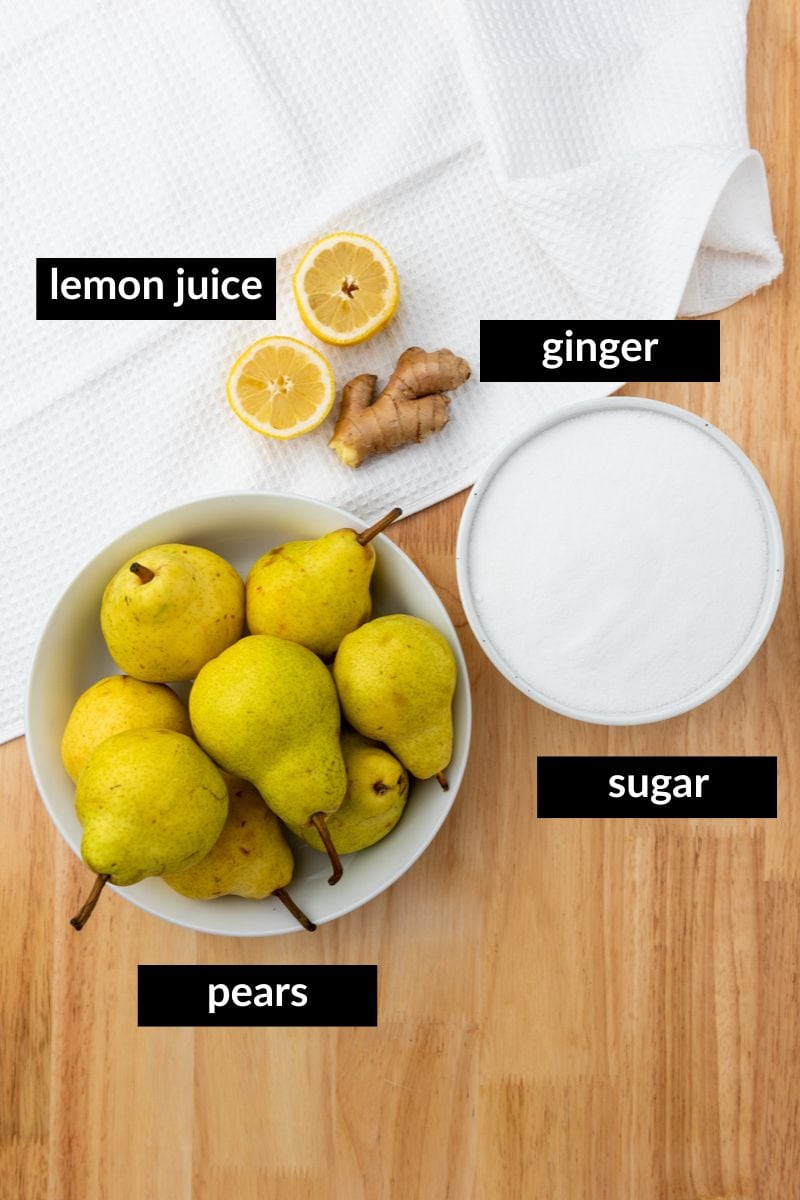 📋 Ingredient NOTES AND SUBSTITUTIONS
Pears - Bartlett pears work well for this recipe, however Bosc and Seckel are also great pears for canning. If none of these are available, you may substitute with any other available pears. Be sure to give them a good squeeze to determine that they are ripe (your finger should leave a slight indent when squeezing), but but not so ripe they turn to mush when you peel them.
Ginger - fresh ginger works best for adding a lot of extra zing to this recipe. Alternatively, you can use 1 teaspoon of ground ginger as a substitute. For an extra treat, drop some crystallized ginger in the pot while the jam is cooking.
Sugar - because not all sugar is vegan (some brands are processed with bone char), be sure to choose a vegan-friendly sugar brand, such as blah blah, blah, or blah blah.
Lemon juice - lemon juice is acidic and acts as a preservative in jams and jellies, increasing their shelf like without massively affective the flavor. If fresh lemons are unavailable, you may also use bottled lemon juice.
🔪How To Make Pear Ginger Jam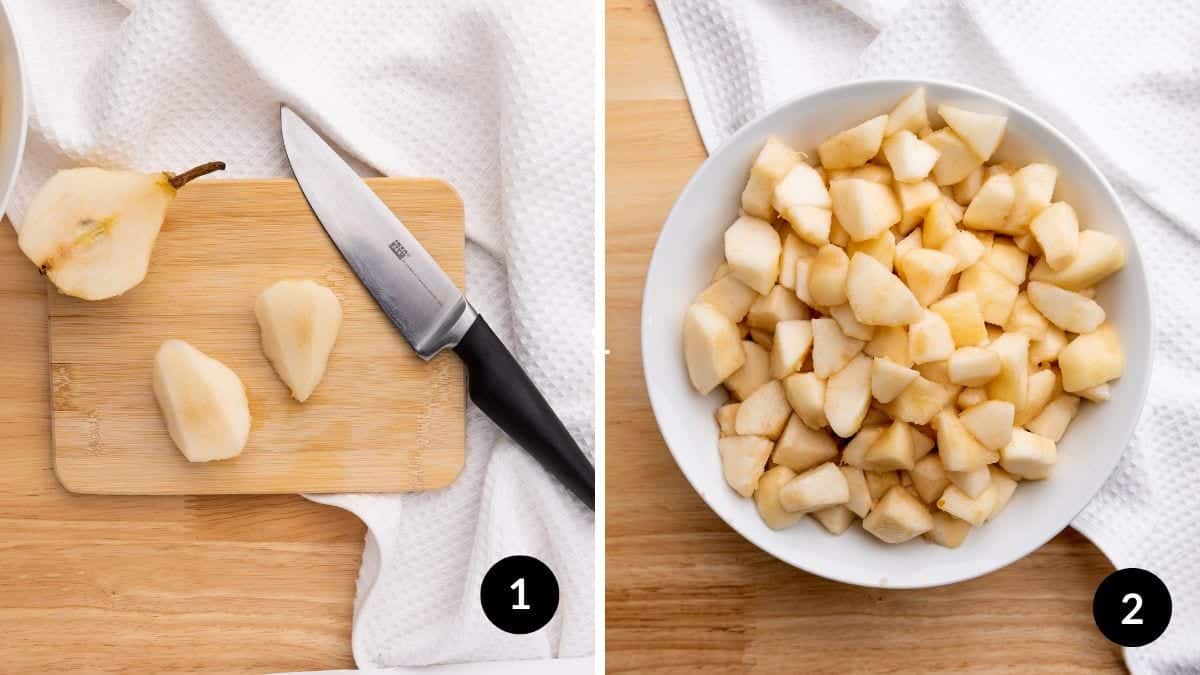 1. Peel and core the pears. TIP: use this handy potato peeler to speed up the process!
2. Dice pears into small cubes and place in a bowl.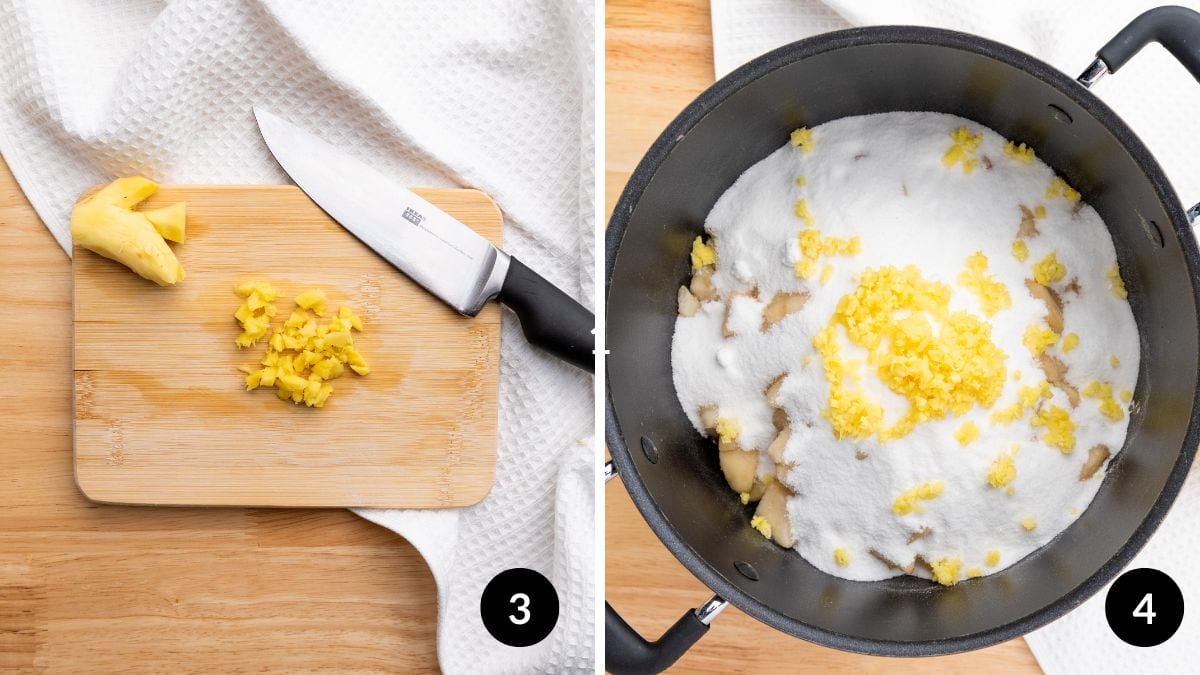 3. Peel and finely mince fresh ginger. Alternatively, you can use this handy cheese grater.
4. Add pears, sugar, ginger and lemon juice to a large pot.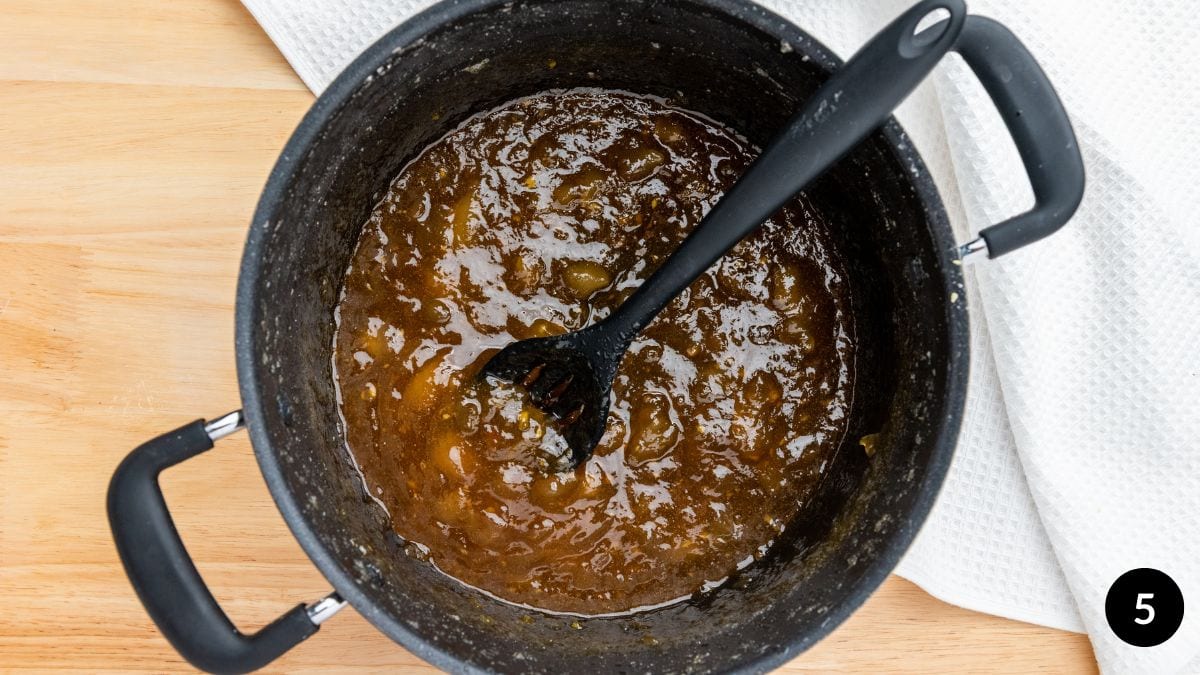 5. Turn burner to low/medium heat while stirring constantly, until all the sugar has melted (be careful not to burn). Reduce heat to low and allow jam to simmer until it thickens. This could be anywhere from 30 minutes to an hour and 30 minutes. When the sugar starts to brown and pears start to jelly, remove from the stove.
Allow to cool for a few minutes, then ladle into canning jars (I use this funnel) leaving about ¼ inch of room at the top. Secure caps and lids and allow jam to cool to room temperature before storing it in the refrigerator.
NOTE: This is a small batch pear ginger jam and makes 3 jars.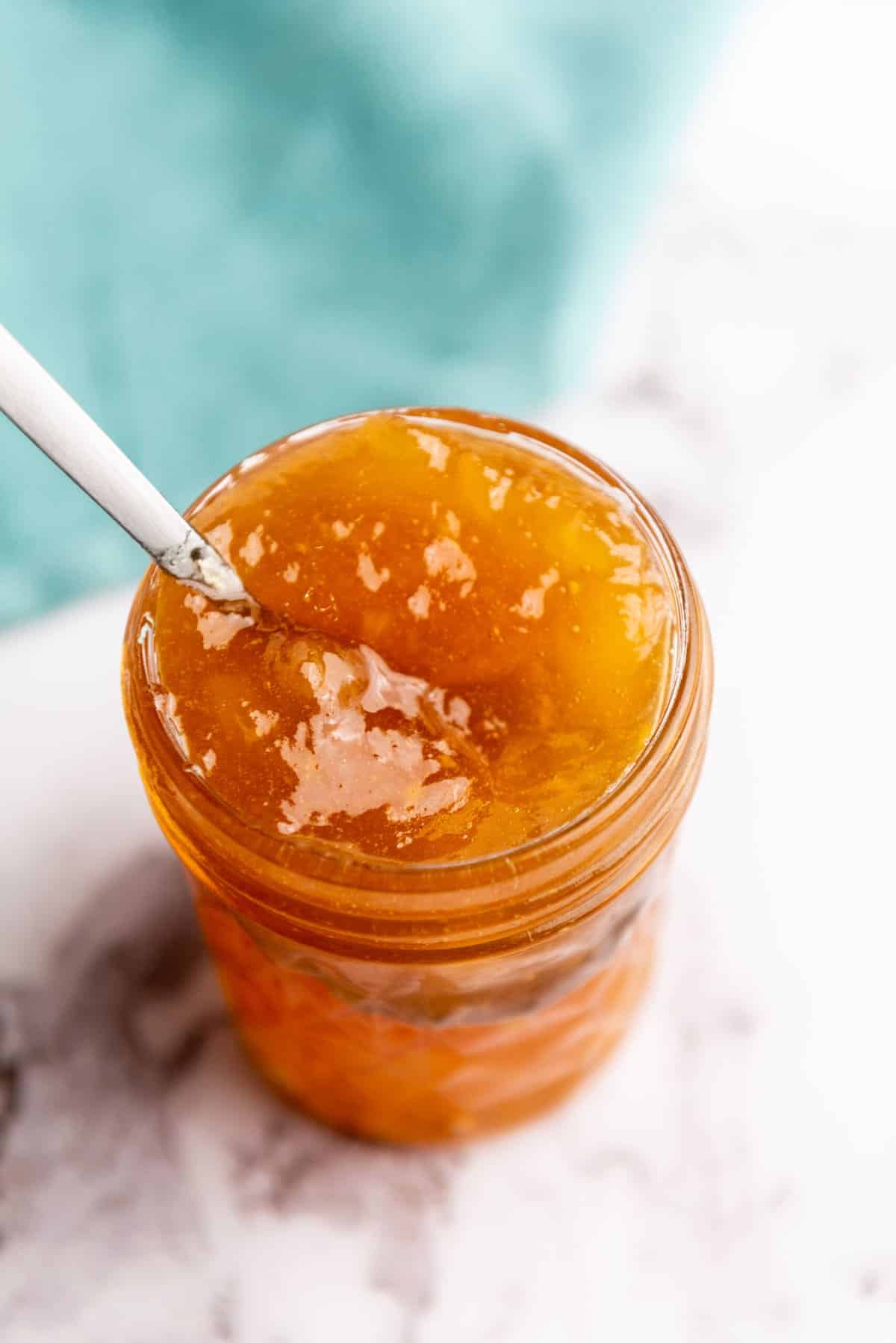 🌡️ STORAGE
Properly prepared and canned jams can stay fresh for up to 18 months, as long as they are stored in the refrigerator or a cool, dark place. Properly prepared means using an acidic preservative, such as lemon, and boiling in a hot water bath after jam is ladled into jars.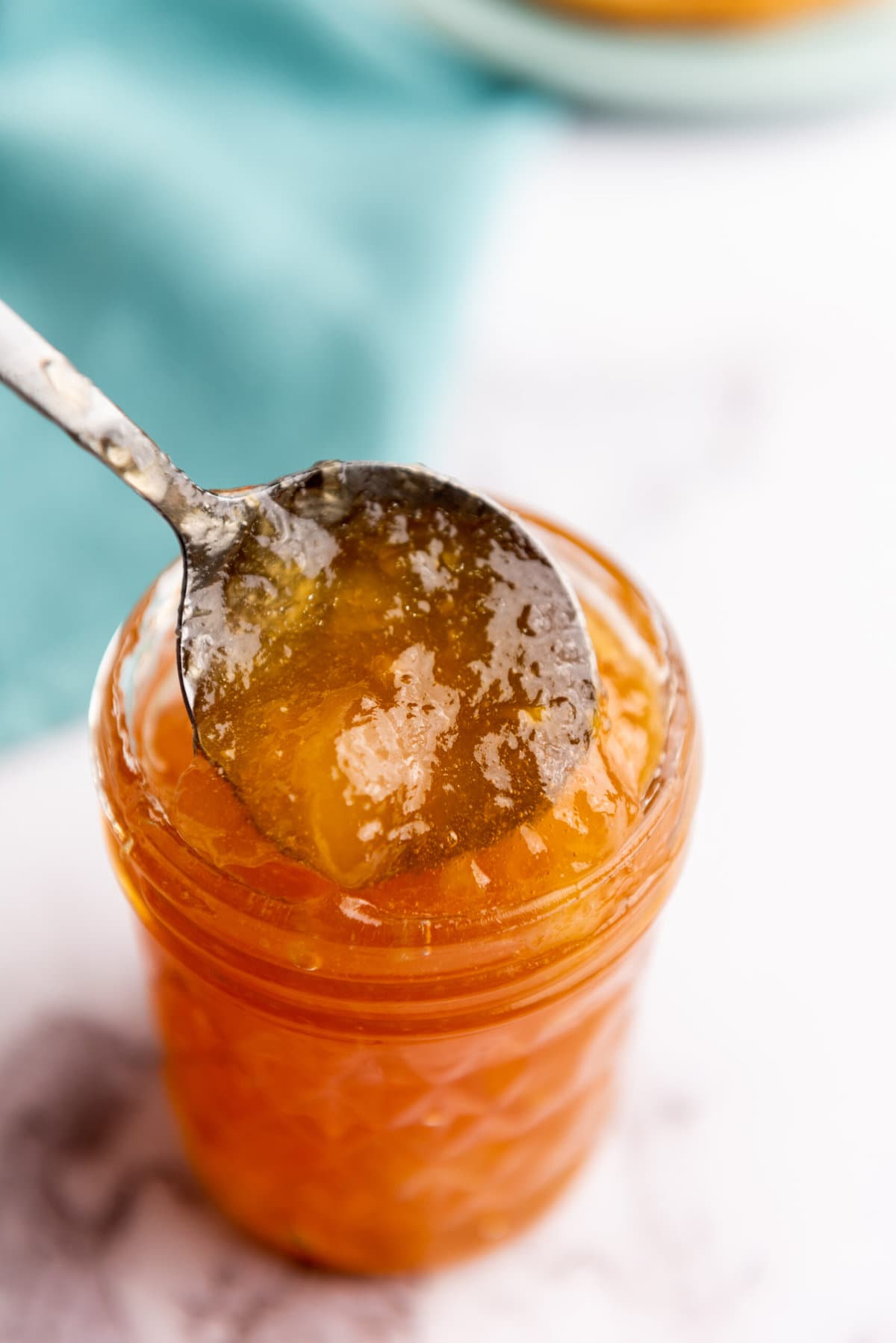 👩🏻‍🍳 EXPERT TIPS
Test this Pear Ginger Jam to make sure it will set properly before ladling into jars by spooning a teaspoon onto a small glass plate and putting it in the refrigerator for approximately 5-8 minutes or the freezer for 5 minutes. Remove, and tap the blob of jam with your finger or tilt the plate on its side. If nothing sticks to your finger or the Pear Ginger Jam doesn't run down the plate when you tilt it, it's perfect.
For best results, ladle jam into canning jars using a funnel. I have this entire Granite-Ware Canning Kit and I love it. If you're into canning (and you will be once you make this Pear Ginger Jam), you'll treasure this for years to come.
Once jam is removed from heat, ladle into jars, leaving ¼ inch room at top. Secure with lids and rings. Place in a boiling water bath for 10 minutes. Remove, and set on a towel on your countertop. The seal is secure when lids are tightly sealed to mouth of the jars. This means it remains sealed to the jar and will not move when you remove the ring and try to displace the lid. As this Pear Ginger Jam recipe starts to cool in the jars, you may hear a pop! This is a good thing and ensures your jam is sealed correctly.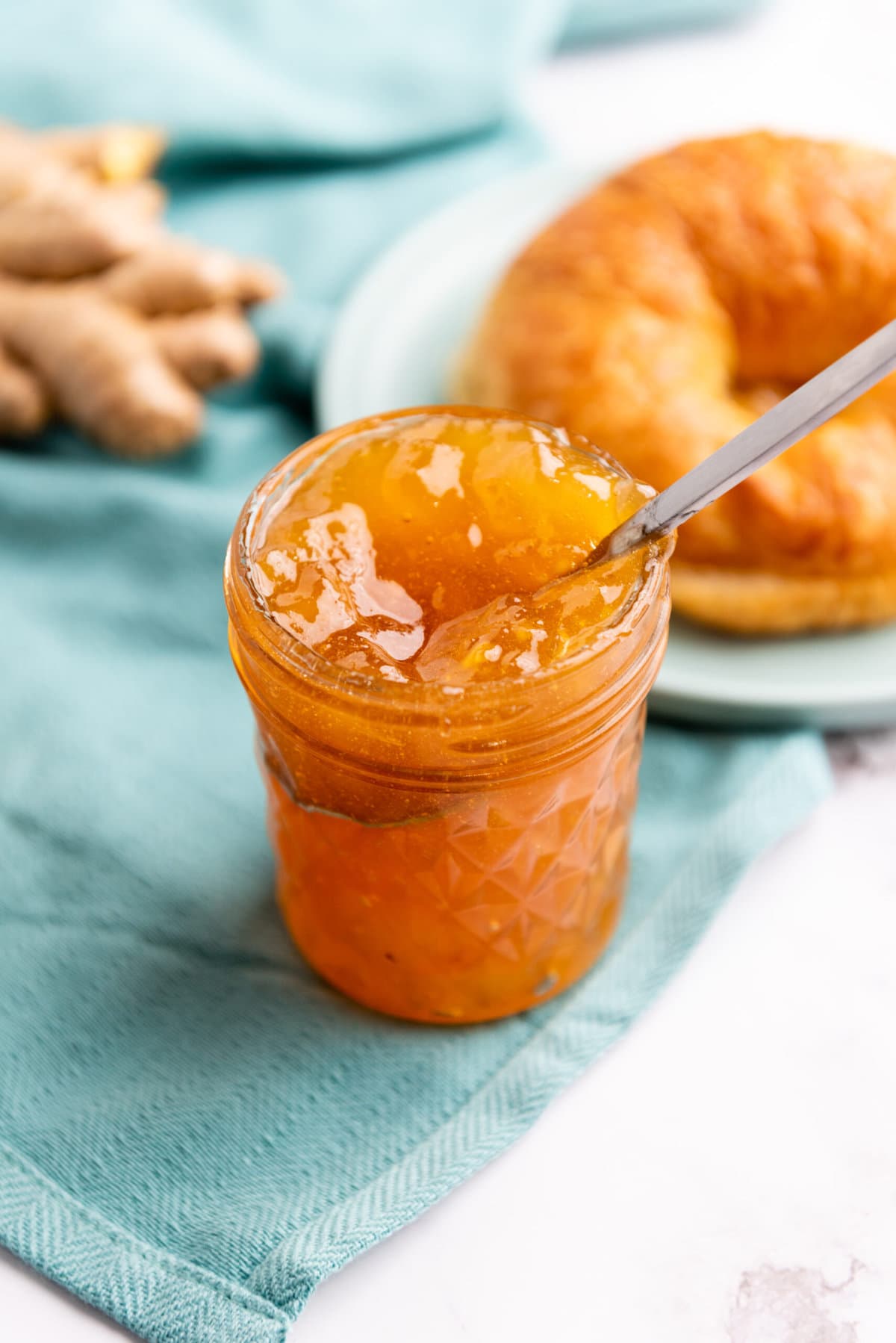 💭 FAQ
Do pears have pectin?
Yes. Pears are naturally high in pectin making them a great fruit to use for this no-pectin Pear Ginger Jam. Combined with sugar, acid (in lemon) and heat, you should get a nice set.
How can I thicken pear jam without pectin?
Pectin thickens jams and jellies quicker than preparing jam without it. However, you can make jam and jelly without pectin. You just need to cook it longer, on the right temperature and combine it with the right ingredients (in this case, sugar and lemon). If it's still not thick enough, add a little cornstarch mixed with a teaspoon of water to it while it's cooking. As it starts to cool, it will thicken.
Why did my jam not set?
Jams don't set for a variety of reasons, the most common being it wasn't cooked long enough. When you don't use pectin in a jam recipe, it's natural for the cooking process to take longer. This is normal. Your jam is ready when the pears become like jelly and the set test comes returns positive results.
Can you seal jars when jam is still hot?
Yes. Be sure to leave about ¼ inch room at top of jar when you fill it. This accommodates for any expansion that occurs during the cooling process.
Can I test jam prior to canning it to make sure it is ready?
Yes. One test I use often is to drop about a teaspoon of jam on a glass plate and stick it in the refrigerator for 5 minutes or until it cools (you can also stick it in the freezer for several minutes to make the process quicker). Once you remove the plate from the fridge or freezer, take the tip of your finger and tap it. If it is set properly, it won't stick to your finger or run down plate when you tilt it. If it hasn't set yet, continue to simmer until it's ready.
🍑 VARIATIONS
Vanilla pear ginger jam - to add a rich, warm flavor to the Pear Ginger Jam, scrape vanilla seeds from one whole pod of vanilla into the jam while it's simmering. Alternatively, you can add 1 teaspoon of pure vanilla extract.
Cinnamon pear ginger jam - what's fall without a touch of cinnamon? To give this jam some extra flavor, add two cinnamon sticks to the jam during the simmering process. Be sure to remove before ladling jam into jars. If you don't have cinnamon sticks on hand, no worries, simply use 1 teaspoon of ground cinnamon as a substitute.
Herby pear ginger jam - fresh herbs are enticing in any recipe, and jam is no exception. Think a teaspoon of fresh chopped thyme, rosemary, or marjoram. If fresh herbs are unavailable, you can always choose an equal amount of ground.
Other fruit jam - not into pears? No problem! Instead, use equal amounts of apples, plums, or any other favorite fruit to change it up a bit.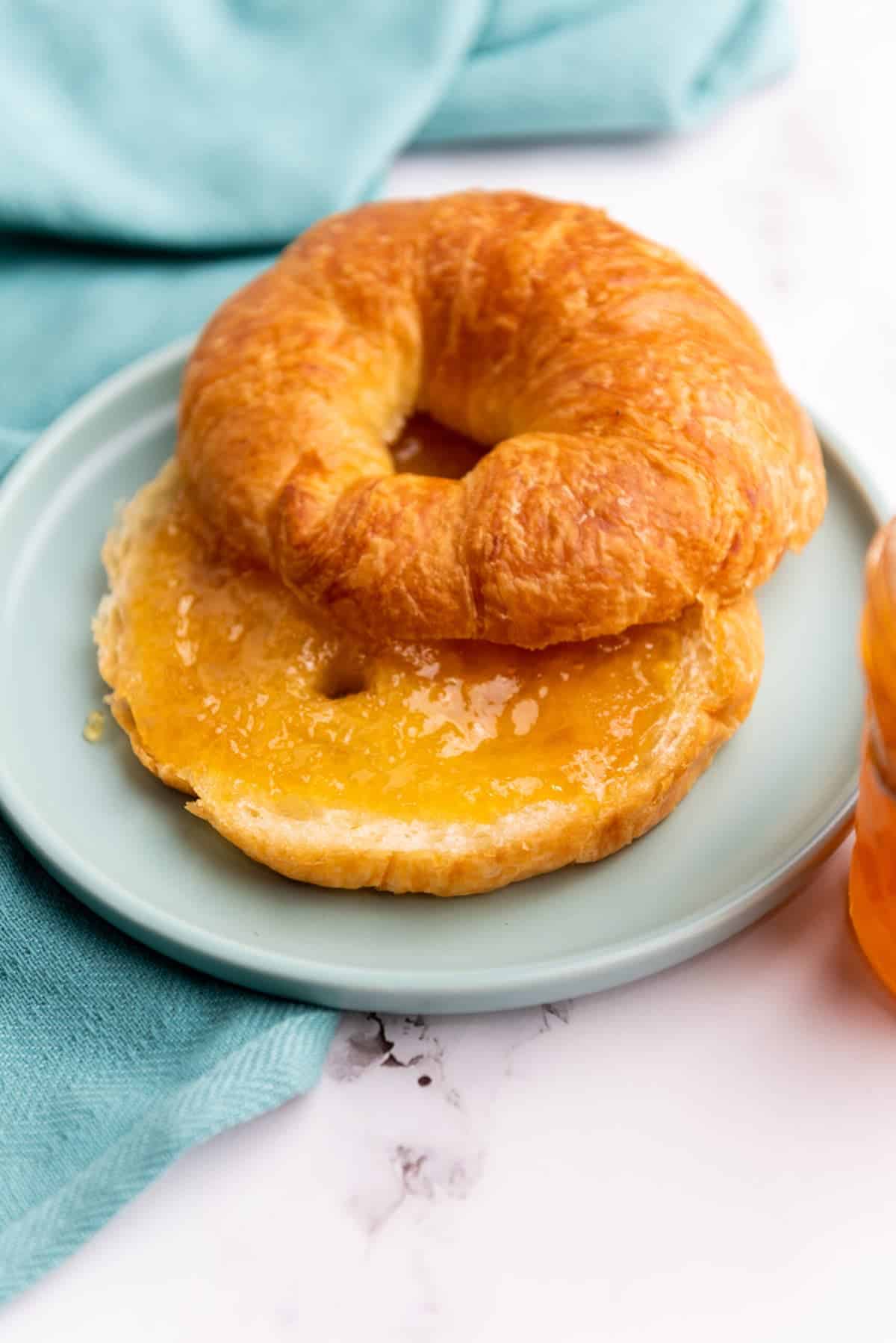 🥐 WHAT PAIRS WELL WITH PEAR GINGER JAM?
Have you tried this? Why not leave a star ⭐️⭐️⭐️⭐️⭐️ rating in the recipe card right below and/or a review in the comment section further down the page? I always appreciate your feedback. You can also follow me on Instagram, Facebook, Pinterest, and Twitter, and sign up for my newsletter!
📖 Recipe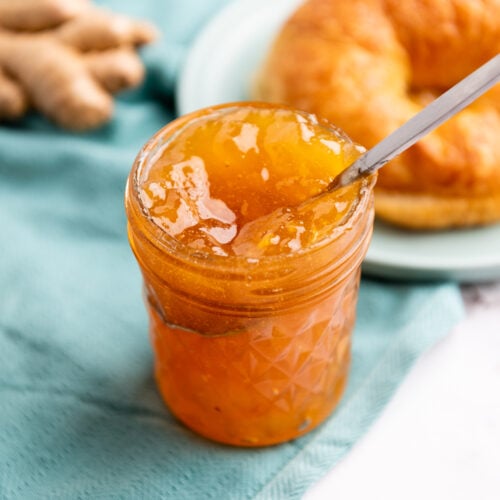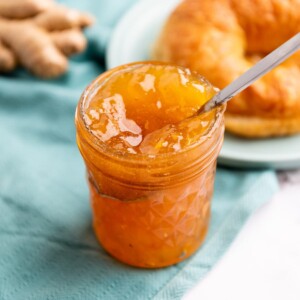 Easy Pear Ginger Jam (No Pectin)
This easy Pear Ginger Jam requires only 4 ingredients and no pectin. Brimming with the fresh flavors of fall, you won't find a more delicious ginger-spiced pear jam anywhere.
Print
Pin
Rate
Ingredients
3

lbs

Bartlett pears

peeled and cored

2 ½

cups

granulated sugar

vegan

2

tablespoon

fresh ginger

minced

2

tablespoon

lemon juice
Instructions
Dice the pears into small cubes.

Add diced pears, granulated sugar, minced ginger and lemon juice to a medium-sized pot.

Stir the sugar over low/medium heat until all of it has dissolved. Turn to low and allow the jam to simmer for 1 hour 30 minutes to 2 hours, depending upon the heat. When the sugar begins to get brown and the pears start to jelly, remove from the stove. Allow to cool for 30 minutes. Store in tightly sealed, clean jars.
Nutrition
Serving:
1
jar
|
Calories:
933
kcal
|
Carbohydrates:
236
g
|
Protein:
2
g
|
Fat:
1
g
|
Saturated Fat:
0.01
g
|
Polyunsaturated Fat:
0.01
g
|
Monounsaturated Fat:
0.01
g
|
Sodium:
7
mg
|
Potassium:
491
mg
|
Fiber:
14
g
|
Sugar:
211
g
|
Vitamin A:
128
IU
|
Vitamin C:
24
mg
|
Calcium:
44
mg
|
Iron:
1
mg