This Vodka Mule recipe, also known as the Moscow Mule or the Russian Mule, is as classic as they come requiring only minutes of your time and no special equipment. If you love tangy, zingy Moscow Mule cocktails, this easy cocktail recipe delivers a superb flavor combination using only 3 ingredients.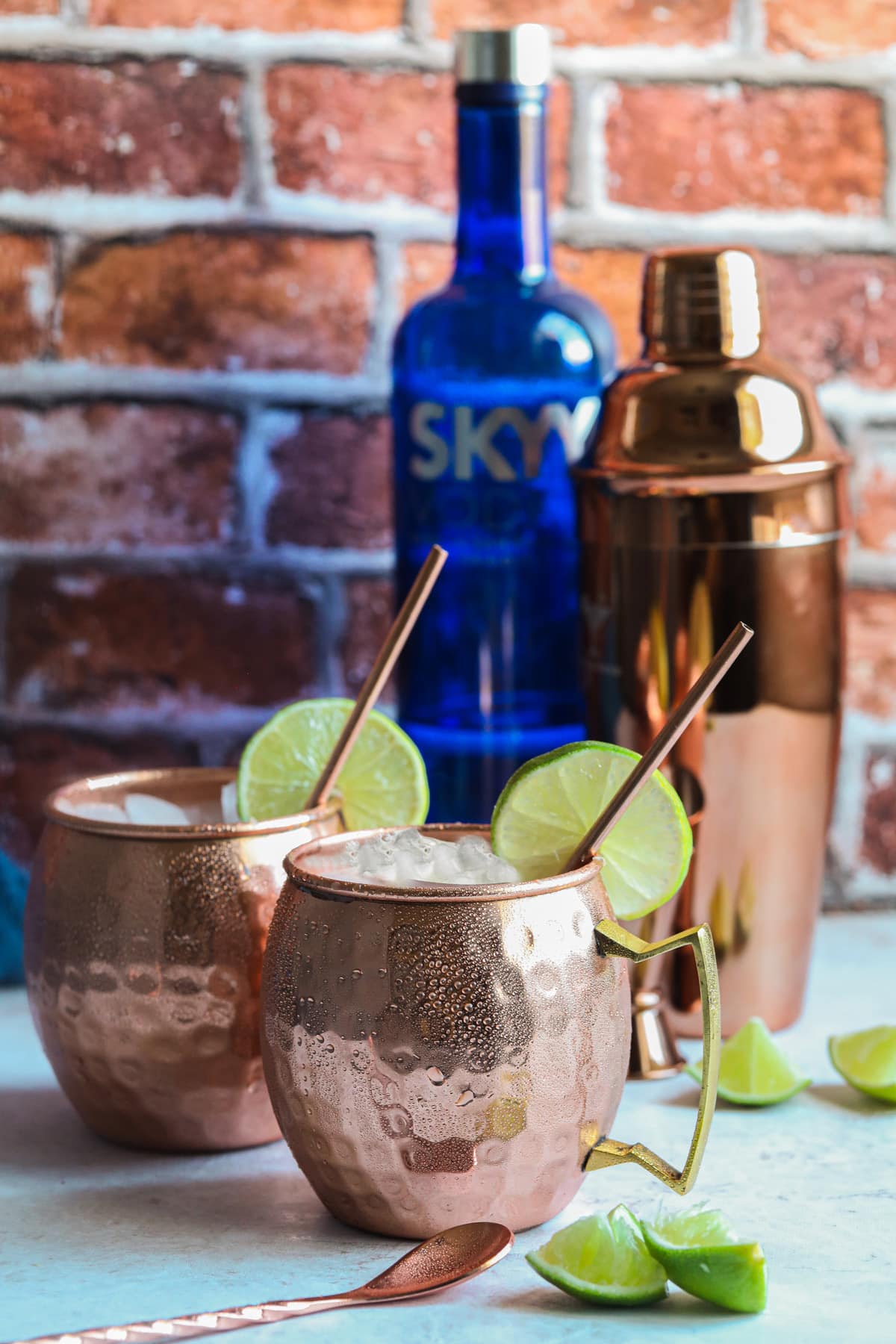 Can you hear it? The sound of crackling ice as it's hit with ginger beer! Yes, thirsty friends, the Vodka Mule is the Titanic of all alcoholic beverages. Where the severe, acerbic bite of ice cold vodka meets the familiar warmth of ginger spice and the tangy zing of citrus. A perfect mule cocktail that leaves a lasting impression.
For more delicious cocktail recipes, try this Strawberry Pina Colada, Tinto de Verano, Spiced Orange Gin Spritz, Blue Kamikaze Shot, or these non-alcoholic Spiced Cranberry Spritzers with blood oranges and candied rosemary.

Jump to:
🥃 Moscow Mule History
If you're like me, you may think the Moscow Mule originated in Russia. Nope! Although there are various theories about how the drink originated, this source for Moscow Mule History suggests that the birth of the Vodka Mule can be traced back to a historical moment of serendipity in Los Angeles, California, when one man with a surplus of vodka, one man with a surplus of ginger beer, and one woman with a surplus of copper mugs collided in 1941.
Legend has it that these three met in a bar called the Cock 'n Bull and spent hours brainstorming a cocktail idea using vodka, ginger beer and copper mugs. They added a "tot" of fresh lime juice in the end and alas, the Moscow Mule was born!
🧾 What's In a Moscow Mule?
The classic, original version of the Moscow Mule is made with the following 3 ingredients:
Vodka - in a Moscow Mule, vodka is the star of the show and must be used if you want an authentic Mule. If you prefer another type of alcohol, please visit the variation's section below for some suggestions. If you love vodka cocktails, try this Red White and Blue Cocktail.
Ginger beer - to make this classic cocktail authentic, it's best NOT to substitute ginger beer with other ingredients, such ginger ale or 7-Up.
Fresh lime juice - the authentic version of this drink calls for fresh lime juice, and not bottled. However, if fresh limes are not an option, bottled is a fine substitute.
🔪 How to Make a Vodka Mule
The best thing about making this Moscow Mule recipe is that it doesn't require a cocktail shaker or any special equipment (I added one to the picture because it looks pretty); you pour and mix the cocktail right in the copper mugs. Check out these 4 easy steps:
Step 1 - fill copper mugs with ice cubes (crushed ice will also work).
Step 2 - using a jigger or measuring cup, pour vodka over ice.
Step 3 - add ginger beer leaving a bit of room for the fresh lime juice.
Step 4 - finally, top with fresh lime juice. Stir. Garnish with a lime wedge and enjoy!
💭 Why Are Moscow Mules Served in Copper Mugs?
Serving a Mule cocktail in a copper mug is deeply rooted in the cocktail's history that dates back to that fateful day in 1941. Aside from tradition, however, there are a few other reasons that a copper mug is the best choice for serving this drink:
Taste - the natural properties of copper enhance the flavor and aroma of the Mule, imbuing it with a superior taste that's spicy, refreshing, and delicious.
Temperature - copper has an amazing ability to regulate temperature. Hence, when you serve a drink in a copper mug, it gets cold almost immediately - and stays that way in any weather. This is because it's an ideal thermal conductor and maintains that arctic temperature to the very last drop!
Presentation - the glint of a copper mug when it hits the light is illuminating, and brings to mind a story of authenticity, elegance, grace, and vintage charm. Although you may serve a Vodka Mule in any glass ( a Collin's glass is a great alternative), there's nothing like the iconic copper mug to enhance the experience.
💭 Where Can I Find Copper Mugs?
I bought the set you see in the pictures from Amazon. It's solid copper (the only way to go) comes with two mugs, a jigger, 2 copper straws and a straw brush. You can purchase a set of two, like I did, or a set of four, depending upon your needs. Of course, any glass will do and a Collin's glass is a great substitute.
💭 What's The Best Vodka for a Moscow Mule?
What's your favorite brand of vodka? That's the one to use because in reality, it doesn't really matter what kind of vodka you use. Try to find a brand that's a bit mild, yet sweet to balance out the sharpness of the other ingredients.
I chose Skyy Vodka because of its light, fresh taste. Besides, I love, love, love that blue bottle! Alternatively, you could try:
Prairie Organic Vodka
Ocean Organic Vodka
Luksusowa Potato Vodka
Ketel One Vodka
Absolut Elyx Vodka
💭 What Ginger Beer Is Best in a Mule?
The crucial element to the Vodka Mule is ginger beer. It should not be omitted or substituted with anything else (for example, ginger ale). When choosing a brand, first check the ingredients. The highest quality ginger beers use a variety of gingers along with fruits and herbs to enhance the flavor.
My favorite: Fever-Tree made with gingers from Nigeria, Kochi, and the Ivory Coast. Other suggestions include:
🍍 Easy Variations of the Vodka Mule
Kentucky Mule - follow the recipe above, but replace vodka with bourbon and add a sprig of mint as a garnish.
Irish Mule - use the same simple recipe but replace vodka with good ol' Irish whiskey and garnish with lime and mint.
Mexican Mule - this is an easy one. Follow the recipe included but replace vodka with...you guessed it, tequila.
Gin Gin Mule - where the Mexican Mojito (think fresh mint and simple syrup) meets the Moscow Mule (think lime and ginger beer) but with gin instead of vodka.
Dark and Stormy - follow the recipe but instead of vodka, replace with Caribbean rum.
Fruity Mules - add some pizazz and extra flavor to your Moscow Mule Cocktail by making it fruity, with ideas such as the Apple Cider Mule, Grilled Pineapple Mule, Raspberry or Clementine Mule.
🍲 Serving Suggestions
🥂 More Delicious Drink Recipes
Have you tried this? Why not leave a star ⭐️⭐️⭐️⭐️⭐️ rating in the recipe card right below and/or a review in the comment section further down the page? I always appreciate your feedback. You can also follow me on Instagram, Facebook, Pinterest, and Twitter, and sign up for my newsletter!
📖 Recipe