An Irish pub classic, this Vegan Guinness Irish Stew pairs an incredible, robust flavor with the simplicity of an easy stew recipe for a perfect St. Patrick Day's feast!
It's a blustery cold day in the high desert of California. Michael's at work and the dogs and I are just chillin' while this lovely pot of Vegan Guinness Irish Stew cooks on the stove. As I close my eyes for a moment, I drift back in time to St. Patrick's Day at my grandmother's house. St. Patrick's Day was a huge deal for my family and my grandparents made it extra special. While my grandfather performed magic tricks and handed out dollar bills tied with green ribbon in the living room, my grandmother would be in the kitchen cooking her famous Corned Beef and Cabbage, Irish Mashed Potatoes, Green Jello with Pears in it and Guinness Irish Stew. I always thought the jello and pear dish was a little silly, but oh how I wish I could visit my grandmother again and see those little jello molds shake with the sound of our laughter.
And let's not forget the Guinness beer. Us kids really got a kick out of watching the thick, creamy head of the beer foam up as it was being poured into the stew. And we always smiled at each other, as we gobbled it up at the dinner table, because we just knew we were getting away with drinking beer right under our parents' noses. Those were good times. Family, food, fun. A treasure trove of memories flood my mind as I'm brought back to reality by the rich aroma coming from my kitchen. Now let's talk stew!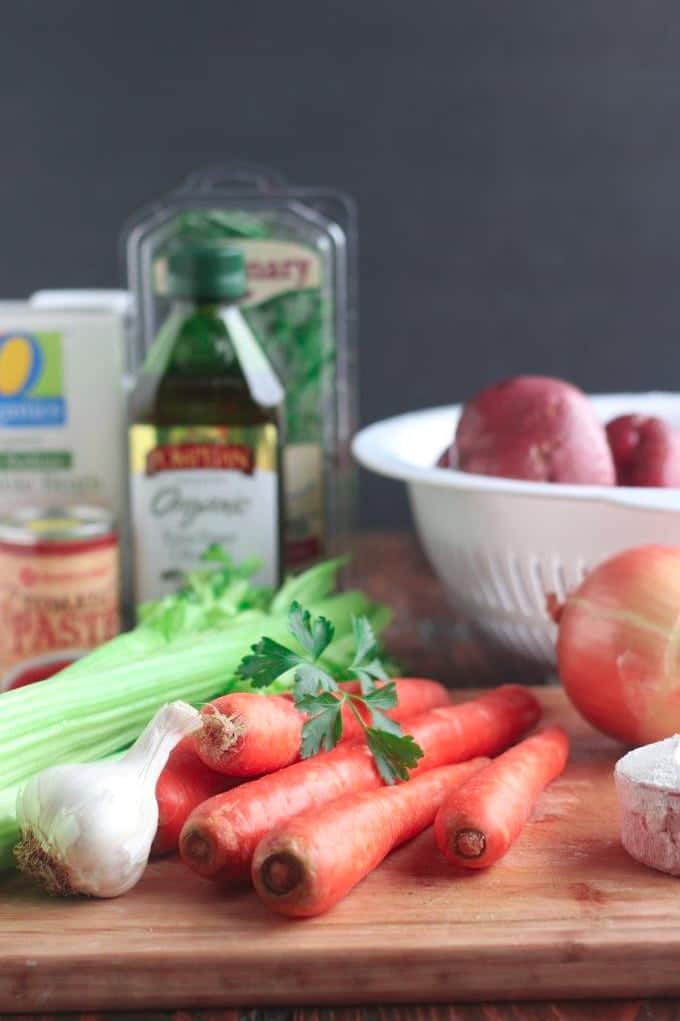 Most of the ingredients you'll need for this Guinness Irish Stew recipe are pictured above. Remember, though, the most important ingredient to making this recipe is the Guinness Stout. It's the reason you are here and its what gives this Irish Stew recipe its rich, unique flavor, which incidentally, doesn't cook out of the recipe like the alcohol does.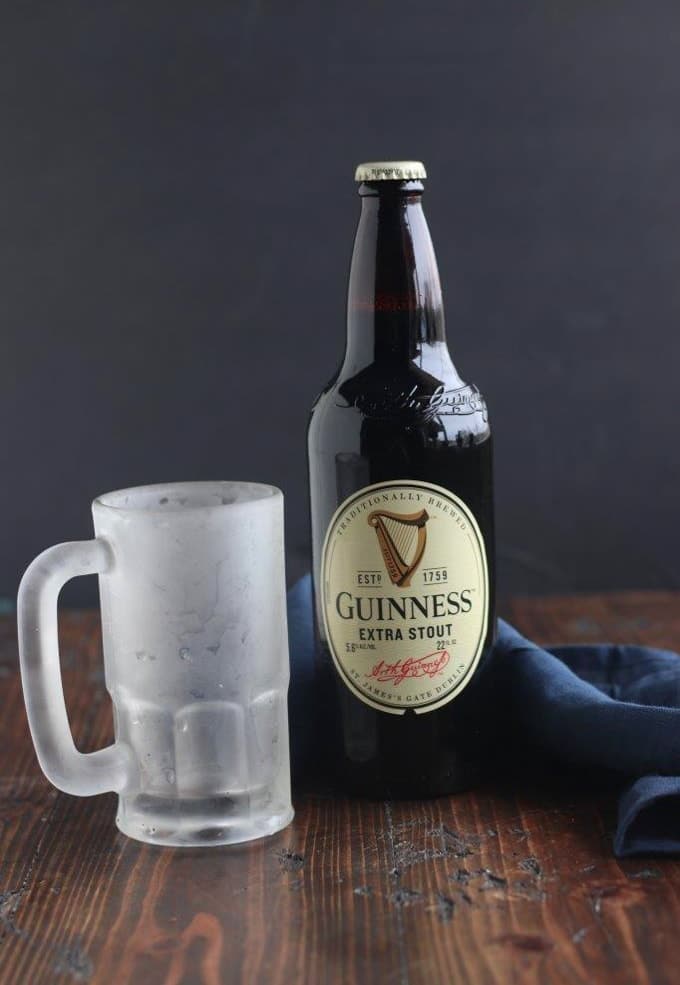 How to Make this Vegan Guinness Irish Stew
Once you've gathered the ingredients, many of which you may already have in your pantry, you'll want to chop up your vegetables. I find doing this in advance makes cooking a whole lot easier and less stressful.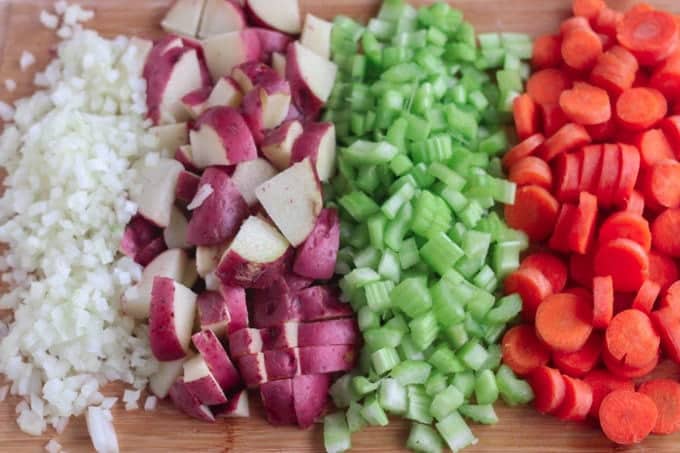 Step by Step Instructions
Here are some cooking instructions to get you started:
The first thing you'll want to do is to simmer your bay leaf in a tad bit of oil just until it's fragrant. Remove it, then add your garlic and simmer for a few. Now add your onions and cook until translucent.
In the meantime, pour your vegetable broth into a large stock pot and turn the heat on high. Add your potatoes and bring to a boil. Reduce heat.
Cooking with Jackfruit
If you'd like to use a meat substitute when making this Guinness Irish Stew, jackfruit is the way to go. Similar to tofu, jackfruit takes on the flavor of whatever you're cooking it with, which makes it the perfect companion to your soup base.
For this recipe, I chose to use 2 boxes of unseasoned, Organic Young Jackfruit from Edward & Sons. I like this brand because it comes ready to go without having to do anything to it. The pieces are moist and tender, similar to real beef, without causing any harm to animals during the manufacturing process. NOTE: I have received a comment or two that this boxed brand of jackfruit tastes strange and I have to agree. I now make this recipe using two cans of organic young jackfruit in water.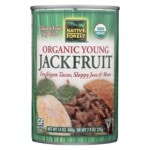 After adding a bit of oil to your pan, you'll add jackfruit and turn the heat to high. You're going to simmer for about 5 minutes, until your jackfruit is super-brown as seen in the image below. I cook mine until it's crusty on the ends.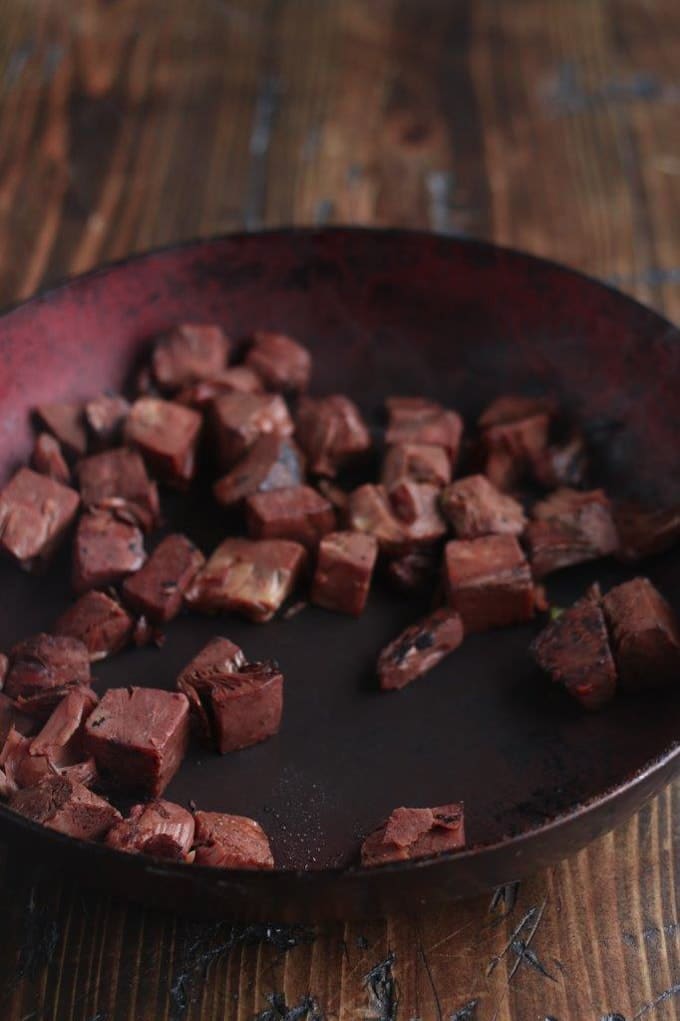 Once your jackfruit is done, you'll add it to the stock pot, then add more oil to the pan to simmer the vegetables.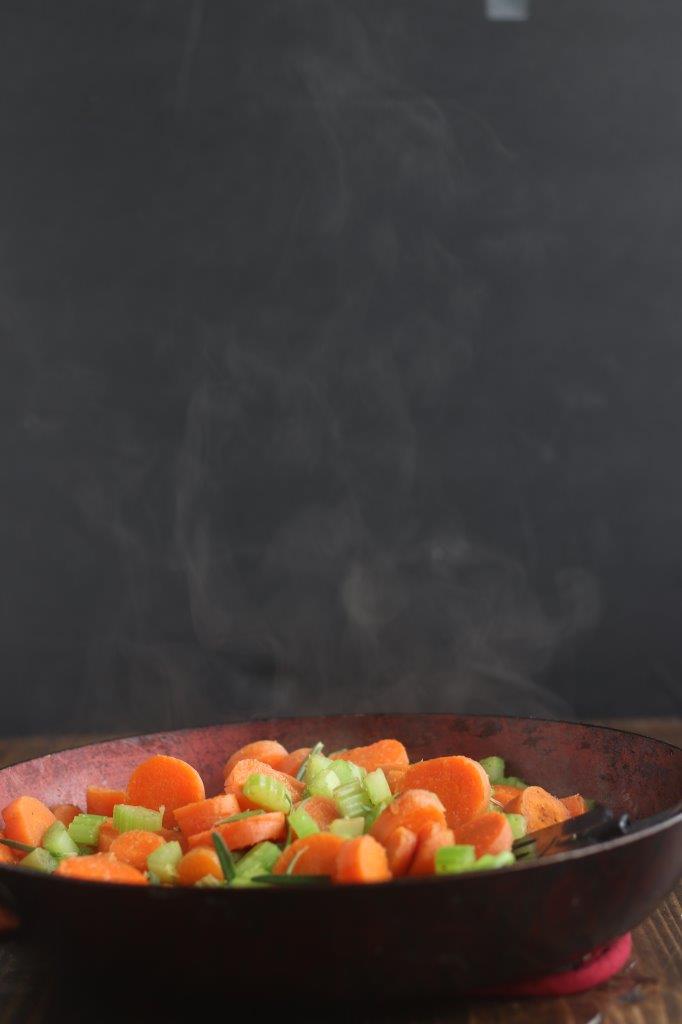 Once your veggies are done, toss them in the stock pot. Add your tarragon and tomato paste and stir until the paste is fully disseminated. Then slowly pour in your Guinness. Stir, cover and cook for 1-2 hours over medium heat. Stir semi-frequently to avoid burning. I hope that makes sense?
To thicken the stew broth add cold water to 4 tablespoon corn starch. Turn the heat on high and pour in the corn starch mixture. Stirring constantly, bring to a full boil for 1 minute. Remove from heat and allow to sit for 10 minutes to thicken before serving. Also, check out my latest soup recipe, One Pot Wild Rice and Mushroom Soup.
The finished recipe is:
thick
rich
savory
flavorful
healthy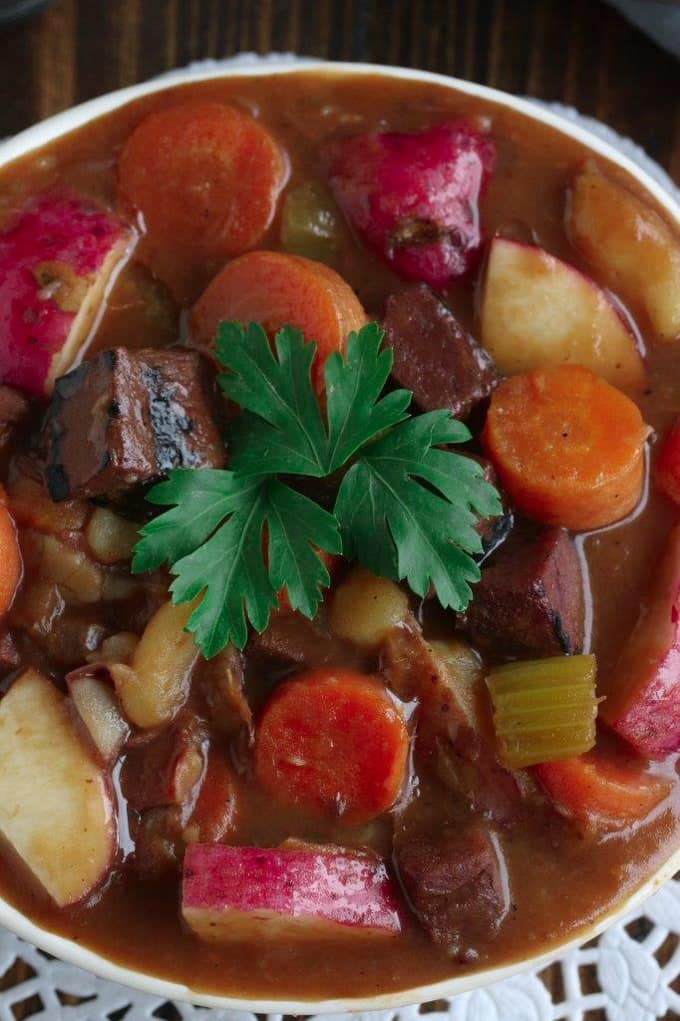 Only 104 calories per bowl with 1 gram of fat per 10 ounce serving. You can't get any better than that for an Irish Stew Recipe.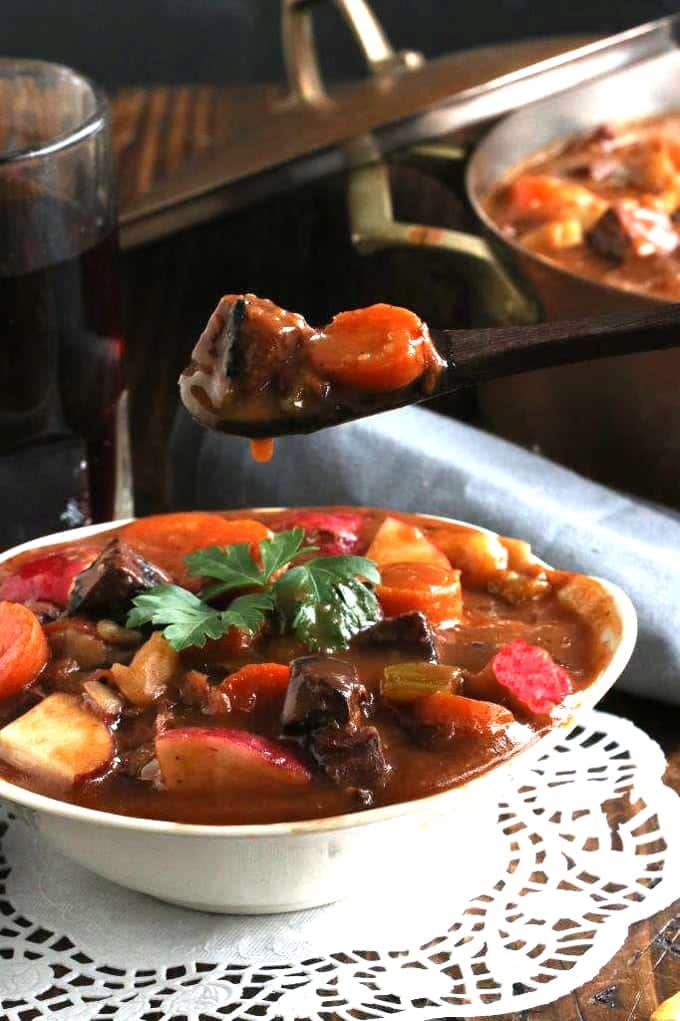 If you make this Vegan Guinness Irish Stew recipe, be sure to take a photo and tag it #veganvigilante1 on Instagram. I'd love to connect with you via social media so please follow me on Facebook, Pinterest and Twitter. I appreciate you for taking the time to read about me and my vegan recipes. I'd love to hear what you think so please leave your comments after the post. If you have questions or want to share a recipe of your own as a guest blogger, please email me at [email protected].
I have tons of new vegan recipes swimming around in my head that I'm preparing to share with you. If you love St. Patrick's Day, you'll love this Vegan Cauliflower Colcannon. For more healthy dinner ideas, visit my Main Dish Section. If you want a quick meal with less mess, check out my One-Pot Meal Section. In love with stews and chili, visit my Stew & Chili Section. In the mood for some quick easy soup ideas, visit my Soup Section. Thanks again for stopping by! Have a wonderful, plant-based day!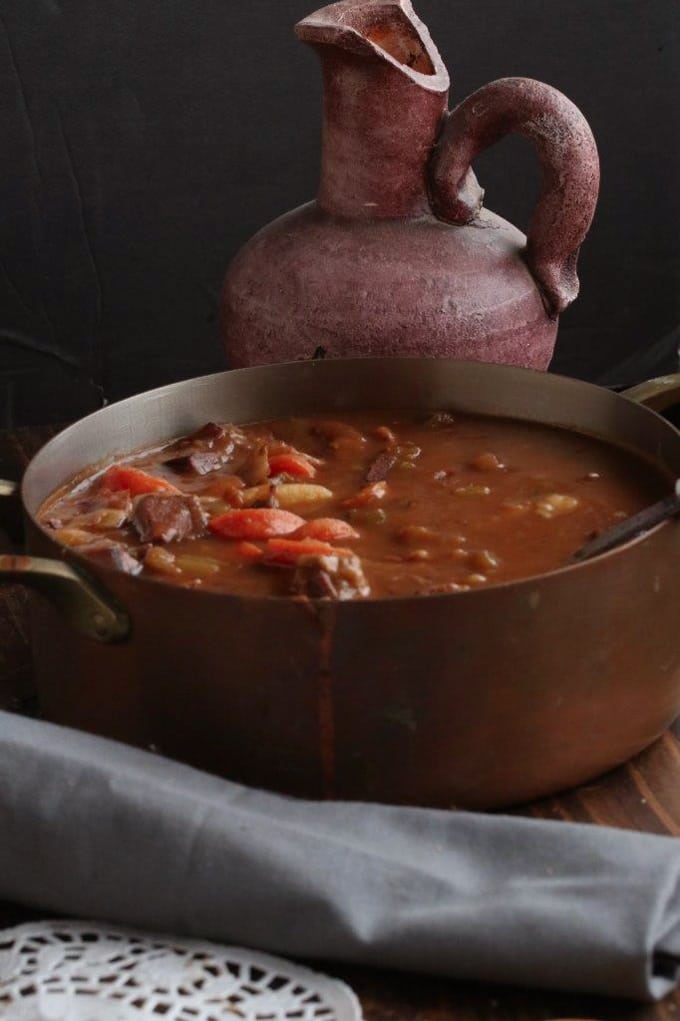 📖 Recipe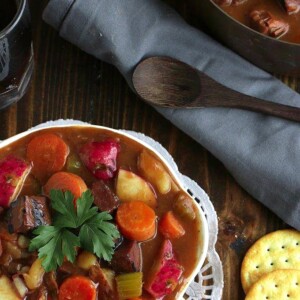 Vegan Guinness Irish Stew
Let the luck of the Irish fall upon you with this Jackfruit Guinness Irish Stew. Completely vegan, rich, savory and delicious.  
Print
Pin
Rate
Ingredients
3

teaspoon

olive oil divided

extra virgin

1

bay leaf

5

cloves

garlic

minced

1

med brown onion

finely chopped

2

cans

Organic Young Jackfruit packed in water

drained and shredded

32

oz

Organic Vegetable Broth

I use Organics

5

med red potatoes

chopped

4

large carrots

diced

4

large celery stalks

diced

3

tablespoon

tomato paste

22

oz

Guinness beer

extra stout

1

tablespoon

fresh rosemary

1

teaspoon

tarragon

1

teaspoon

sea salt

1

teaspoon

black pepper

4

tablespoon

corn starch

mix with small amount cold water
Instructions
Heat 1 teaspoon olive oil in large fry pan. Add bay leaf and allow to gently simmer just until fragrant. Toss aside.

Add garlic. Simmer for 2-3 minutes. Add onion and saute until translucent.

Add vegetable broth to large stock pot over high heat. Add potatoes and bring to a boil. Reduce heat to medium and transfer garlic and onions to stock pot. Simmer for a spell.

Heat 1 teaspoon of olive oil in same pan you cooked the onions and garlic in. Add jackfruit, a pinch of sea salt and pepper and brown over high heat. You want the jackfruit to be a little crispy on the edges. Transfer to stock pot when well done.

Heat another teaspoon of olive oil in same fry pan you cooked everything else in. Add celery, carrots and rosemary to pan and saute over medium heat for about 5 minutes. 

Transfer veggies to stock pot and give it a stir. Add the tarragon and tomato paste and stir until paste is fully disseminated. Then, slowly pour in your Guinness. Stir and reduce heat to low, Allow to simmer for about 1-2 hours. 

Turn the heat on high and pour in your corn starch water, stirring constantly. Bring to a boil. Allow to boil for a full minute, while continuing to stir. Remove from heat. Allow to sit for 10 minutes to thicken up. Serve immediately with a side of brown rice and some warm, crusty french bread.
Notes
To keep the potatoes firm, try adding them last and don't overcook them.
The Guinness beer makes this dish. There is really no substitute. If you're absolutely against adding it to your food, try adding 4 tablespoon of vegan Worcestershire sauce.
Nutrition
Serving:
1
serving
|
Calories:
256
kcal
|
Carbohydrates:
53
g
|
Protein:
4
g
|
Fat:
2
g
|
Saturated Fat:
0.3
g
|
Polyunsaturated Fat:
0.3
g
|
Monounsaturated Fat:
1
g
|
Sodium:
865
mg
|
Potassium:
945
mg
|
Fiber:
5
g
|
Sugar:
6
g
|
Vitamin A:
5549
IU
|
Vitamin C:
17
mg
|
Calcium:
79
mg
|
Iron:
2
mg