These Spiralized Zucchini Noodles are topped with a rich and creamy Pumpkin Sage Alfredo Sauce for a taste so amazing, you'll eat it right from the pot!
Imagine! Pasta without having to boil noodles. Did I just die and go to heaven? Guys, I'm telling you, if you have yet to own a spiralizer, it better be on your Christmas list. This thing is my new best friend. It makes twirly little vegetable noodles that are so light and healthy, you'll never know they're good for you. I haven't tried other veggies on this thing yet, but stay tuned as you're going to see a lot of this little gadget in the near future. Now for some serious stuff.
My Truth
I've been postponing posting this post all week. Say that 5 times. What a tongue twister! Anyways, a few months ago, I found out I had skin cancer. Just knowing that there was a cancer growing in my body was enough to send me into a bit of a depression. I put off getting it removed for weeks. I don't really know why. Finally, last week I had the surgery. It's been a week. I have a huge bandage on my face and I haven't left my house since.
I made the mistake of going to the restroom before he stitched me up and peeked under the dressing. Yikes! There was a huge hole in my face. I was devastated. After he sewed it up, it didn't look that bad. My nose is only deformed a little bit! I"ve been moping around all week and finally, I knew what I had to do. Comfort food here I come! Hence my Spiralized Zucchini Noodles with Pumpkin Sage Alfredo Sauce. Creamy, rich, delicious, fantastic, amazing...this stuff is the bomb!
It's amazing how much a plant-based meal can comfort and heal your soul. I really feel better on a full stomach knowing that what I prepared and ate was good for me and the environment. I always feel better when I cook, don't you? It interrupts my kismet, sends me on an alternate path.
The Zucchini Noodles literally take only second to prepare as you can see me doing below. And the Pumpkin Sage Alfredo Sauce can be whipped up in minutes, just heat the ingredients for a bit and bam, you're done. The entire meal takes less than 30 minutes from prep to plate.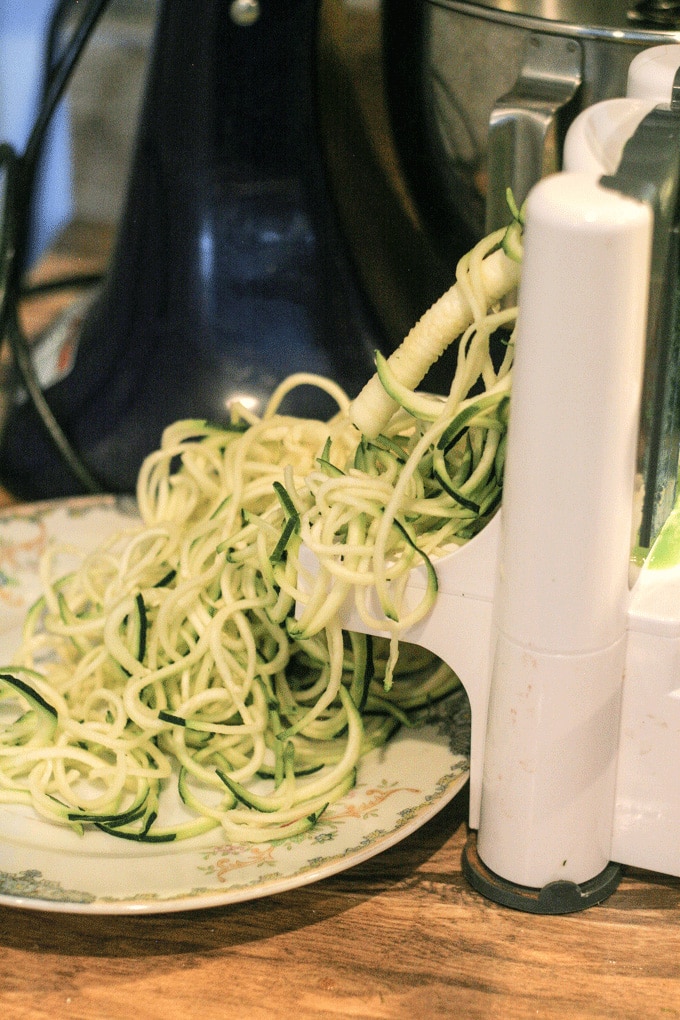 The great thing about the recipe is that you can adjust it to suit your taste. For example, I love a lot of sage. And garlic. I put 5 cloves in this recipe. If you're not a sage or garlic fan, just use less and it will still taste delicious. If you want it fat-free, use vegetable broth to heat the zucchini noodles and skip the oil and butter. Approaching a recipe with an open mind is what makes my recipes so appealing.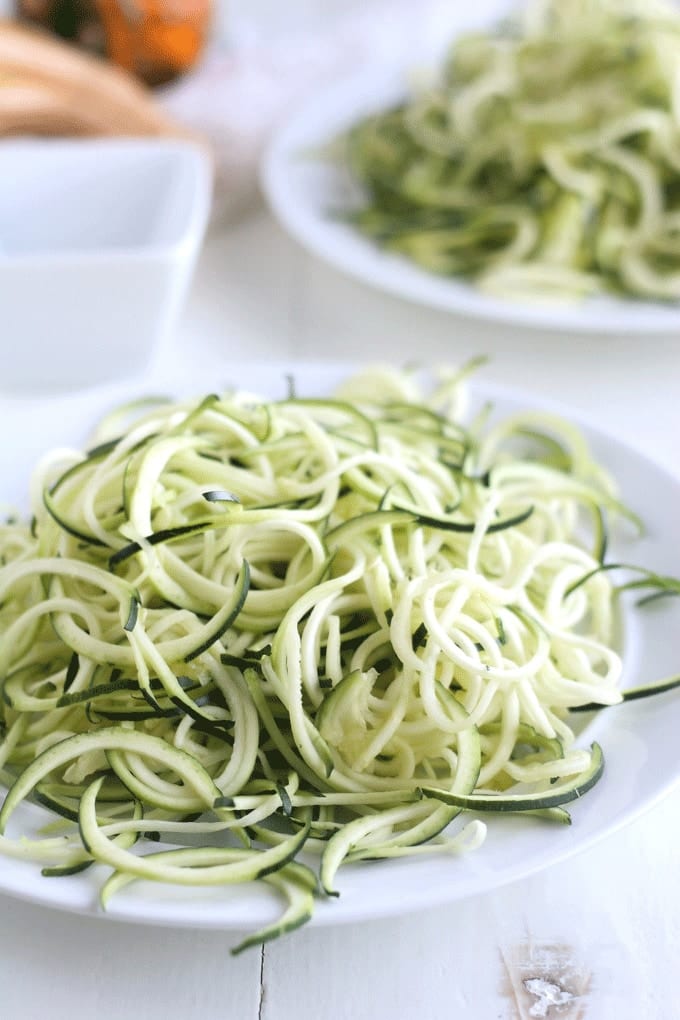 Once you finish making the sauce, you can mix it all together and serve it, or put it in a pile on top of the zucchini noodles. It's such a fun dish to make and eat. Wait until you get a load of the noodles. They are so long and beautiful. You can even just heat them up with a little olive oil and sea salt and pepper and call it a meal. Really enjoyed making this meal. I hope you like it as much as we did.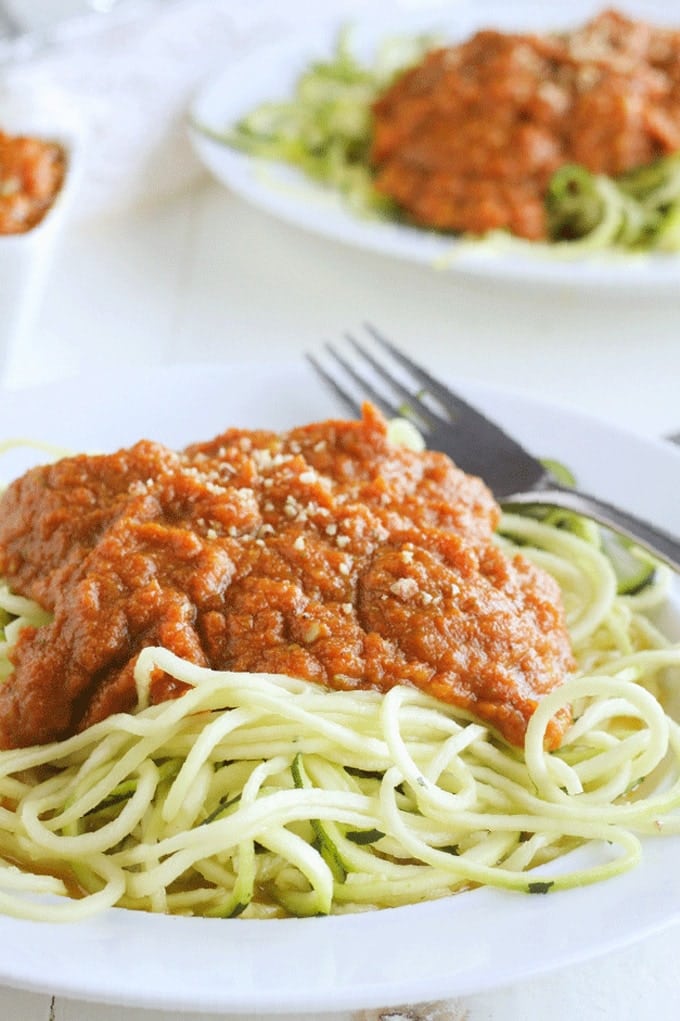 In the mood for pasta? You're going to love my hearty Tomato Basil Mushroom Pasta and my creamy Avocado Pasta, one of the very first recipes ever posted on Ooh La La It's Vegan (formerly Vegan Vigilante) that's been recently updated.
Have you tried this? Why not leave a star ⭐️⭐️⭐️⭐️⭐️ rating in the recipe card right below and/or a review in the comment section further down the page? I always appreciate your feedback. You can also follow me on Instagram, Facebook, Pinterest, and Twitter, and sign up for my newsletter!
📖 Recipe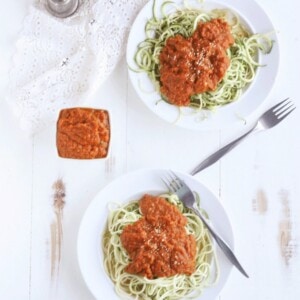 Spiralized Zucchini Noodles with Pumpkin Sage Alfredo Sauce
Light, healthy with an amazing flavor, these Spiralized Zucchini Noodles with Pumpkin Sage Alfredo Sauce are the perfect thing to decorate your Fall table with.
Print
Pin
Rate
Ingredients
For the Pumpkin Sage Alfredo Sauce
5

large cloves garlic

pressed/minced

1

teaspoon

extra virgin olive oil

1

can 15 oz organic pumpkin puree

3

teaspoon

softened Vegan butter

1

tablespoon

fresh or dried sage

ground with mortar & pestle

4

tablespoon

grade A maple syrup

1

cup

unsweetened almond milk

1

teaspoon

fine sea salt

1

teaspoon

white pepper
For the Zucchini
4

large zucchini

spiralized

1

teaspoon

extra virgin olive oil

1

teaspoon

fine sea salt
Instructions
For the Zucchini
Saute' the olive oil and garlic in medium sauce pan. Add the zucchini and toss until coated. Heat for 10 minutes for a crisper noodle, 20 minutes for a softer noodle. Set aside.
For the Pumpkin Sage Alfredo Sauce
Saute the garlic in the olive oil in medium sauce pan on medium heat for a few minutes. Stir in the pumpkin puree, vegan butter, sage and maple syrup. Allow to simmer for 10 minutes.

Add the Almond milk a little at a time until the sauce reaches your desired consistency. If you prefer a thinner sauce, use more Almond milk. If you prefer a thicker sauce, use less. Stir in the salt and pepper to taste. You can serve it like I did in the picture, by placing a dollop of sauce over each plate of zucchini noodles, or add it to the pot of noodles and stir it all together. Whichever way you choose, serve immediately with a spinach salad and some Chardonnay.
Notes
**To make this recipe fat-free, use vegetable broth when preparing the noodles and sauce instead of olive oil and omit the Vegan butter
**If you aren't a fan of garlic or sage, simply use less and it will taste just as good
Nutrition
Serving:
1
serving
|
Calories:
145
kcal
|
Carbohydrates:
22
g
|
Protein:
3
g
|
Fat:
6
g
|
Saturated Fat:
1
g
|
Polyunsaturated Fat:
1
g
|
Monounsaturated Fat:
3
g
|
Trans Fat:
0.01
g
|
Sodium:
1286
mg
|
Potassium:
580
mg
|
Fiber:
2
g
|
Sugar:
17
g
|
Vitamin A:
572
IU
|
Vitamin C:
36
mg
|
Calcium:
147
mg
|
Iron:
1
mg