Perfect for a chilly winter's day, this One Pot Vegan Split Pea Soup is rich with flavor and made with only 10 ingredients. Pair it with your favorite loaf of bread or some whole wheat crackers and you have a delicious meal made for two. Vegan, gluten-free, fat free and refined sugar-free.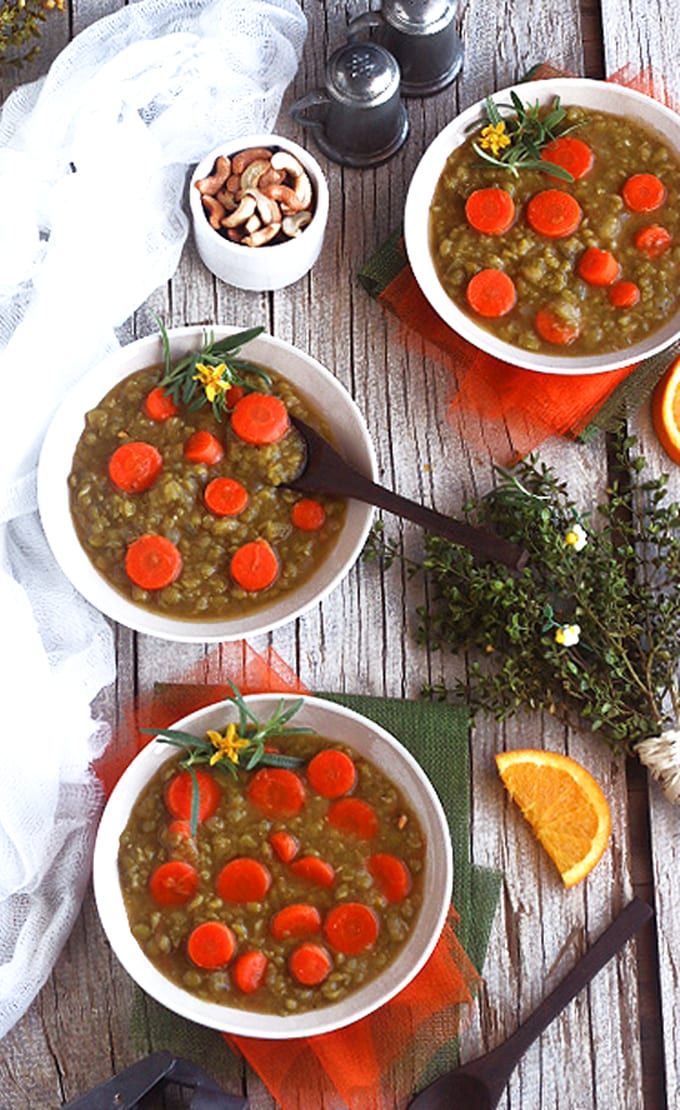 Ok, so none of you jumped for joy when you saw this post for Vegan Split Pea Soup. I don't blame you, really I don't. Personally, whenever I think of split pea soup, I think of Linda Blair spewing it all over that priest in the original Exorcist. But what if I told you this One Pot Vegan Split Pea Soup really didn't suck? That it was wholesome and hearty and when you taste it, you'll actually want seconds! Would you believe me? Read on hungry friends, read on...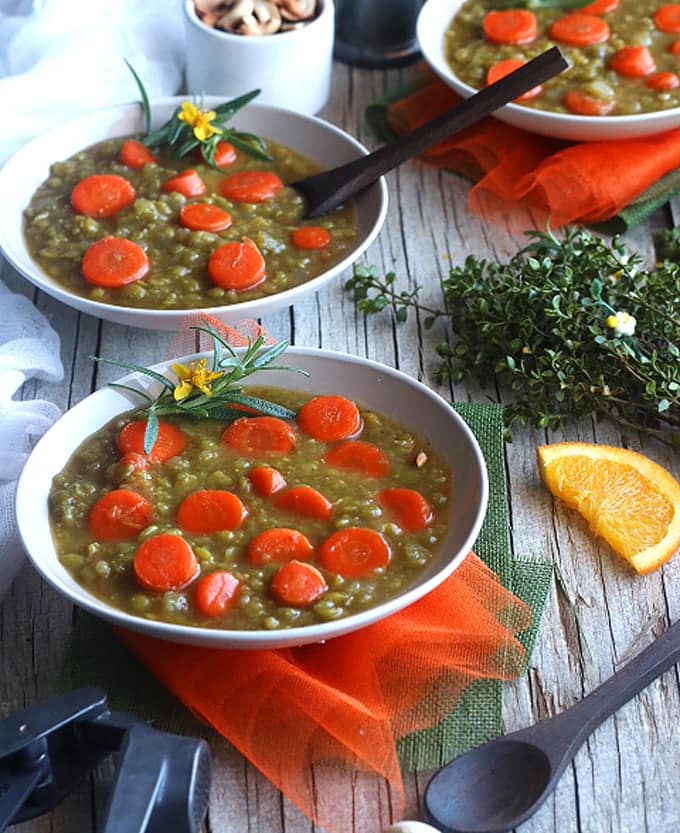 This is the second time I've made Vegan Split Pea Soup in the last couple of months. The first time I made it, I forgot to write down the recipe and the pictures didn't come out very well as I took them with my old camera. I was happy with these pictures so here I am sharing it with the world.
This soup starts and ends with a bay leaf, a few carrots, a few stalks of celery a white onion, some garlic and other spices and some veggie broth. That's it. It's super easy, made in only one pot with about 10 ingredients. You really can't get any easier than this Vegan Split Pea Soup. And flavor, you just have to taste it to believe me. And I'm not just saying that because I made it. Well, maybe I am but I promise you I would not post it if it wasn't good and if it didn't pass the taste test with my boyfriend Michael. Rest assured, it passed with flying colors.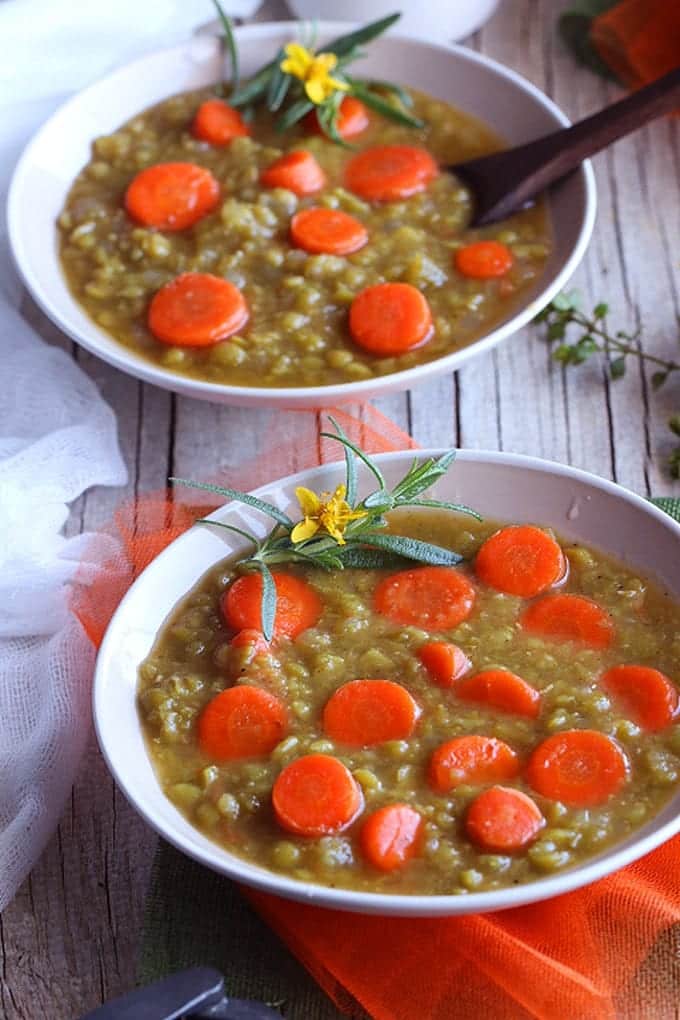 It has taken me a few days to post this recipe. I am also a freelance medical writer and towards the end of the month, life can get really crazy around here as I scramble to meet deadlines. As I'm finally sitting down to write this post, I can smell the loaf of bread I put in my bread machine finally starting to bake. I love making bread in my bread machine. It fills the entire house with an earthy aroma that's unlike anything I've ever smelled. I can't wait to eat a slice when it's done.
Tonight, we're having left-over Vegan Vegetable Soup that I froze after we ate it for a couple of days as this Vegan Split Pea Soup was demolished the very first day I made it. That should be a warning to you if you have a big family. Be sure to double my recipe (which can be easily done below, thanks to my #WPRecipeMaker plugin).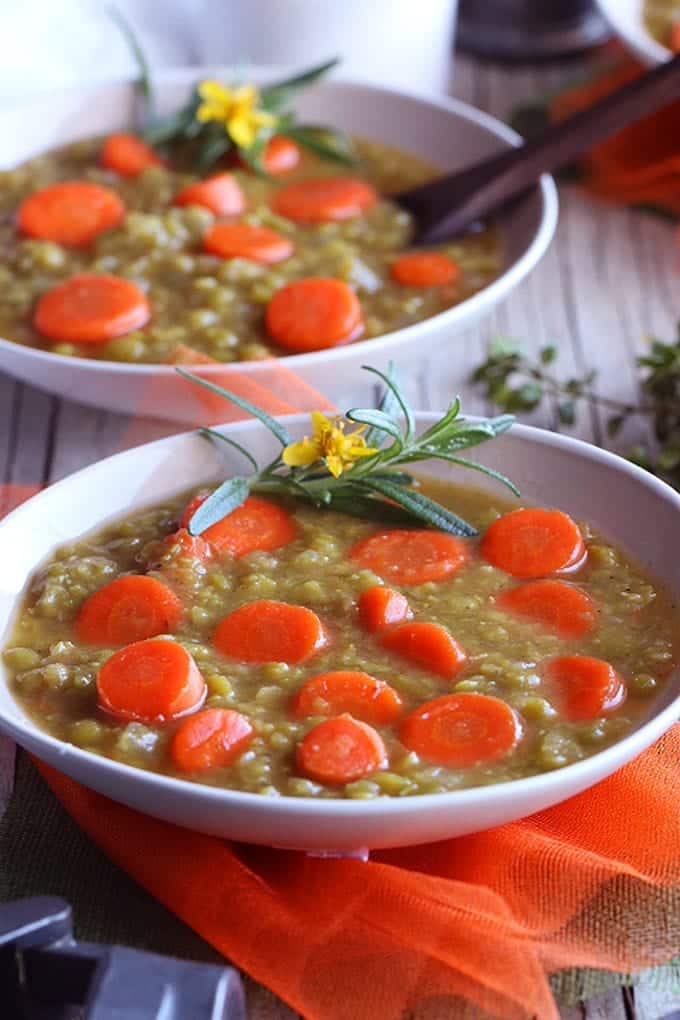 If you make this special One Pot Vegan Split Pea Soup please be sure to take a photo and tag it #veganvigilante1 on Instagram. I'd love to connect with you via social media so please follow me on Facebook, Pinterest and Twitter. I appreciate you for taking the time to read about me and my vegan recipes. I'd love to hear what you think so please leave your comments after the post. If you have questions or want to share a recipe of your own as a guest blogger, please email me at [email protected].
I have tons of new vegan recipes I'm preparing to share with you. If you'd like to support my work, please sign up for my newsletter so you don't miss a recipe. Lastly, for more healthy soup recipes, visit my Soup Section. Still hungry? Check out my latest Wild Rice and Mushroom Soup and some other awesome Vegan Chili and Stew Recipes.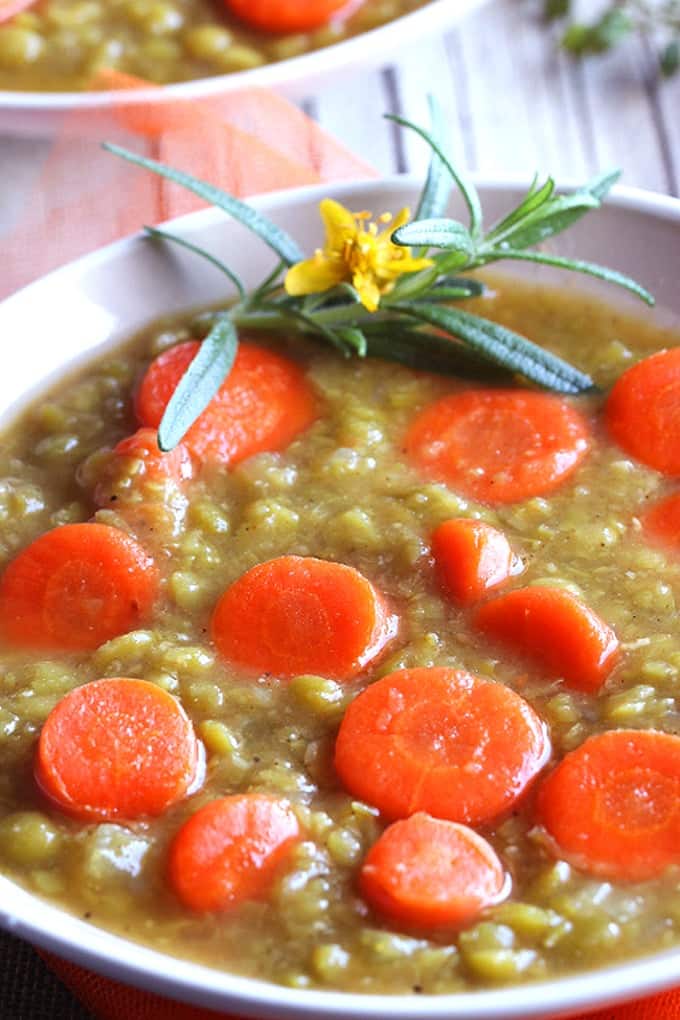 📖 Recipe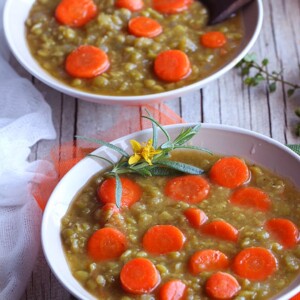 One Pot Vegan Split Pea Soup That Doesn't Suck
This smokey Vegan Split Pea Soup is made in one pot using only 10 ingredients. Vegan, GF, RSF, GrF, FF.
Print
Pin
Rate
Ingredients
1

fresh bay leaf

5

cloves

garlic

minced

4

large carrots

washed, peeled and sliced in ¼ inch slices

4

large stalks celery

coarsely chopped

1

med white onion

chopped

16

oz

package split peas

rinsed in fine colander

1

teaspoon

ground cumin

0.5

teaspoon

ground coriander

0.5

teaspoon

cayenne pepper

0.5

teaspoon

sea salt

to taste

0.5

teaspoon

ground black pepper

to taste

4

cups

organic vegetable broth

divided

2-4

cups

filtered water

as needed as liquid dissipates during cooking

4

sprigs

fresh rosemary

for topping

1

tsp

Xanthum gum or corn starch

(optional) mixed thoroughly with ¼ cup of hot soup liquid)
Instructions
In a large wok over medium heat, add ¼ cup vegetable broth and bay leaf. Simmer until the bay leaf releases a flavorful aroma, usually about 2-3 minutes. Add more vegetable broth as needed.

Add garlic and onion and cook until onion is translucent. Discard bay leaf.

Add cumin, coriander and cayenne pepper. Stir until well-blended. Add carrots and celery and cook for about 5 minutes until veggies start to soften. Don't overcook.

Add the rest of the veggie broth and split peas. Bring to a boil. Reduce heat and simmer until veggies are fork-tender. To thicken soup naturally, once they are tender, mash some with a fork or potato masher. Add filtered water as needed when liquid starts to dissipate.

If you prefer a thicker soup, use a fork to mix 1 teaspoon xanthum gum or corn starch with ¼ cup hot soup liquid until all lumps are gone. Remove soup from heat and slowly add liquid stirring constantly.

Ladle into bowls. Top with sprigs of fresh rosemary. Serve immediately with your favorite crusty bread and vegan butter.