Black Bean Stuffed Mini Peppers are loaded with couscous and a delicious black bean mixture to create a perfect marriage of sweet and smoky.
Hi ya'll. I'm back. Had to take some time off for surgery on my hands. I've missed you all and hope you can forgive me. That said, it's early September and the heat is already starting to fade in the California Desert. I love to watch the colors change with the seasons as is evident in all plant life, including these luminescent, brightly-colored mini peppers. The supermarket had several different types of veggies packed in plastic bags ready to take home and create something wonderful out of them. Alas, these Sweet & Smoky Black Bean Stuffed Mini Peppers.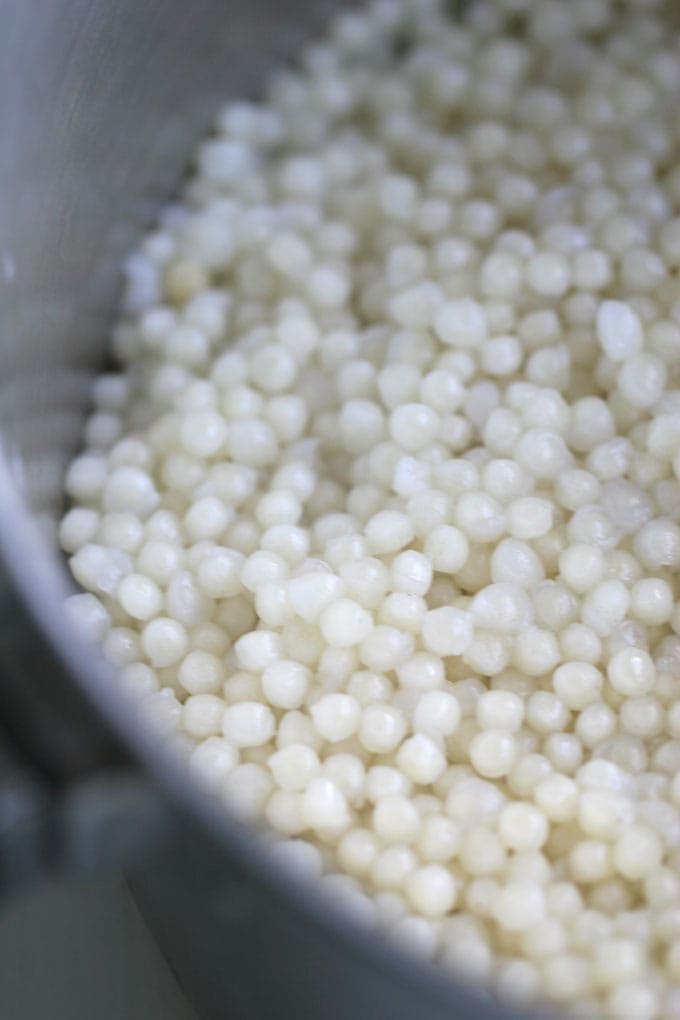 As I was looking through my pantry to figure out what to stuff these lovely little peppers with, I came upon some couscous that had been sitting on the shelf for some time. Couscous is a staple in North Africa and makes for a versatile side dish on it's own, as a filler in veggie burgers or mixed with other ingredients. Today we will mix the couscous with a delicious black bean mixture to create a perfect marriage of sweet and smoky.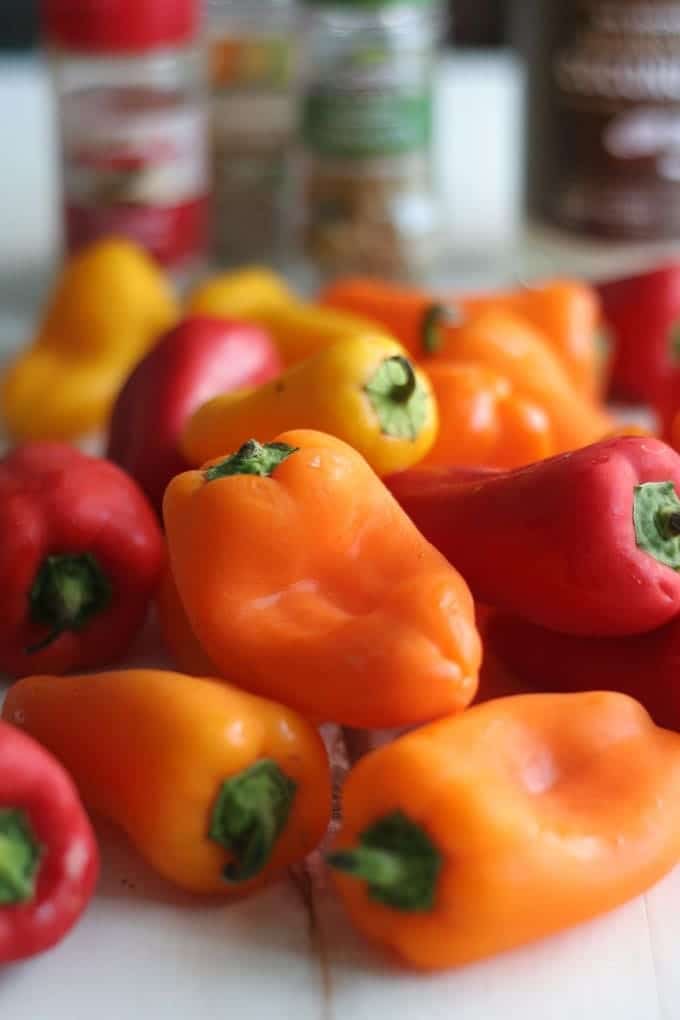 Mini peppers make for the perfect bite-sized appetizer, or as a main dish alongside a salad and some strawberries. Adding a strawberry slice to every mini pepper creates a flavor explosion in your mouth that is indescribable.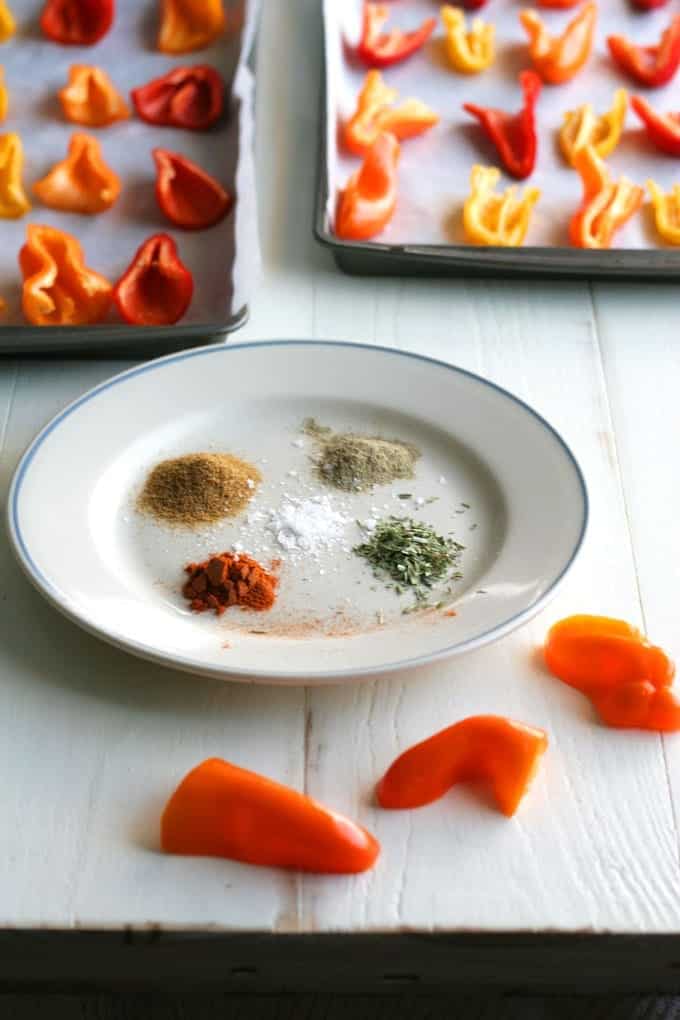 First you cut the mini peppers in half lengthwise and place them on a baking sheet lined with parchment paper. Make sure you brush the parchment paper with a thin veil of olive oil so your peppers don't stick. I learned this the hard way when I pulled these babies out of the oven. I like to measure out my spices first so I have them ready to go when I start cooking.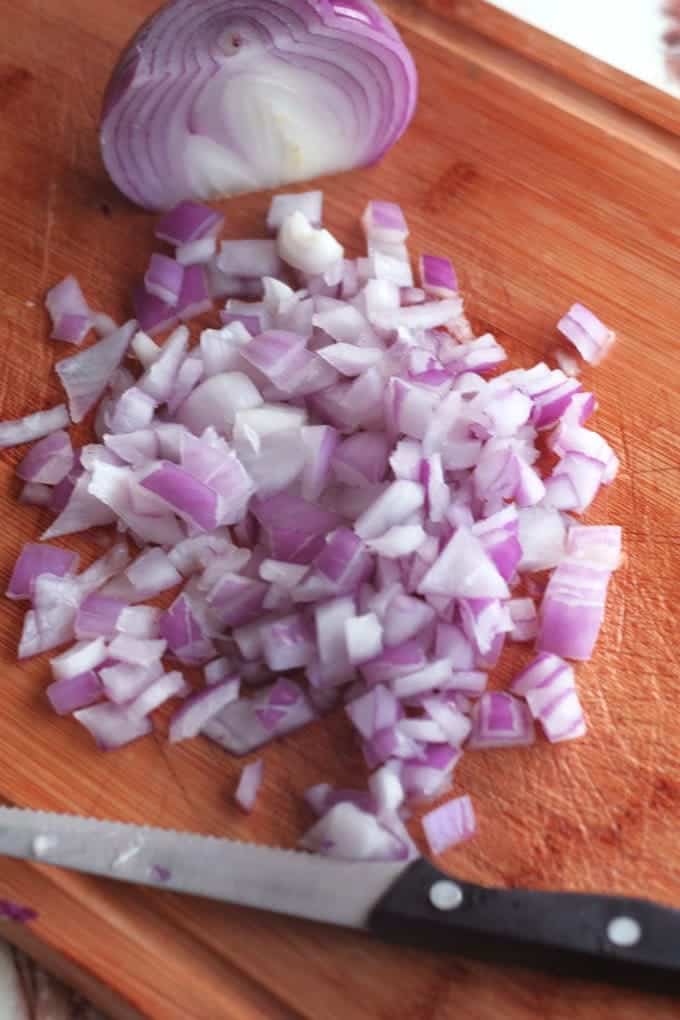 I chose a red onion for this project because it adds a delicious infusion of color to my dish.
Be careful when you slice your peppers in half. You can see some of mine are a little bit deformed. You can always take the deformed ones out like I did and eat them raw for a tasty snack while you're cooking.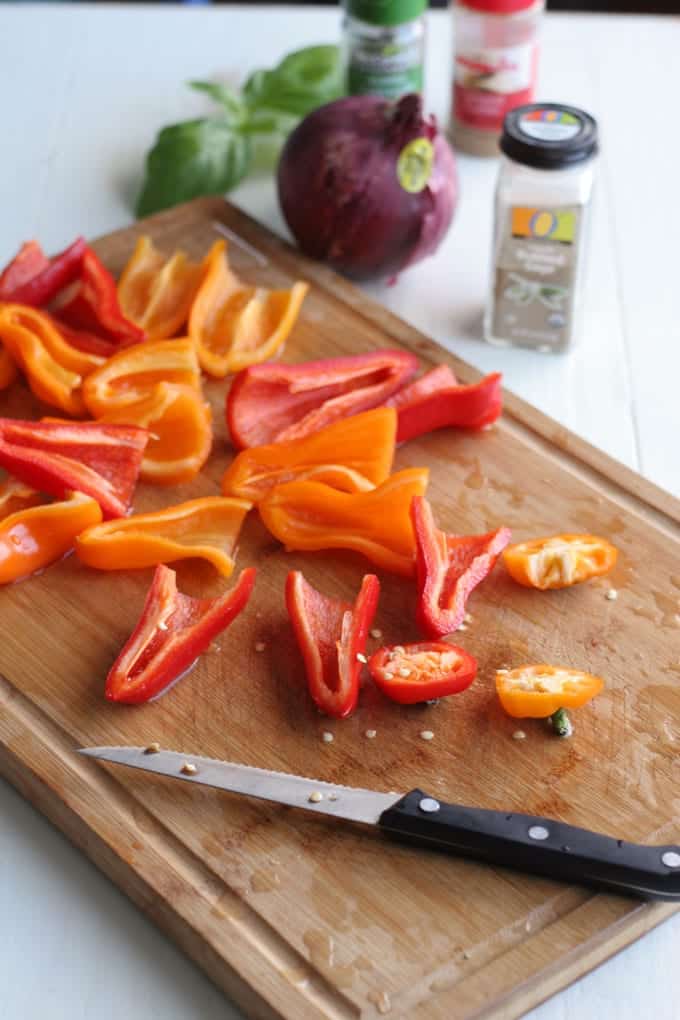 Once on the baking sheet you can start combining the ingredients for the stuffing.
To add some flavor to the mix, after the peppers are done cooking, drizzle some balsamic vinegar and maple syrup over the top and they are ready for you to devour them. As you know, if you've been following my blog, I always have a story to tell when I'm cooking. These stuffed mini peppers were no different. TIP: don't drizzle the balsamic vinegar and maple syrup on until after these guys are done cooking. Otherwise, as I learned the hard way, your peppers will start to burn. I only know this because I drizzled the stuff on before I cooked them. As I was sitting in my living room, the smoke alarm went off. I rushed to the kitchen and low and behold, smoke was streaming out of my oven. Thank goodness I caught it in time; the peppers weren't burned, only the balsamic vinegar and maple syrup were.
At any rate, these stuffed mini peppers were a hit and I'll be sure to make them again in the very near future. Hope you enjoy them too. See you in the kitchen.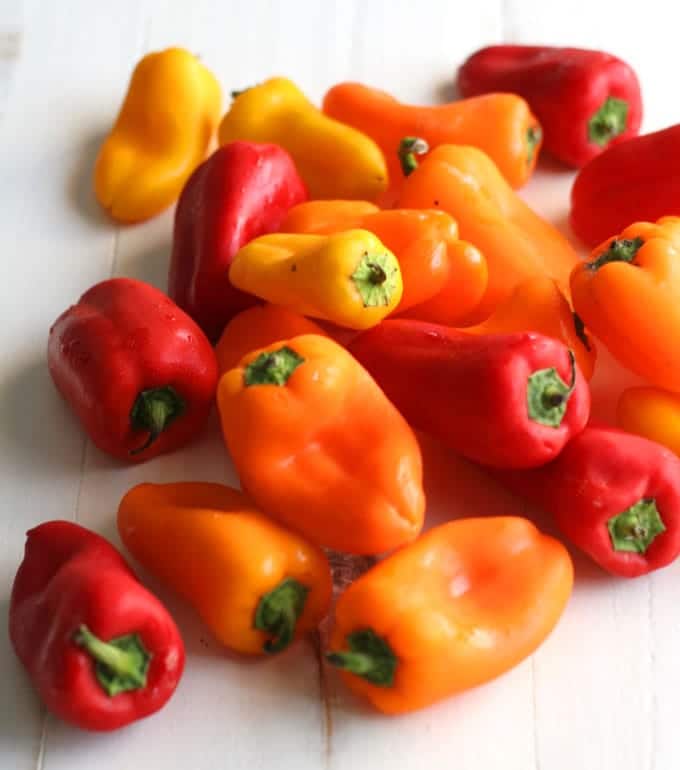 📖 Recipe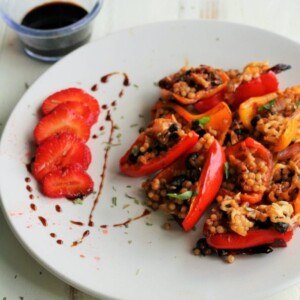 Smoky & Sweet Black Bean-Stuffed Mini Peppers
These delightful stuffed mini peppers are perfect as an appetizer or as a main dish served with a healthy green salad.
Print
Pin
Rate
Ingredients
20

Mini Bell Peppers

½-1

cup

Couscous

Cook separately per manufacturers instructions

1

tablespoon

Virgin Coconut Oil

Melted

½

red onion

Diced

1

rounded teaspoon ground cumin

½

rounded teaspoon sage

½

rounded teaspoon tarragon

½

rounded teaspoon smoked paprika

2

heaping tablespoon sun-dried tomatoes

julienne style in oil

1-2

tablespoon

adobo sauce

depending upon your heat preference

½

can 15 oz. vegan black beans

2

` tablespoon balsamic vinegar

to drizzle on peppers post-oven

2

tablespoon

pure maple syrup

Grade A; to drizzle on peppers post-oven

¼

cup

vegan cheese

shredded

½

cup

fresh strawberries

sliced for garnish
Instructions
Preheat oven to 375 degrees Fahrenheit.

Wash peppers in colander. Allow to dry. Slice in half length-wise. Line 2 baking sheets with parchment paper. Brush with thin veil of olive oil. Place peppers on baking sheets, 5 to a row.

Prepare couscous in medium sauce pan per manufacturers instructions. For mine, I added ½ cup couscous to 1 ¼ cup boiling water. I brought back up to boil, then covered the pan and simmered on medium heat until all the water has absorbed. This takes about 15-20 minutes. Set aside.

Melt 1 tablespoon of coconut oil in large saucepan or wok. Add onions and simmer until translucent, about 8 minutes.

Add spices, sun-dried tomato and adobo sauce. Simmer on medium heat until thoroughly mixed.

Add black beans and couscous. Stir until all ingredients are well-combined. Simmer for about 10 minutes.

Add vegan cheese and stir until melted. Allow mixture to cool for about 5 minutes.

Stuff each pepper with 1 tablespoon of black bean mixture. Place baking sheets in oven and cook for 30 minutes.

Remove peppers from oven. Allow to cool for 5 minutes. Drizzle balsamic vinegar and maple syrup on top. Garnish with fresh strawberries and serve immediately. Enjoy!