Learn how to make a Vegan Orange Julius, super healthy and filled with the healing properties of fresh squeezed orange juice, turmeric and ginger. Creamy, frosty, frothy, dairy-free, full of vitamins and minerals, gluten-free, refined sugar-free. WoW, this Vegan Orange Julius recipe packs a powerful nutritional punch.
The sky is full of clouds on this glorious day in the California desert as I sit on my favorite chair, wrapped in my favorite blanket, alongside my favorite furry friends, sipping a Super Healthy Vegan Orange Julius. What comes to mind as I sip on this delightful beverage and turn the pages of my life is the first time I went to Orange Julius as a kid.
I was 14 years old and a freshman in high school. After school one day, a group of us decided to walk to the Orange Julius Stand several blocks away. I had never been before but my friend Julie assured me the drinks were to die for. As we made our way down Telegraph Road, I remember feeling butterflies in my stomach when I saw Ernie, a boy I had a serious crush on, join our group.
When we arrived at the destination, I remember feeling a bit miffed that there were so many people there before us. After waiting for what seemed an eternity, I arrived at the front of the line to the cashier asking me what size drink I wanted. Initially, I blurted out "large please" but as I rummaged through my coin purse, I realized I only had enough for a small. Embarrassed, I mumbled, "small, I mean", and as I reached into my purse to grab the change, a husky voice behind me said, "I got this", and Ernie shoved his way to the front of the line and paid for my drink. As I opened up my mouth to spit out a tongue-twisted "thank you", he looked at me, smiled a million dollar smile, then turned and walked back to the boys in the group that were waiting outside. I fell in love twice that day: first, with the most popular guy in high school and second, with this creamy, frothy dream of a drink they called Orange Julius.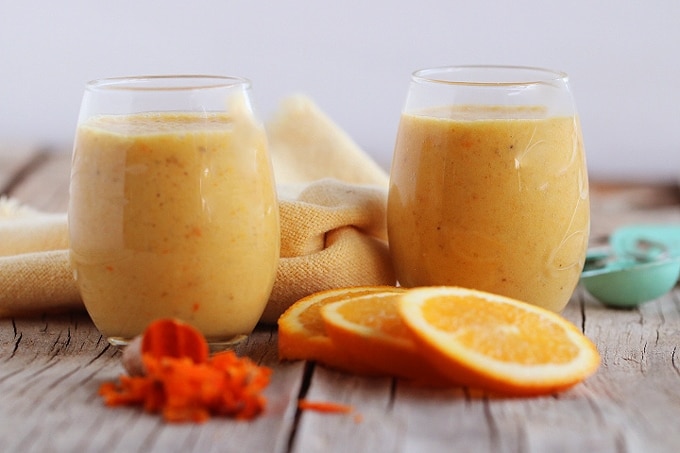 Well friends, that was 40 some years ago and I remember it like it was yesterday. It's funny how certain times and places in our lives stand out against all others. And the drink? I still love it and have been making my own version of it ever since.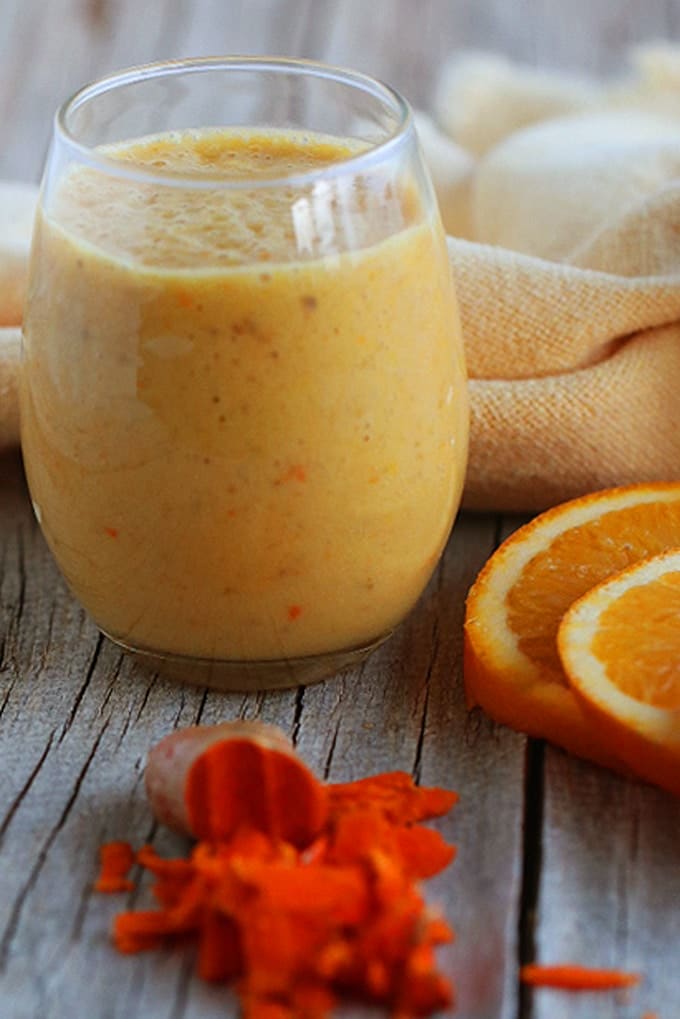 The original Orange Julius was marketed as "fruit with a secret ingredient blended with frothy perfection." To this day, I have no idea what that secret ingredient was, I can only imagine it had dairy and egg in it.
My version of this orange blossom of a drink has evolved over the years. When I was vegetarian, I made it using milk and egg. Once I became vegan, I made it completely dairy-free, but it took some time to perfect the recipe.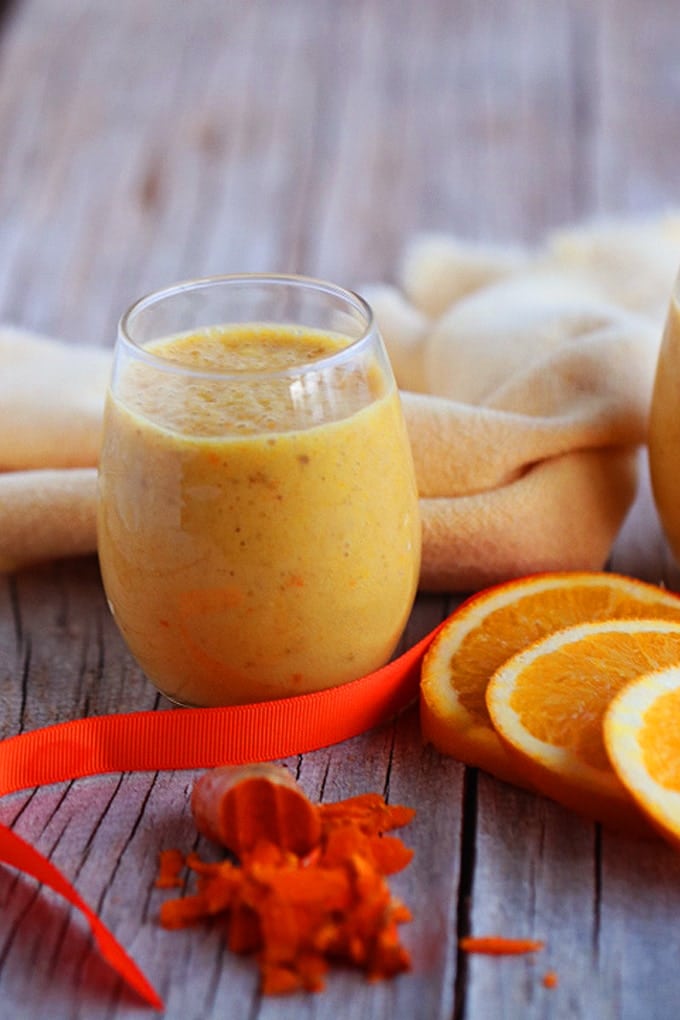 Alas, perfection has arrived. Creamy, frosty, thick and frothy, hungry friends if you're looking to find out how to make a Super Healthy Vegan Orange Julius you've come to the right place. I'll show you how to make one in a few simple steps. But first, let's talk about the health benefits of this drink.
What's in this Super Healthy Vegan Orange Julius?
I used super healthy orange julius ingredients to make this powerhouse of a beverage the best it could be. Fresh squeezed orange juice is they key to this Vegan Orange Julius but you will get similar results using store-bought. I also use bananas - both frozen and raw - to give make the drink more frothy.
Take a look at more orange julius ingredients below:
A Healthy Dose of Vitamin C
Most of us are taught to drink orange juice when we have a cold as it's loaded with vitamin C, a powerful antioxidant necessary for growth, development and repair of all the body's tissues. It also aids in boosting the immune system, an important health benefit when we are sick. What you may not know is that our bodies don't make Vitamin C; we have to get it from food and supplements. Hence my daily dose of the Super Healthy Vegan Orange Julius.
Let's Not Forget Potassium
Bananas are my favorite fruit! Not only because they taste so good and are so easy to peel, but because they're high in potassium. Potassium plays a starring role in regulating fluid balance and controlling the electrical activity of the heart and other muscles. One medium-sized banana provides 9% of the recommended daily allowance of potassium and contains only about 105 calories.
Stay in Tune with Turmeric
I used fresh turmeric root in this Super Healthy Vegan Orange Julius but if fresh root is not available, you can substitute 1 tablespoon of fresh for 1 teaspoon of dry ground turmeric. Here are a few of this odd looking root's many health benefits when taken raw:
Curcumin - turmeric contains curcumin, a compound known for its anti-inflammatory and antioxidant effects. Health experts agree that chronic inflammation is linked to many modern diseases. Curcumin has been found to inhibit inflammation. As an antioxidant, it neutralizes free radicals and stimulates the body's own antioxidant enzymes.
Tips for consuming turmeric - eating a few peppercorns before eating or drinking anything with turmeric in it will enhance absorption. Curcumin is also fat soluble, so it's best to take turmeric with a fatty meal.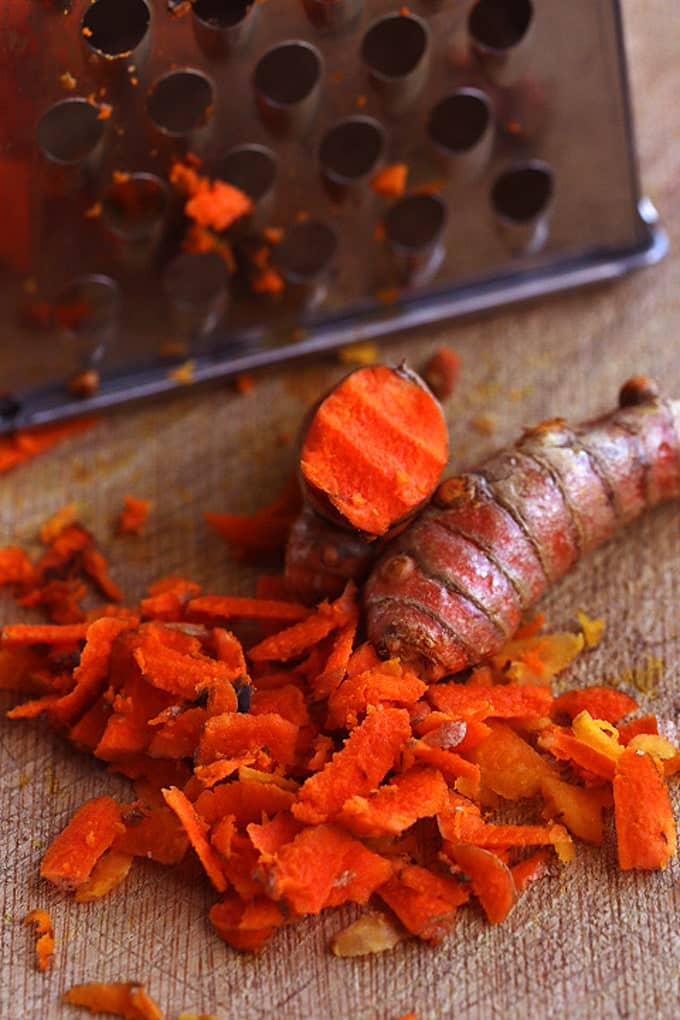 Healing Properties of Ginger Root
I love ginger. I eat mounds of it whenever it's available. For this recipe, I use a tablespoon of fresh ginger but if you don't have fresh, replace it with a teaspoon of powdered.
Ginger is used as a culinary and medicinal spice with many health benefits including
Strengthens the immune system
Aids in digestion
Helps reduce nausea
Displays antimicrobial, antioxidant and anti-inflammatory effects.
Ginger adds a tangy twist to any of your favorite vegan dishes and can be used generously with purpose.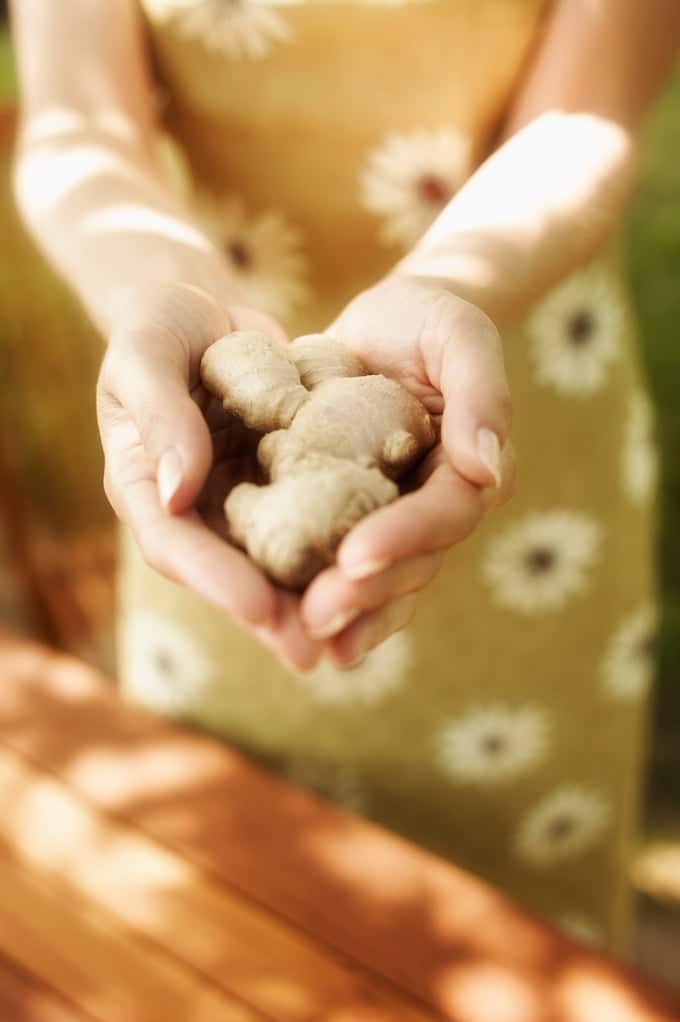 To Strain or Not to Strain? That is the Question
When you look at the pictures of my Vegan Orange Julius, you can see tiny bits of turmeric and other ingredients within the glass. If this bothers you, you can use a strainer and strain all the pulp out of the drink. To obtain the maximum health benefits of this drink, however, it's best not to strain!
For more healthy beverage recipes, visit my Beverage Section. For more recipes with healing turmeric in them visit Healing Turmeric Tonic.
Have you tried this? Why not leave a star ⭐️⭐️⭐️⭐️⭐️ rating in the recipe card right below and/or a review in the comment section further down the page? I always appreciate your feedback. You can also follow me on Instagram, Facebook, Pinterest, and Twitter, and sign up for my newsletter!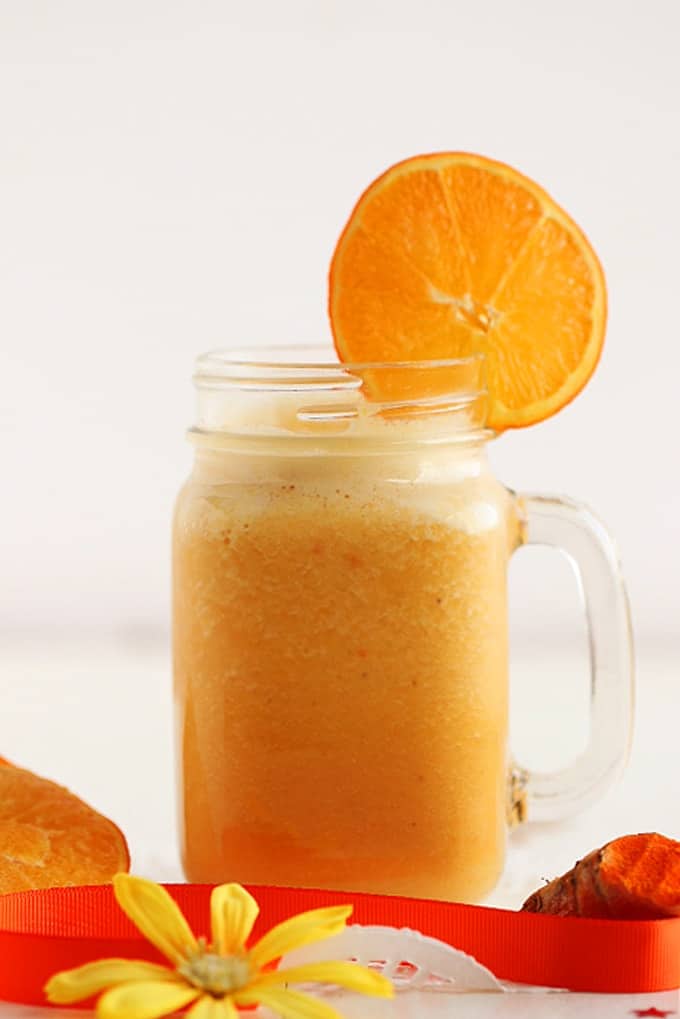 📖 Recipe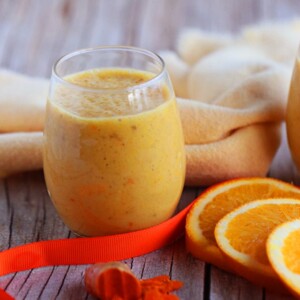 How to Make a Super Healthy Vegan Orange Julius
The healing properties of fresh oranges, turmeric root and ginger root infuse nicely in this Super Healthy Vegan Orange Julius,
Print
Pin
Rate
Ingredients
1.5

cups

fresh squeezed orange juice

store-bought works fine

0.5

cups

organic almond milk

I use #Organics

2

med frozen bananas

peel and place in ziplock bag and freeze for 1 hour; for a creamier texture, freeze only 1 banana

2

teaspoon

pure vanilla extract

1

tablespoon

fresh turmeric

or 1 teaspoon ground

1

tablespoon

fresh lemon juice

1

tablespoon

vegan sugar

you can also use Agave Nectar or no sugar at all

1

tablespoon

fresh ginger root

peeled; or 1 teaspoon ground

0.5

teaspoon

orange rind

grated
Instructions
Place all ingredients in a high-speed blender. Give it a whirl for a minute or two until bananas are creamy. Pour into two glasses. Garnish with fresh ginger and serve immediately.
Notes
For a frostier effect, add a couple of ice cubes to the rest of the ingredients. 
Nutrition
Serving:
2
serving
|
Calories:
250
kcal
|
Carbohydrates:
57
g
|
Protein:
3
g
|
Fat:
2
g
|
Saturated Fat:
0.3
g
|
Polyunsaturated Fat:
1
g
|
Monounsaturated Fat:
1
g
|
Sodium:
87
mg
|
Potassium:
914
mg
|
Fiber:
5
g
|
Sugar:
37
g
|
Vitamin A:
450
IU
|
Vitamin C:
108
mg
|
Calcium:
111
mg
|
Iron:
2
mg